Which Dominator to choose

07-18-2013, 02:11 AM
Junior Member
SHOW GUEST
Join Date: Oct 2005
Location: Sharon Hill PA
Posts: 8
Which Dominator to choose
---
I'm trying to figure which Dominator would work best, 2 or 3 circuit.
I've heard all the technical mumbo jumbo, and it clears up nothing.
Now it has a very old Holley Dominator and we know we need to upgrade to a newer model. Last Sat we tested and ran a 9:96 @ 138 leaving gently from idle.
motor is 496, alum heads, Team G, trans brake, 5400 stall, 4:56 gear,
33X15 tire.
We'd like to switch to a Quickfuel, but that is probably not in the budget, since now were probably going to have to strap a chute to this thing.
So which Holley would everyone recommend, 2 or 3 circuit?
Thanks
Mike

07-21-2013, 06:08 PM
Senior Member
DYNO OPERATOR
Join Date: Jan 2004
Location: central Illinois
Posts: 459
Which
---
3 circuits are for tunnel ram intakes with big plenums.

2 circuits are for throttle stop classes.

Most everything else uses a 3 circuit, trying to lean out the intermediate toward a 2 circuit.

Buy the 3 circuit and try it. Then increase the intermediate air bleed until it slows down, then increase the main jet and see if it goes faster.

Or buy a custom carb for your application from name brand builder.

Or buy a used name brand carb for a lot less.

Is that any better?

07-23-2013, 06:40 AM
---
Older Dominators can be made to run quite well. And I am partial to a 2 circuit for almost any application. I have run a 2 circuit setup on a 2.25 throttle blade 2.050 venturi carb that flows about 1740 CFM on my small block with no need for an intemediate circuit. A local guy here runs two 2 circuit 1050's on a 600+" engine that runs 4.40's in a dragster in the 1/8. The 3rd or intermediate circuit was designed for IR intakes where cylinder pulsing is not dampened by a plenum, these pulses can disrupt the flow from the boosters at low speeds. 4 and 6 cylinder engines may benefit as well because the pulses are stronger even with a plenum.
What model number is the old Dominator, and the model number on the newer one?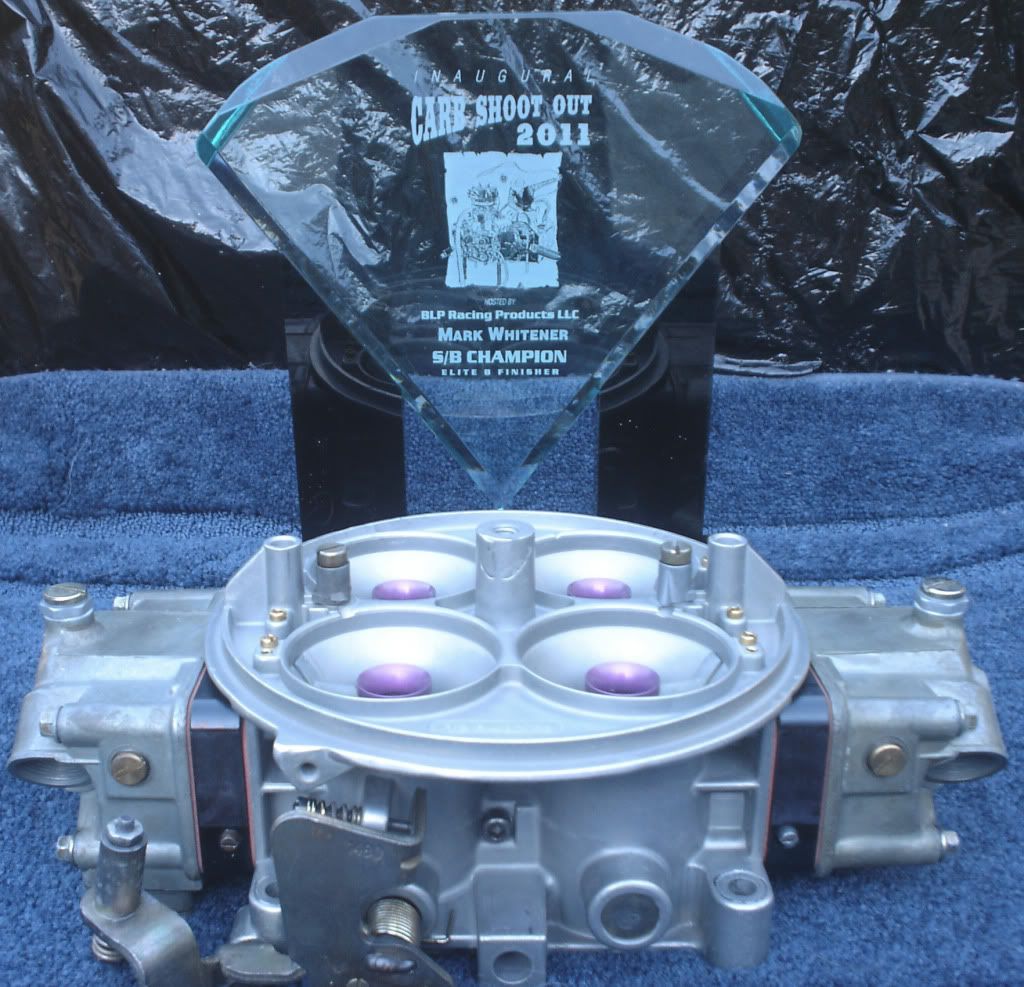 07-24-2013, 01:55 PM
---
Mark I've run 2 different BLP's and had really good success with them.
I don't have the invoice, but do have the build sheet for the carb that was on my old 548.
Model # 40365DL
Ser# 13699

The Big Bo looks pretty sweet. Some of our Pro Stock guys run it. It's a good carb for our Pro Stock class because we only allow a single carb or 1 split carb. The carburetor use to be limiting factor, but now there are several single 4 barrel carbs (or big 1 barrels like the Big Bo). that can support 1,400+ hp