DRY SUMP ?

08-10-2012, 01:38 PM
Senior Member
EXPERT BUILDER
Join Date: Dec 2010
Posts: 345
DRY SUMP ?
---
I am finally getting a chance to put my engine back together after putting a hole in the piston. I also found alot of piston debree in the bottom of the pan and was lucky nothing went thru the oil pump as i have no filters on the lines.

I am looking at buying a system 1 oil filter setup with the bypass and need to know if that will work with a weaver 4 stage pump or one with out the bypass. I am also looking at fittings with screens or should i look at putting inline filters for the scavenge inlines, not sure if i have the room for the inline or not.

There is a guy on rj thats selling a system 1 with bypass and said he ran a drysump with bypass. I have no bypass on my setup now other than whats on the pump.

08-12-2012, 12:42 PM
Senior Member
EXPERT BUILDER
Join Date: Dec 2010
Posts: 345
---
I could really use some help on this as i have never ran a dry sump before. I was wondering if anyone ever used the fittings with screens in them and how well thay work. I had to make a oil pan work with my car as no one makes one to fit so i had fittings welded in the pan and has work ok with no problems but no screens on the pickups like other pans have. As for the filter setup my remote filter housing has no bypass and didn't want to spend the money on a system 1 this guy has and it not work. The filter he is selling has a bypass built in it and don't know if that would effect the oil pressure.

Thanks for any help anyone would have.

Robert

08-12-2012, 05:23 PM
---
We started with a moroso wet sump pan and welded the fitting in mine too. No screens and I don't use a remote filter. We did add some drain lines to the back of the heads. This pic was about 4 or 5 years ago.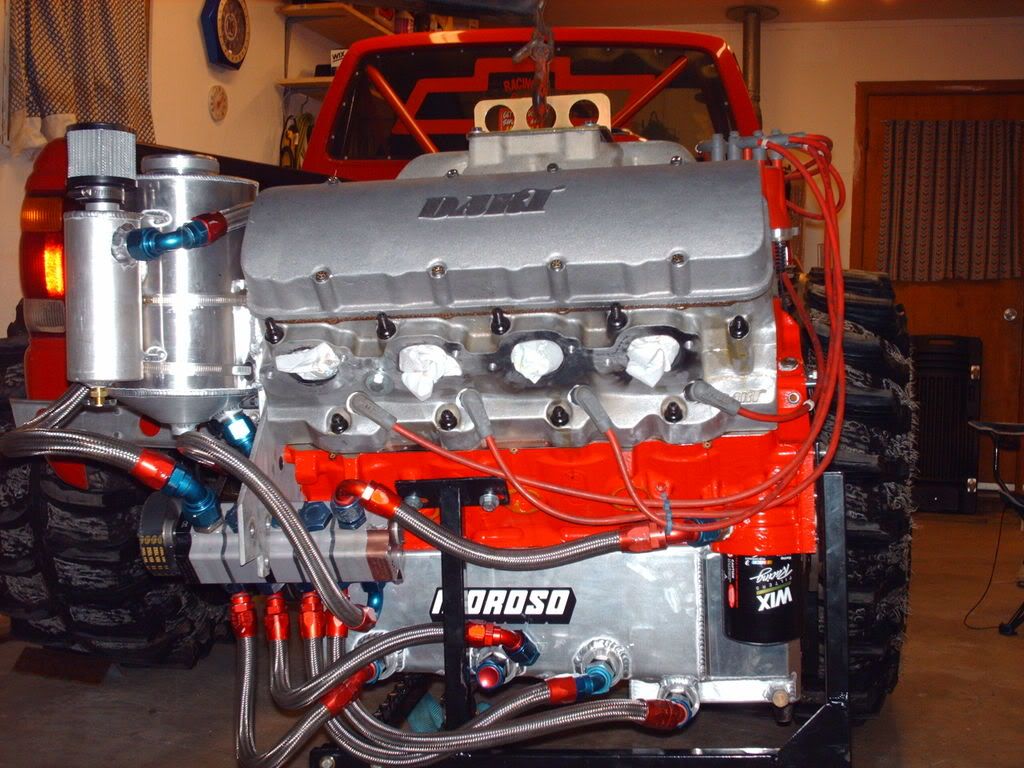 08-12-2012, 07:58 PM
Senior Member
EXPERT BUILDER
Join Date: Dec 2010
Posts: 345
---
I was just worried about any thing getting into the pump from the pan. I have had good luck i geuss over the years with running nitrous and this is the first time using a dry sump. When the piston blew a hole in it there was two big parts of the piston that was laying on top of a plate with about 1/4'' holes in it but there was also alot of debree on the bottom of the pan. I looked at the fittings with the screens but thay look like thay would restrict the oil flow some what. What about running a oil filter with a bypass in it.

Thanks for the info RABBIT

08-19-2012, 02:24 PM
---