New Safe..Everyone Needs One

11-27-2011, 11:18 AM
Administrator
RACING JUNKIE
Join Date: Apr 2003
Location: Greenville s.c.
Posts: 3,239
New Safe..Everyone Needs One
---
Tractor Supply had a One day Sale Friday on their Safes...I got a Cannon Wide Body that is 60x40x24 for $700.00 normally they are $1k...It will hold 36 Shotguns and other room for Handguns paperwork etc.....Also it has a Climate Control Device on the inside....the Safe is Fire Proof.
It weighs about 740lbs...I am going to put grade #8 10 inch long lag Bolts thru the Bottom from inside the safe into the concrete basement floor...It will not go anywhere with this in place.
Everytime me and the Wife leave town for a few days I been a Nervous wreck leaving some valuables lying inside the house..even thou we do have a security system I feel Much Better with a Safe Like this.
I know Anything CAN be broken into if someone is determined enough but I think a routine Burglar trying to Make a Quick snatch and grab will not have Much Luck with this Safe even before bolting to the Floor.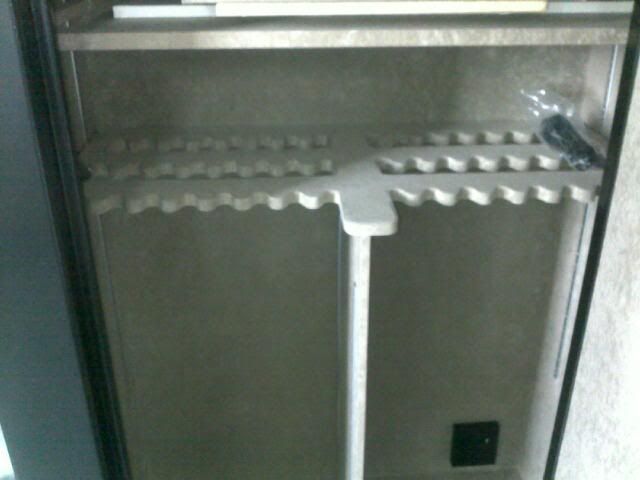 __________________
Bjuice..

"I'M YOUR HUCKLEBERRY ! "

11-27-2011, 01:08 PM
---
I have been looking at a few myself. I dont need anything that big and I need to be able to get it down my tight staircase with a turn into the basemnt. Thats nice Brian!
__________________
Chris
As close to "Normal" as I can get...

11-27-2011, 09:32 PM
Senior Member
RACING JUNKIE
Join Date: Jan 2006
Location: La.
Posts: 2,890
---
I'm so glad that i live in a safe community where crime is unheard of. If i'm not home and my security lites came on and the alarm went off there would be atleast 3 neighbors with shotguns rushing the house and the cops would be here within 2 min since i'm 300 yds from the police station. I don't even normally lock my doors and we all look out for one another. There's $8,000.00 4 wheelers setting in the yards and vehicles with keys also/ Of course most of us have carry permits which is also a deterant.
The biggest crime around here is when some drunk farmer has an argument with his wife and she calls the cops.
I'm so lucky for sure

Zip.

11-28-2011, 03:35 AM
Senior Member
RACING JUNKIE
Join Date: Mar 2008
Location: falkville al
Posts: 1,766
---
funny thing,i lock up the shop tighter than prison but leave the keys in all my cars and i dont even own house keys. but i got a safe in my closet that weighs 550 lbs and i keep my handguns lock up in it and my xcash and pain meds.well i do keep a few pistols hid around the house just in case