68 chevelle

09-07-2011, 07:43 AM
Senior Member
RACING JUNKIE
Join Date: Jan 2006
Location: EastWenatchee,WA
Posts: 887
68 chevelle
---
well when I was 15 my first ride was a 68 chevelle
I sold it a couple yrs latter and got another one when I was early 20's that got wrecked bad when it was parked
well will be 46 soon and finally found one thats cheap enough and clean enough
its not a malibu or a ss its a 300 deluxe and its a 250 straight 6 with a glide, but god is she clean, and some day she will have a hot lil motor but for now she will be my driver and I will be all smiles, and she is all white, like my blazer and duramax
so friday morning go pick her up, I have always wanted another one I like 68 chevelles my first ride and now I got another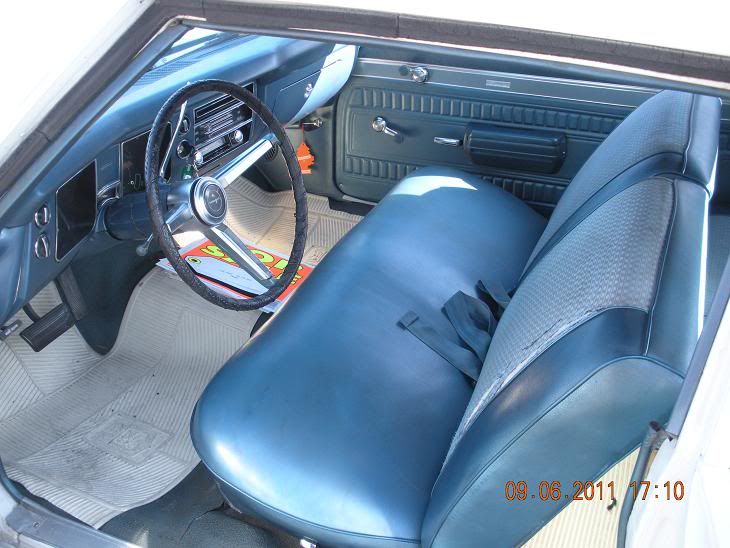 09-07-2011, 08:12 AM
Senior Member
RACING JUNKIE
Join Date: Jan 2006
Location: EastWenatchee,WA
Posts: 887
---
the luggage rack has got to go, and so does the front bug gaurd but man is this car clean, has all the original owner manuals, been in family sence start of time, 67,000 original miles

09-08-2011, 08:49 PM
Senior Member
RACING JUNKIE
Join Date: Mar 2006
Location: EUGENE,OR.
Posts: 3,402
---
Mark:

What a find, she is a total virgin!! They don't get much more clean than that. I will feel bad altering that one too much... almost I would feel dirty for doing it!! Nice Car... I have to say is even a little cleaner than my 68. Man I am a sucka for a 68 Chevelle!!!! Good luck w/her. Scoot

09-09-2011, 01:50 PM
---

Even though she's 'just a 6' she's a TEN in my book ! It'd be real difficult to alter that one in any way shape or form cuz she's so pristine........One that was rougher, heck yeah, but not THIS one.......A real piece of American history as it came off the assembly line in America built by AMERICANS with 100% AMERICAN made EVERYTHING in her !

09-21-2011, 02:59 PM
Senior Member
MASTER BUILDER
Join Date: Jan 2006
Posts: 237
---
I have one just like it except the original color is blue with blue interior. Mine also has a 6 cyl. & glide but not for very much longer. 8) I bought it with 29,000 original miles and paid $3500, I had it for 4 years now and I only put 400 miles on it. I really like the post cars because you don't see alot of them, I think the tail lights look better on the sedans because the reverse light is next to the tail light instead of in the bumper. I really hate to cut mine up, it had the original spare tire in the trunk when I got it. The car stayed in his garage and had the original paint on it but it was cracked up, we stipped it down and now it is primed and waiting on paint. Good luck with yours, it looks like a really nice car. :wink: