540 pump gas motor tuining

05-14-2011, 05:08 PM
Junior Member
APPRENTICE
Join Date: Jul 2007
Posts: 21
540 pump gas motor tuining
---
Hello to all that can lend some advice, I am trying to tune my street car for the street . The engine is a 540 bbc with flat top pistons compression is 9: 6 .1 . cam is a solid roller .314 duration and .730 lift, cam is degreed at 106.375/ . the heads are brodix bb-2 plus that have been ported and flowed int at .700 = 377 ex at .700 = 297 and i am using quickfuels 950 pro series carb with mechanical secondaries. Primary are 82 secondary are 86 . trans is a turbo 400 with a 3800 stall and gear ratio is a 4.10 with 31 tall tires. I am trying to tune this car for street driving and would like to know if it would be better to lock out the distrutor at 36 degrees or dial the timing in using the springs and bushings from msd ? THANK YOU TO ALL THAT CAN HELP

05-16-2011, 10:02 AM
Senior Member
RACING JUNKIE
Join Date: Jan 2006
Location: La.
Posts: 2,890
---
Originally Posted by TS1955
First: For street use I wouldn't lock out the dist. I would leave the advance
functional.
Second: That sounds like too much cam shaft for 9.6-1 compression. JMO

TS1955
X2 on the cam too big, we run a similar motor but 468" with 456 gears and 14.5 X 32 tires and a turbo 400 trans. Car weighs 3700 lbs without driver we have 10.2 compression, same heads you have, 1050 dom. We had a similar cam .723 int .723 ex. It ran 10.50's @ 126 mph. We put a smaller cam in (show below) We now run low 10.40's @ 129 MPH and come home bolt the mufflers on and drive to Sonic for burgers.
JMO
Zip.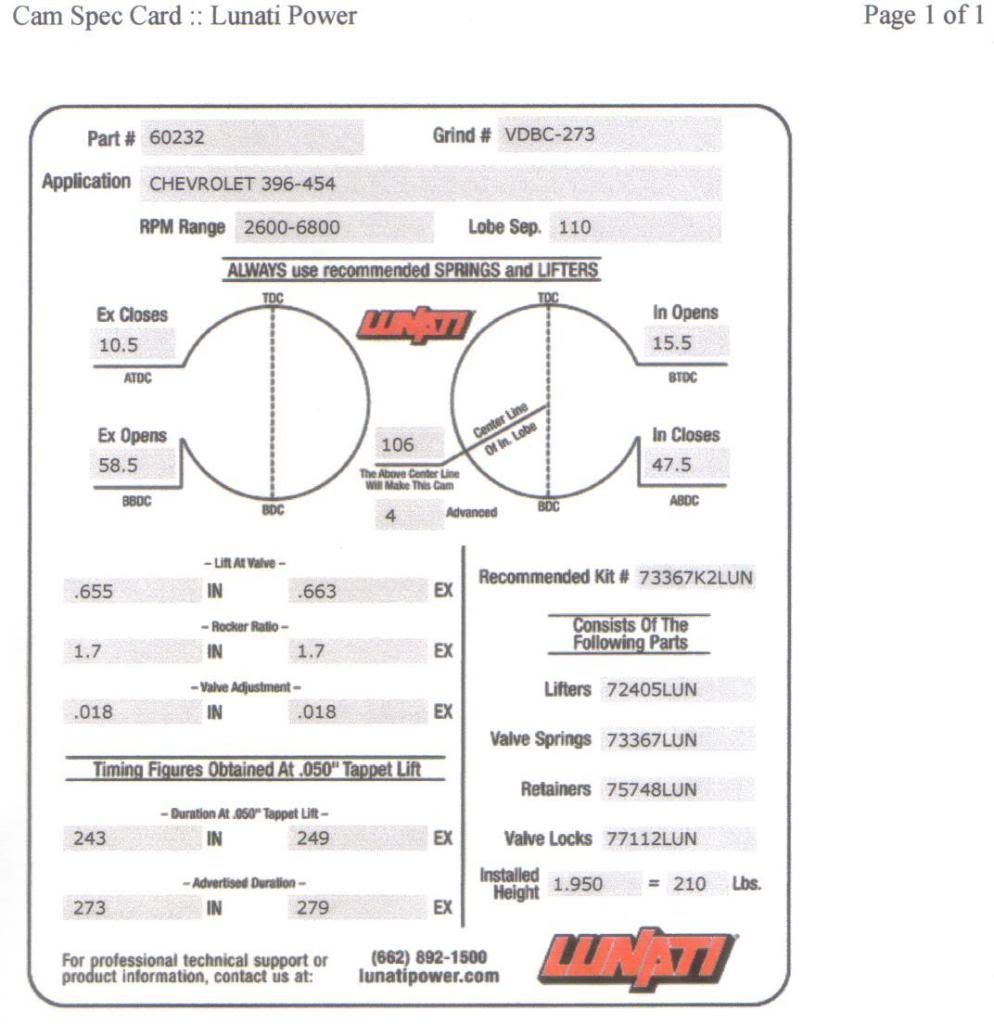 08-09-2011, 06:05 PM
Junior Member
SHOW GUEST
Join Date: Jul 2008
Posts: 1
---
I also insist on making a race car behave on the street. I found that the bushings that come with the MSD dist. still allowed to much advance. With alot of cam you'll need 24-26 deg. timing at idle for it to sit at a lite
without changing the radio station by itself. I made another bushing that only allows 10 deg. centrifigal. You'll have to have a start retard in the ignition for this or you'll fry the starter. Also a power valve would help it to not load up , your not making much vacumn so I'd say go with a 3.5 PV and take out 4-6 jet sizes in the primary. I'm running 85 pri./92 sec.Keep going down on the primary jet until you feel it surging at light cruise then back up 2. work the Power valve resriction channels carefully up till a/f at WOT is where ya want it. easy does it here a little is aloy.
Good Luck, Tony