my yr 2010

12-27-2010, 11:30 AM
Senior Member
RACING JUNKIE
Join Date: Jan 2006
Location: EastWenatchee,WA
Posts: 887
my yr 2010
---
well to all the good people I know and have meet that have given me help and kind words, just want to say thank you!!!!!!
2010 was a good yr for me, got a new motor, a new glide and finally , got me a trans brake!!!!
sense I was a lil boy I have always wanted to drag race, and comming from a non race car family and a dad who liked shinny fords, to me it was a dream and I also wanted to go 10.90 all motor, going 10.90 was something in my mind that all people dont get to do, they might get to bracket race there hot rods but not go in the 10's
well in 2010 with the help of all my friends encouragment, a very cool wife and a few loans and some 401 k money, I put a new drivetrain in my 12pt caged blazer, that everyone said , man that thing is slow and finally got my 10 second slip, in fact out of all the passes this motor has run its slowest pass was a 10.75
one dream passed:rock::rock::rock::rock::rock:
I also kept telling everyone, ya I am gonna paint this blazer white, and 4yrs latter, it also came out in 2010 with a white paint job and a new power plant , and also my childhood friend who is so very cool, also did the lettering a pic of slowpoke on tailgate, it turned out very cool, it makes people smile and laugh and to me thats whats it is all abought
2010 was a good yr for meloy racing , and to all my friends who have helped along the way thank you!!!!!!
I wish you all a very happy and fun race season in 2011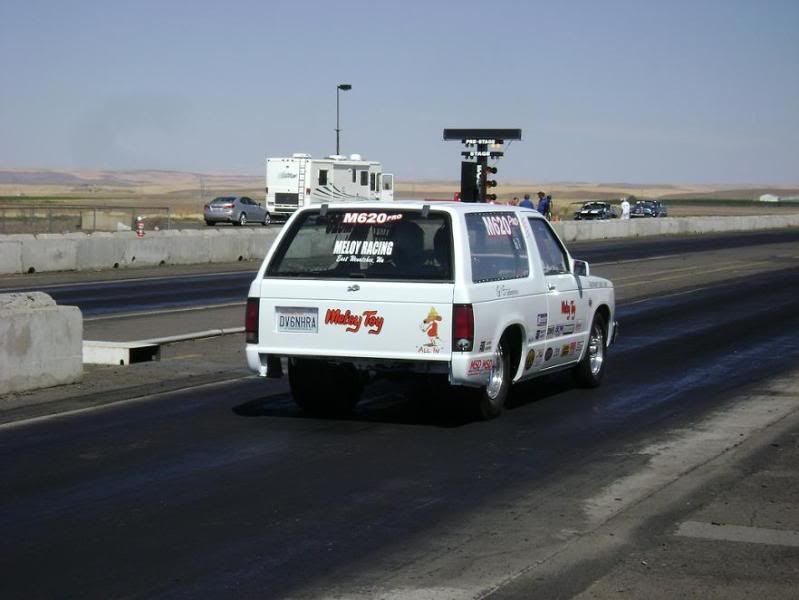 12-27-2010, 03:55 PM
---
Nice Mark.I remember when you 1st got that Blazer and was running 14 teens or something like that...you have come a long way Bud...good job.

You will be digging toward those 9's before long !!!!!
__________________
Bjuice..

"I'M YOUR HUCKLEBERRY ! "

12-28-2010, 06:37 AM
Senior Member
DYNO OPERATOR
Join Date: May 2003
Location: Moscow Mills, Mo.
Posts: 533
---
Congrats Mark, you and your wife deserve a great year. I watched the S10 progress since way back and it's an awesome ride. Really happy for ya and wish you luck in 2011. Maybe in the future you'll put a stick in it. :lol: Hey maybe run S/ST.
Now go win some money.