Just when you think you have seen it all !!!!!!!!!!!!!!!!

12-08-2010, 07:19 PM
Senior Member
EXPERT BUILDER
Join Date: Nov 2003
Location: NORTHEAST
Posts: 290
Just when you think you have seen it all !!!!!!!!!!!!!!!!
---
Tony the one that bought this engine in the add on racingjunk got totally screwed buy this guy.
The short block landed in my engine shop this afternoon and what a butcher job, At one time it had spun a bearing or bearings on numbe 2 or 3 rod journal or both as the whole throw is black and the crank was tuned .010 / .020.
This engine has only four 1/8 mile passes on it and the piston skirts are worn right out and the rings are worn out I would say they used some old rings as they were not new thats for sure. Tony said it smoked really bad is why he wanted some one to look at it.
It says its been line bored and line honed but after looking it over they forgot to line hone the block.
The rods were ground so bad to clear the cam there was only about 4 threads holding everything together and one rod bolt was ground twice and it looks like a triange.
When they clearance the block for the 4 inch arm they broke through into water and tried to weld it up.
This is the best part because they did not have enough clearance at the pan rails they ground the heads off some of the rod bolts so bad you can't loosen the rod bolt to get the rods out.
Sorry I don't have no pics but will get some tomorrow and post them.
This is the worst hack job I have ever seen in my life
Here is the link
http://www.racingjunk.com/category/9...h-434-sbc.html
Here is his quote
I have a 436 ci sbc.gm 400 whith splayed main caps,line bored and line honed.new king allecular race series bearings,total seal piston rings,durabond cam bearings,felpro race headgaskets,1206 felpro intake gaskets.hamburger oilpan hv oilpump,steel oilpump shaft.eagle 4340 crank,h beam rods with 2000 bolts,je 14.5.1 compression. fluidamper balancer,sfi flexplate with arp bolts.billet timing chain,lunati solid roller cam,comp cam roller lifters.brodix heads fully ported and pollished.titanium 2.12 valves with comp springs good up to 7.20 lift cam,titanium retainers,harland sharp offset 1.65 rockers,jomar offset studgirdle,fabricated aluminum valve covers.nos pro sportsman fogger with 28 jets all around,850 demon carb.the motor is fresh,hasnt been ran.5,500 firm

12-09-2010, 07:35 AM
Senior Member
EXPERT BUILDER
Join Date: Nov 2003
Location: NORTHEAST
Posts: 290
---
This is a pic of the jounal which at one time spun bearing and was reground.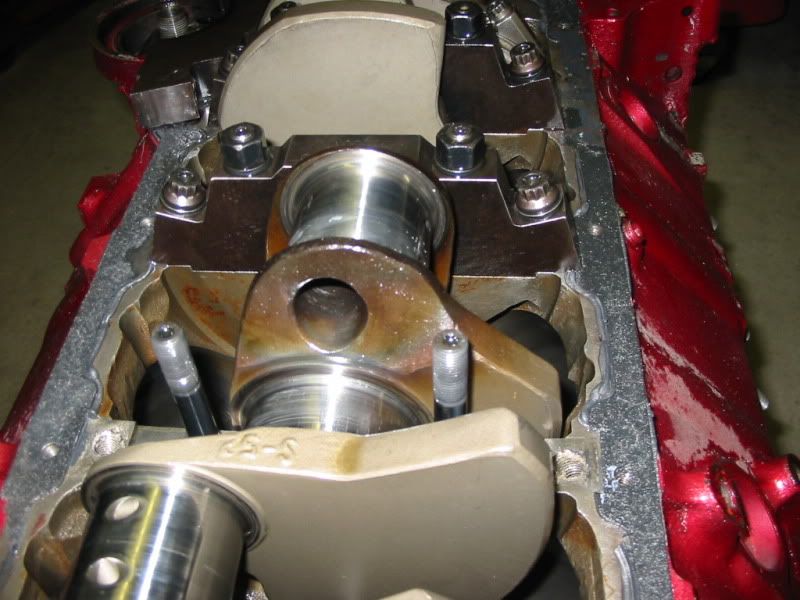 This is a pic of the rod bolt ground off so much you can loosen it.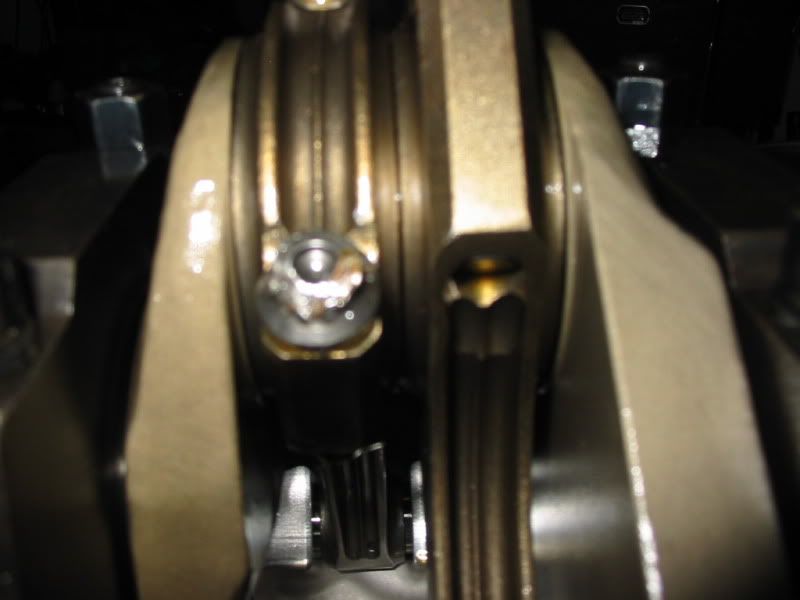 Here is a pic of the main cap and as you can see it was never line honed as discribed in the add and in the back ground you can see where the block was welded because of they went into the water jacket which is where the water is coming from I am sure.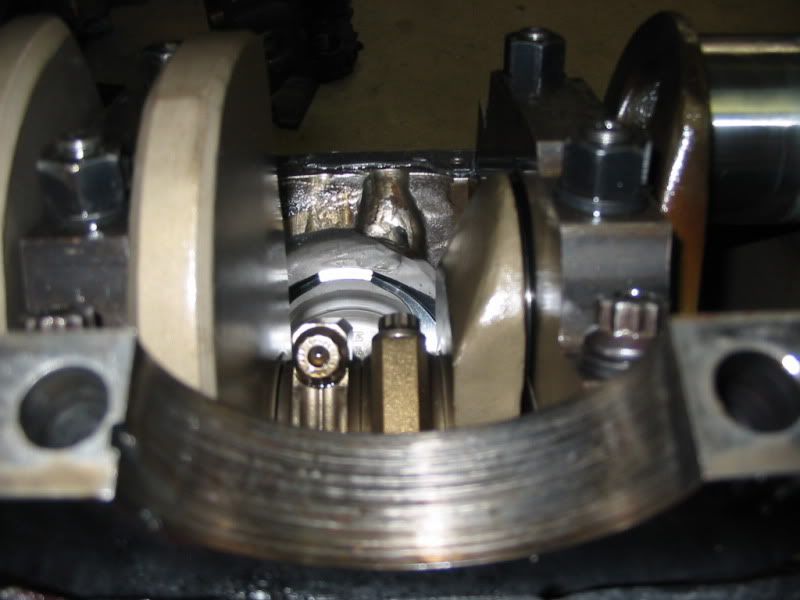 Her is a pic of the worn out rings and pistons and look at the rod bolt as its ground a like a triange and it only has 4 threads holding it. This guy should not be allowed to have a tool box. LOL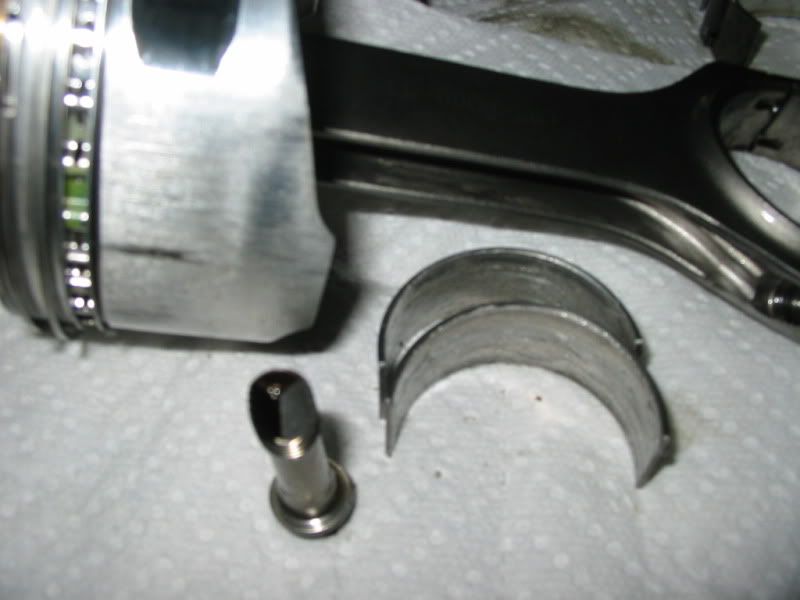 12-09-2010, 04:23 PM
Senior Member
EXPERT BUILDER
Join Date: Nov 2003
Location: NORTHEAST
Posts: 290
---
Originally Posted by DrivingMissDD
Do I see a lawsuit coming ?!
I don't think that will happen and if any one wants this garbage its just going in the dumpster as its all junk.

12-09-2010, 09:25 PM
Senior Member
RACING JUNKIE
Join Date: Jan 2006
Location: La.
Posts: 2,890
---
Hey Carl,
since you're visiting the forum more often. I've been contracted to build a needle bearing cam system for a 4 cyl. Datsun, road racing team out of Az. I have the overhead cam stands and the original cam jurnal size is 1.880, i'll grind it down the to the needle bearing size and re nitrate it, i'm thinking i can buy the needle cam bearings that are used in NASCAR or the ones sold by Comp cams. PROBLEM, is that i know the cam bearings are 1. 868 ID, but what is the OD of these bearing, also the width, do they have oiling holes or do they only use spash. I have an EDM hole popper, so i can put in a small hole for oiling to the bearings, i can also run a rail oiling system to the rockers located below the cam.
I guess my main question is what size are the cam bearins OD and ID, plus the width.

Thanks in advance Carl.

Zip.