how to run nitrous with methanol

05-15-2010, 04:58 PM
Senior Member
RACING JUNKIE
Join Date: Mar 2003
Location: Ohio
Posts: 937
---
Can you be a little more specific? We run NOS with Alky. Make sure that your fuel solenoid is an Alky solenoid. We "T" the fuel line right before the fuel log over to the alky solenoid. No separate pump or fuel tank.

05-16-2010, 03:39 AM
Senior Member
RACING JUNKIE
Join Date: Mar 2003
Location: Ohio
Posts: 937
---
There is no need at all for a separate tank and using gas. We spray our motor with alky. We have the car set up with a 275 shot. When we do spray we pull 6* out. We have not sprayed the 1/4 mile as most of our quick races are 1/8 mile. Have sprayed a little over .20 with the alky.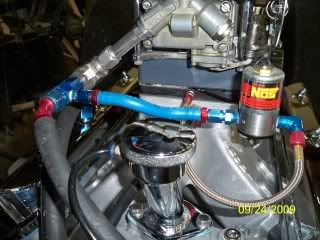 05-16-2010, 05:35 AM
Senior Member
RACING JUNKIE
Join Date: May 2003
Location: Coldwater, MI
Posts: 2,998
---
x2 on what Shawn is saying .. why put another fuel cell along with another fuel pump when you do not need to. I run a NX Stage 6 alky kit on mine, have for 6 yrs now, no issues. 4 degrees per 100hp timing out. I even run mine with injection (I have to use a seperate fuel pump because it is injection but a carb would be easy) 150hp for 2.5 seconds is 2 tenths for me

Pink ... yep Mangina in check :wink: