any body run an AED preped carb?

09-29-2009, 09:59 PM
Junior Member
SHOW GUEST
Join Date: Feb 2008
Location: Middlesex, NC
Posts: 2
aed carb
---
I got a used one and had it on several motors. Always ran great and never had it apart. The carb just worked. hated to sell it but times were tight last year. I put it on a Hurst olds 350 and it always starts in 2 pumps and no choke. I will miss it. Good purchase.

10-01-2009, 07:20 PM
Senior Member
DYNO OPERATOR
Join Date: Jan 2003
Location: Douglasville Ga
Posts: 474
---
I ran a 750 AED back a in the late 90's and really loved it, great throttle response. Never had to mess with it, but someone liked it better than me and stole it off my car. Great carbs though.

Chris

10-04-2009, 07:34 AM
---
I have one on my 632. I love it and it was a lot cheaper than anybody else!!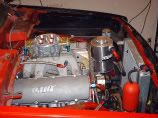 http://www.aedperformance.com/ProSeries.htm