Bucket seat question

05-06-2009, 03:33 PM
Senior Member
RACING JUNKIE
Join Date: Sep 2007
Posts: 4,140
Bucket seat question
---
Ok guys I need some info....I have decided to push the race car aside this summer and get my 72 Chevelle back in shape...( it got flooded last June )it was my first car and is still rust free...anyway...
I have a set of bucket seats that I purchased for my dad's 67 EL Camino years ago when we were bulding it.we never used them. I got them for near nothing and did not realize at the time that they both appear to be a drivers side seat... the tracks are opposite(one left one right) but the chrome push button is on the left side on each seat.
Now for my questions
They need covered anyway so I was wondering if I could buy a new set of backs and relocate the button to the outside edge where it belongs?
Also, I will post pics later of them, but I do not really know what they came out of...they look exactly like the seats I've seen in 67 Chevelles except the pattern in the vinyl goes up and down, not sideways ,if that makes sense...but they do have the button on the side, not the back...were all the seats the same frame, backs etc? The guy I got em from had a 67 camaro.
Now for the funny part. The reason we didn't recover and instal these in Dd's car was, he found a set of bucket seats from a 72 SS Chevelle that had new covers on them and used those instead.
He has a 67 with 72 seats and I have a 72 with the 67 seats . I am trying to negotiate a trade but no success yet.

Here is the car before I parked it and let it go to shit.
I haven't driven it in 10 years. No rust but the paint has faded some.That's it next to my NOVA in the avatar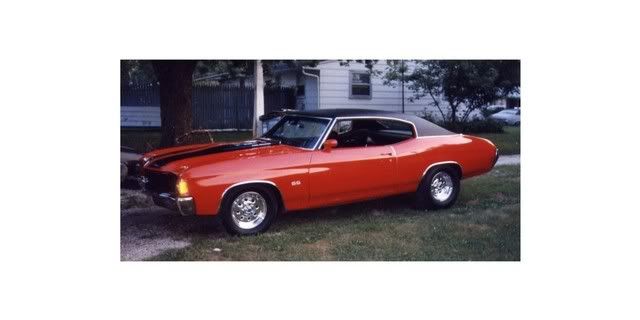 05-06-2009, 04:12 PM
Senior Member
RACING JUNKIE
Join Date: Sep 2007
Posts: 4,140
---
Originally Posted by whitey70ss
nice ride todd
It used to be...LEAVING THEM SIT JUST RUINS THEM.( SO DOES A FLASH FLOOD)
Here is a picture of one of the seats...I was wrong..they are both passenger side seats not drivers side. I could live with the button being on the inside but will move it if I can.
Anyone know what they came out of ?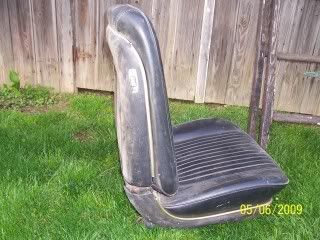 05-06-2009, 06:01 PM
Senior Member
RACING JUNKIE
Join Date: Sep 2007
Location: orland pk il
Posts: 2,429
---