Please help is my 10 bolt strong enough

04-18-2009, 02:43 AM
Member
CRAFTSMAN
Join Date: Jun 2008
Posts: 57
Please help is my 10 bolt strong enough
---
I have a 72 nova and twisted the drive line in half in second gear last weekend when i finally hooked up :roll: . its a 10 bold with ladder bars with richmond 456 gears posy, looks like standard axels in it. how do I measure it to See if it is a 8.5 or an 8 ring? If it is a 8.5 does anybody think it will go, or will it last? I also twisted my ladder bars on launch and I want to remove them and install Caltracs. I thought I read on here once, that I can look at the pinion nut and be able to tell what it is. :?: Please :!: :!: :!: all replys welcome, I found a 9" bolt in with 4:56's spooled with 35 spline moser axels for 1,700 bucks, I know its worth it but should I and Do I have to? Sorry power plant is a BBC 427 punched to a 437 around 580 Hp. running a TH400 with trans brake.

04-18-2009, 09:19 AM
Senior Member
RACING JUNKIE
Join Date: Feb 2004
Location: san antonio, texas
Posts: 1,233
---
hey chpseat, the 10blt can be made to take alot of torque but you
need to beef it up, and the cost might be better to go with a
12blt or 9", the chevy 10blt has a housing with ears on the bottom,
this is strongest of the bunch, you mentioned stock axels, that
means c-clip which can let one of your tires w/axel fly off,
you'll need to get: c-clip eliminators, pinion yoke, stronger axels,
your stock straps are good for around 500 horses, you can go
with a auburn pro-series posi rear, 1350 joints, us-gears, versus
getting a rear from the yard and starting from scracth, you can
get good parts from strange, i have dealt with
www.tomdifferentials.com
to economical beef up for your 10blt,
tom usualy runs a incometax special around this time and buy
USA, the stock housing won't take too much torque so keep that
in mind, after mkt uses fins to beef up the housing, good luck :wink:

04-18-2009, 10:11 AM
Senior Member
RACING JUNKIE
Join Date: Jan 2006
Location: La.
Posts: 2,890
---
It was on one of your prior post,
I would keep the 10 bolt if it's a big 10. i would also keep the ladder bars, vs the caltracks. Re-weld the axle tubes to the center section, because they sometime break loose. A big 10 with good axles and beefed up a little can easily handle 600HP, and it's a lot less than 1700.00 to do that. ladder bars can handle over a 1,000HP. Case in point a friend has a 1951 Ford pickup, original frame except struts, ladder bars, weighing over 3,000lbs, runs 5.30's all day long with a 582" chevy.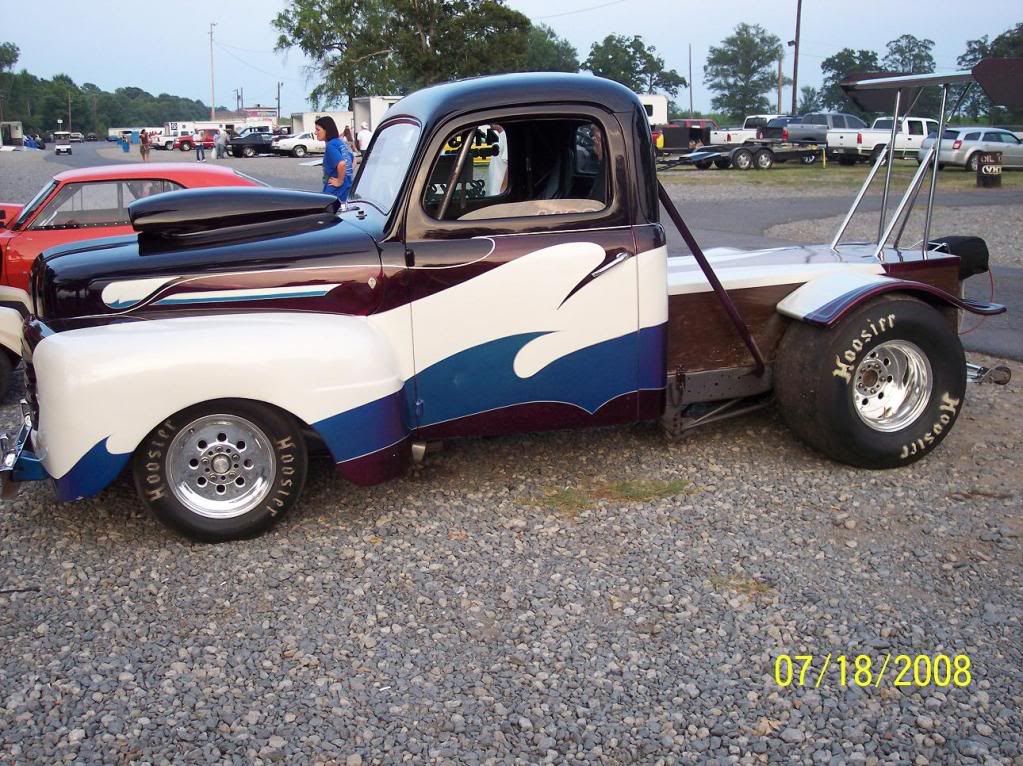 Zip.
You can sometimes get lucky and it may still have the stock pinion nut which would be 1 1/4 if it is a 8.5
But if it is a 1 1/16 it is an 8.20

04-20-2009, 04:23 AM
Member
CRAFTSMAN
Join Date: Jun 2008
Posts: 57
---
the tubes are welded and it is a 8.5, but I pulled the axesl and they are 28 slpine, I called summit and to upgrade to 30 spline I have to replace bearings, carrier, and everything else inside to fit the bigger axels, it's going to coast around 1200 bucks and its still a 10 bolt, I am going to keep the ladders and buy the 9" its just going to take alot of OT to get there. Thanks you for all your comments. but I have one more question what does the ladder bars do exactally.

04-29-2009, 01:04 PM
Senior Member
DYNO OPERATOR
Join Date: Feb 2009
Posts: 510
---
Are you running ladder bars with the leaf springs? If so, you need the floaters so that the suspension doesn't bind up.

I have been running a 8.5 10 bolt for 13 years and just recently broke the pinion gear on it. That was the first and only thing that I have ever broke on a 8.5. I normally run in the 10.60"s with it.

05-02-2009, 11:17 PM
Senior Member
EXPERT BUILDER
Join Date: Aug 2005
Location: Tell City, IN
Posts: 356
---
The ladder bars "in my opinion" are MUCH better than the bolt on set-ups like you mentioned, not saying they can't work because they can it just takes more tuning and still a step back to ladder bars.

I run an 8.5" 10-Bolt also. I went with Stranges 33 Spline Axle Package which included everything except for the gears. I however run a stock yoke, straps and driveshaft for that matter, no issue's yet.
I 60' with the rear wheels alot (1.41-1.42) and with the front it is in the mid 1.25-1.30
at 2865 Lbs. I have only broken 1 ring and pinion gear in the 5+ years I have been running this rearend.

08-10-2009, 09:39 AM
Junior Member
SHOW GUEST
Join Date: Apr 2009
Posts: 2
10 bolt
---
no matter what you do to the 10 bolt its not going to take a big hit that the 600 hp motor you have an last.... put a 40 spline dana 60 in it an forget it for the most part... if you want to spend more put a 40 spline 9 inch ford rear in it.... make sure they have a spool in it.... thanks good luck

08-10-2009, 09:57 AM
---

08-19-2009, 09:11 PM
Senior Member
RACING JUNKIE
Join Date: Nov 2004
Location: St. Louis, Missouri
Posts: 663
---
Good for you...

One of these days when you least expect it, your gonna hook like you have never hooked before, then everything is gonna shatter. JMO

chpseat987 -

By the time you rebuild yourself another 10 bolt, for a few hundred bucks more you could very easily put a 9 inch ford rear end with a backbrace on i, spool, gears and 35 spline axles.

That ford rear end will take some abuse for years to come.....