355 circle track engine problems

04-01-2009, 04:05 PM
Member
JUNIOR BUILDER
Join Date: Sep 2003
Location: Watsontown Pa.
Posts: 73
355 circle track engine problems
---
I race a 355 chevy circle track pro stock. I rebuilt the engine at the beginning of the race season. The first time out we finished 6th with the car and no problems. The next three times we had to load her up and bring her home before the feature. My son tells me that if he just eases into the throttle the engine seems fine but if he floors it the engine seems to vibrate like an asphalt roller with the drums on vibrate. I can't distinquish if it is electrical or fuel. We have replaced distributor and all components, coil, wires, carb. Compression is 150 therabouts. Any ideas???

04-01-2009, 05:23 PM
Member
JUNIOR BUILDER
Join Date: Sep 2003
Location: Watsontown Pa.
Posts: 73
---
Not the crank. New eagle rods and Ross pistons. All ballanced. The engine worked like a top the first race. The only thing I changed from the first race to the next was the battery. Since then I have changes all the cables as well.

04-01-2009, 05:53 PM
Senior Member
RACING JUNKIE
Join Date: Feb 2006
Location: Lenoir City Tennessee
Posts: 865
---
my truck done something close to that. felt ok driving but when you put a load on it it shook like crazy. come to find out the bellhousing was broke almost all the way off. not saying this is your problem but thats how mine acted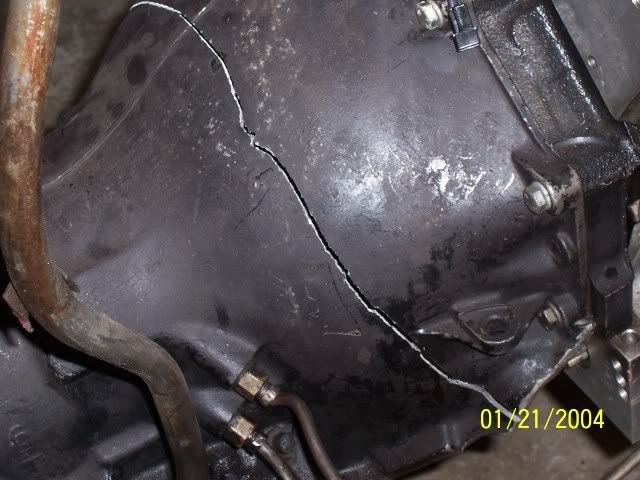 04-01-2009, 05:58 PM
Member
JUNIOR BUILDER
Join Date: Sep 2003
Location: Watsontown Pa.
Posts: 73
---
Nope!! I nut and bolt the car before every race. I am a safety nut!!! I do not rely on anyone but me to find those kind of problems. I don't want my son hurt so I am a fanatic. Seeing your transmission reminded me of the one I discintegrated on the quarter mile in Pa. I broke it so bad I didn't need to unbolt it to remove it!!! COSTLY

04-01-2009, 06:42 PM
---
dirt or asphalt ?

manual or auto?

Is there any vibration with engine at idle when the car is NOT moving?

Have you eliminated any sort of electrical miss ? plugs / wires / dist cap

Is there vibration when the engine is revved up when car is not moving ?

If vibration is present ONLY with car in motion,
- at what speed,
- under load,
- gliding with clutch in or in neutral ?