EVOLUTION, From where we came

01-10-2009, 06:31 AM
Senior Member
RACING JUNKIE
Join Date: Jan 2006
Location: La.
Posts: 2,890
EVOLUTION, From where we came
---
Images furnished by Hotrodharley
Formatted and uploaded by Zipper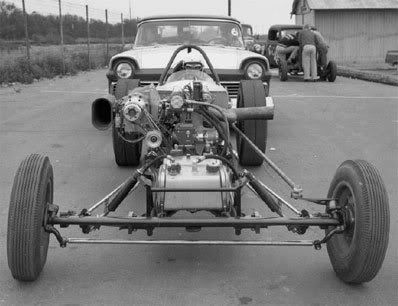 Back in the day, anything was possible. How about an Offy with a
side-mounted blower on Ed Donovan's dragster?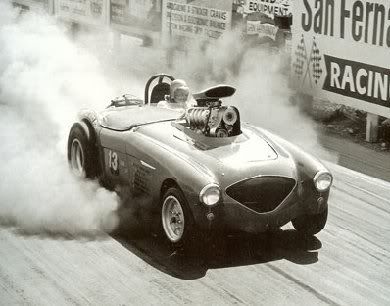 Nothing says drag racing like way too big of an engine stuffed into
too little car; reminds me of the models I used to imagineer as a
kid.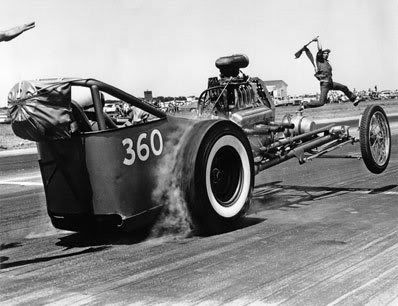 Rear slicks churning, front tires grabbing air, and, an acrobatic
flagman.
Uhhh, dude? I don't think you asked for a big enough head start.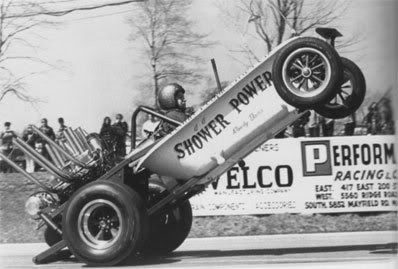 A wheelstander with everything but the kitchen sink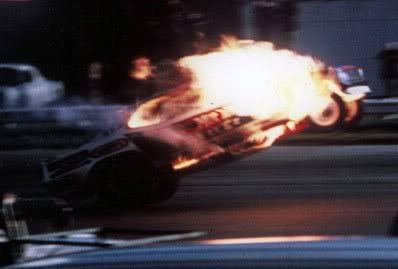 Who said snakes can't fly? Prudhomme gets air in the lights in
Seattle .

Hard to believe that today's Top Fuelers evolved from this; from
its whitewall tires to its Rat Fink-like shifter placement, I
really dig this car.
(Above) So you still think that Don Garlits invented the
rear-engine dragster, do ya? (Below) Donnie and Gene Bowman's
flathead-powered Vineland Villain wasn't pretty, but it sure looked
crude. Back then, functionality trumped almost everything.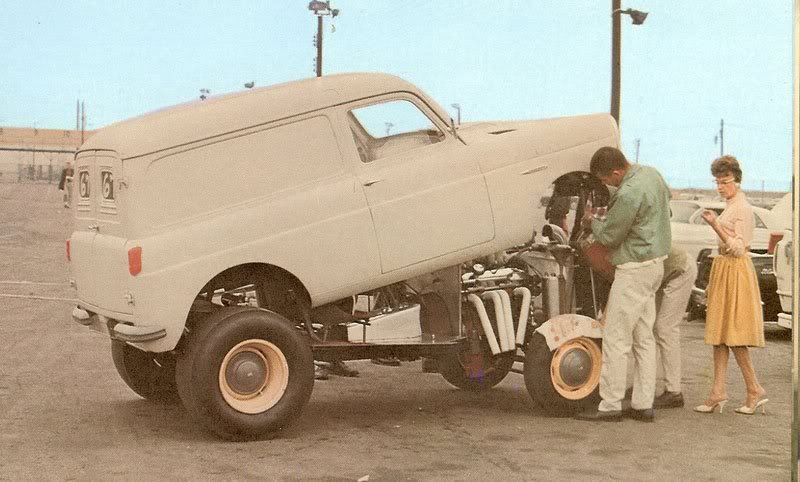 I love this shot, taken in the pits at Lions. No, not the neat old
flip-top panel wagon -- the lady, dressed in skirt and heels.
Priceless.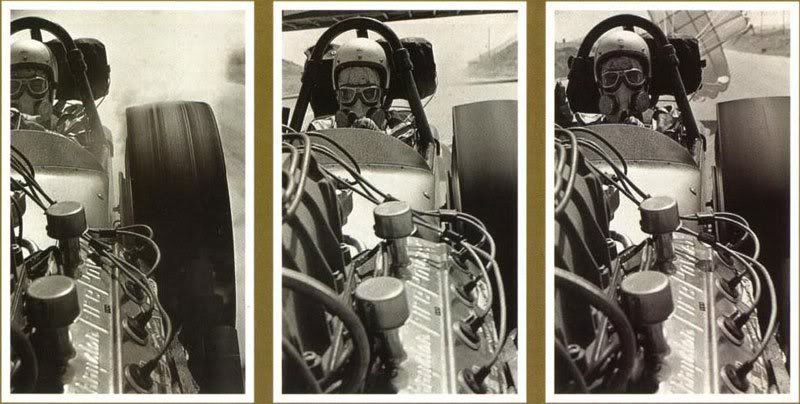 Kinda funny, too, but for a different reason is Surfers pilot Mike
Sorokin almost having his helmet sucked off at speed (center).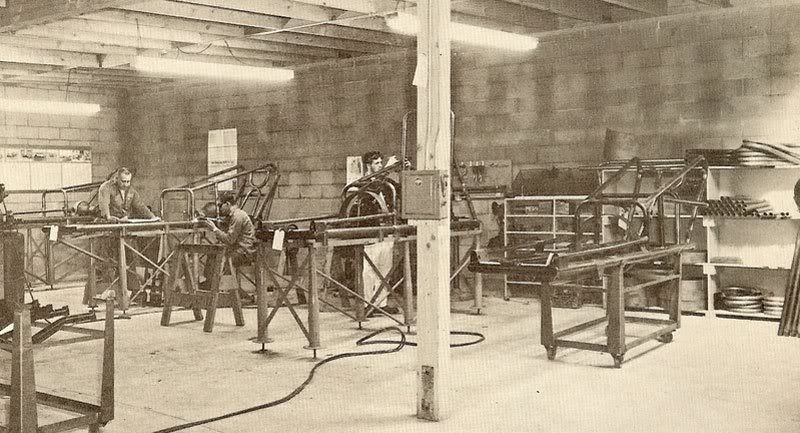 One of the first production chassis shops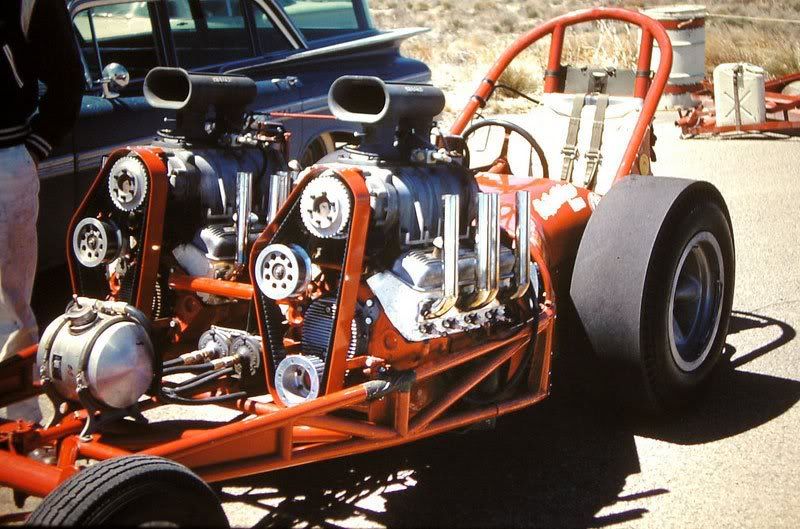 Another vintage chassis on this cool twin. Always amazing to me to
see how primitive the early driver-protection devices were.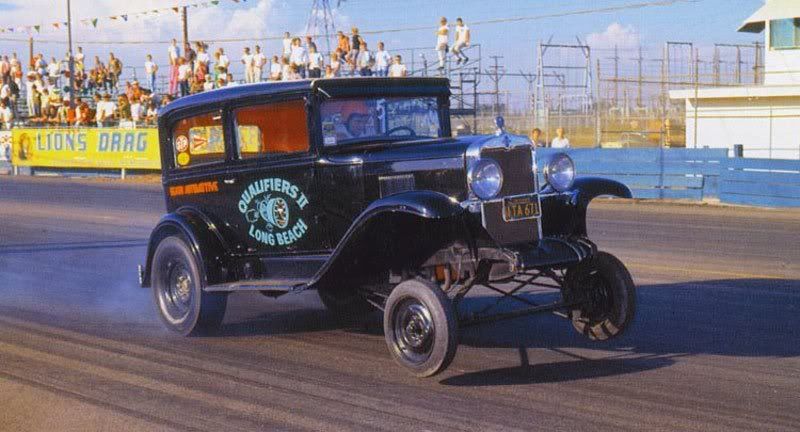 Okay, if you don't like this photo, you can hardly consider
yourself a drag fan. Classic Lions stuff.

A couple of engines, four tires, a little extra tubing, a welder,
and there's little that early drag racers couldn't -- and didn't --
try.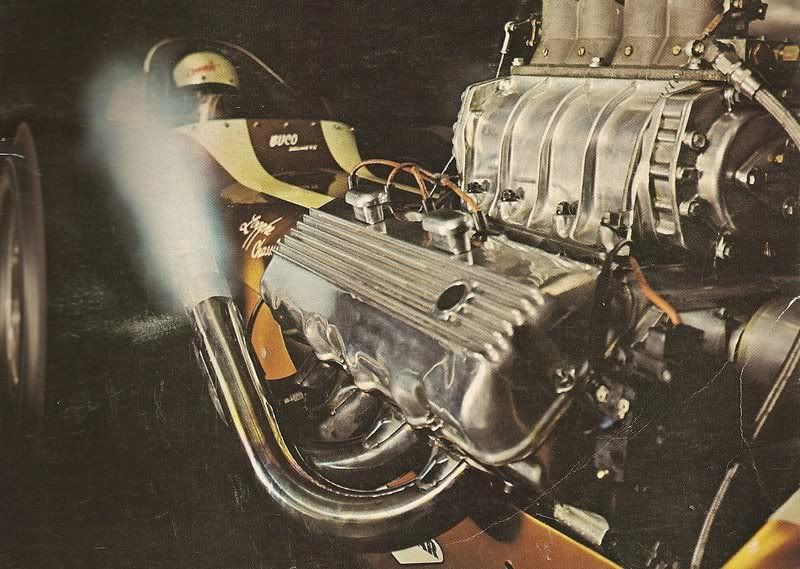 I looooooooove this shot. The photographer did such a great job of
exposing it and allowing you to see every detail, nut, and bolt on
the blower. Arthur Trim tells me that this is Connie Kalitta's
Logghe-chassised Ford-powered digger, photographed on a chassis
dyno in one of Ford's labs.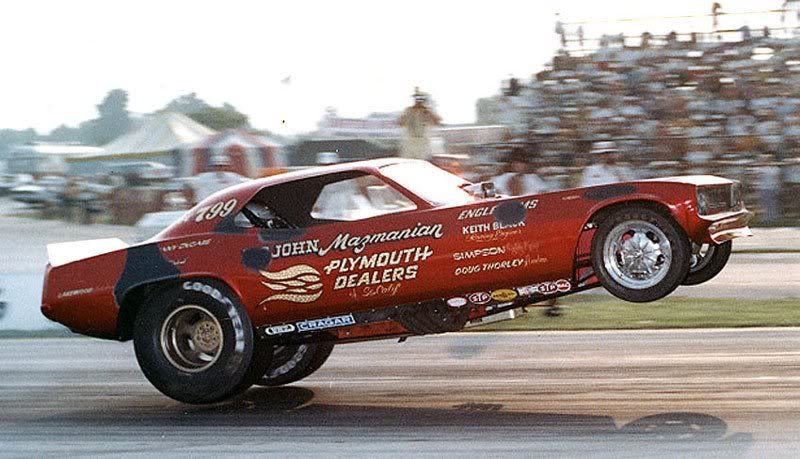 Indy is a place where magical thi ngs happen. Look closely, and you
can see that "Big John's" battle-scarred 'Cuda has all four tires
off the ground.

Not all new ideas were good ones; Exhibit A is Noel Black's
two-engine, four-wheel-drive Top Fueler from 1967.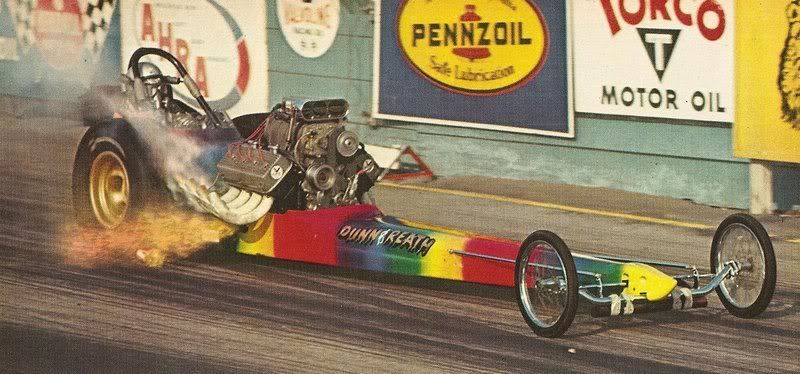 Call me an astute observer, but I reckon that "Big Jim" Dunn was
pretty much done for this run at Lions in the rainbow-hued Dunn &
Reath digger.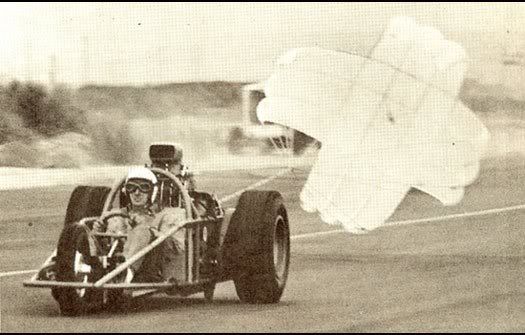 Who says you need four wheels?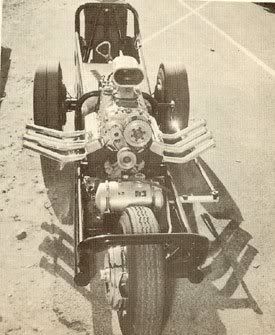 Scary fast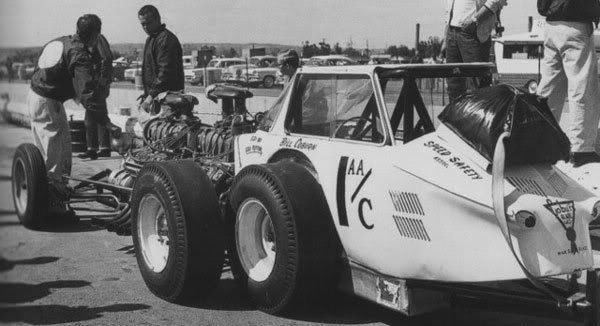 In the same vein, who says you even need four wheels or three
wheels? The famed Leffler-Coburn Iron Mistress coupe had six! In a
true example of the sum of the parts not being equal to the whole,
Neil Leffler and Bill Coburn each took the fuel-burning Hemis from
their competition coupes and paired them for this interesting
experiment. It wasn't real fast, but it was spectacular.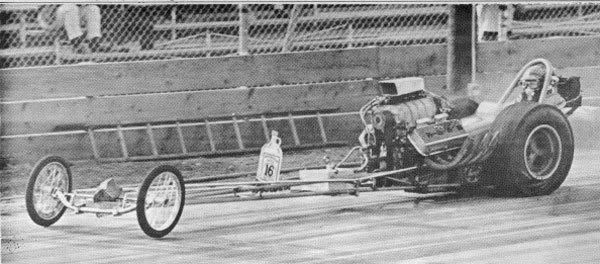 We've seen lead weights and tubes filled with lead shot as
front-end ballast, but a rock? I kid you not. Clearly, the Red
Mountain Boys knew how to rock.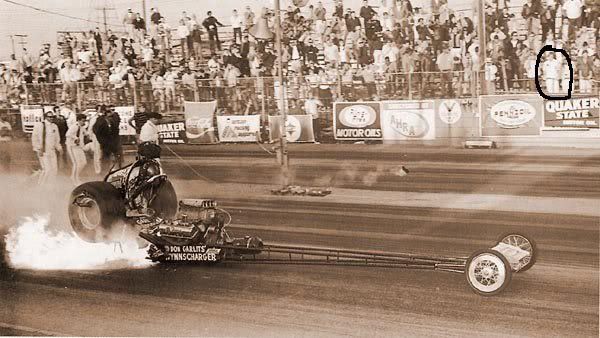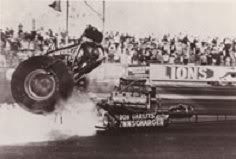 I think we've all seen the classic photo above of Don Garlits'
career-changing transmission explosion at Lions, but at left is the
less-seldom-seen but equally-breathtaking downtrack angle. I'm not
sure who circled the fan in the stands or why, but that's how this
image was posted.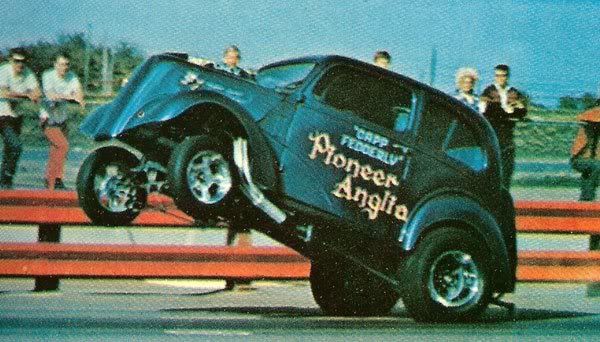 I've never seen this car before, but it can't be any mistake that the names on its side are Capp and Fedderly, as in future Top Fuel partners (and Indy winners) Terry Capp and Bernie Fedderly. Both are still at it years later, Capp in nostalgia racing and Fedderly as Auston Coil's alter ego on the John Force team.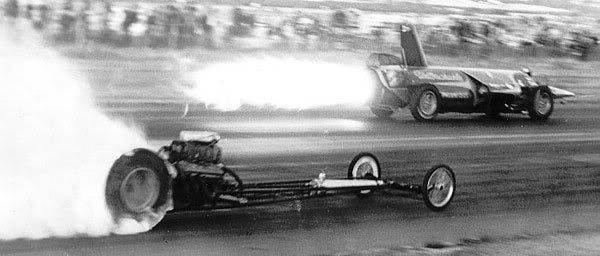 The first rule of running against a jet dragster: Always leave
first.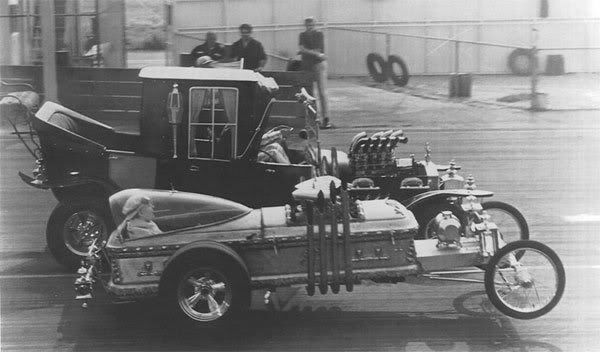 Herman Munster , far lane, and Grandpa dueled at Lions in a
ghoulish go that was featured on the popular television show.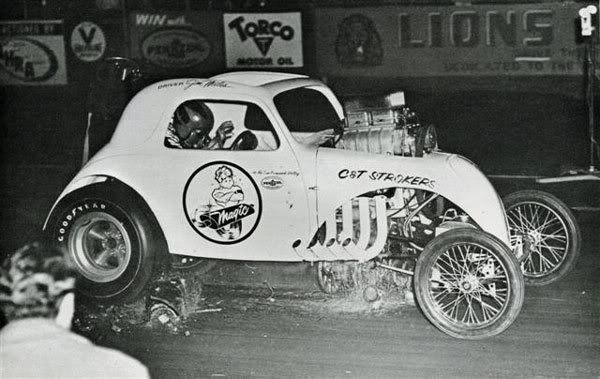 The driver's reaction in this photo is classic after his blown Fiat
puked all over the Lions starting line.

01-10-2009, 07:11 AM
Senior Member
RACING JUNKIE
Join Date: Jul 2007
Location: Independence, Missouri
Posts: 1,186
---
The last pic is the magic mufflers fiat at Lions. That picture has an honored place in my family room. Check out the oil pan in front of the rear tire, and misc. engine parts in the track, along with all the oil showering down. Gray Baskerville said it was the coolest drag racing photo ever taken. OUTSTANDING, Zipper,and hotrodharly, totally made my day!!!

01-10-2009, 07:57 AM
---
OUTA SIGHT !!!!!!!!!!

I get such a kick out of seeing the progression of 'technology'. Those were back when there were no rules in trying ANYthing to go fast !! TRUE hotrodding at it's finest !!
GREAT POST !!!!!!!!!!!!!!