Whats the best type of car to start out with?

11-18-2008, 09:33 PM
Junior Member
SHOW GUEST
Join Date: Oct 2008
Location: Toronto Ontario
Posts: 5
Whats the best type of car to start out with?
---
Hi all...Rob from Toronto here

. I have been looking over the postings here and am looking to buy my 1st drag car. I got hooked watching Pinks and really want to buy a turn key car and start racing it next spring. Problem is how much hp should I start out with. I don't want to loose it on my 1st pass and hit the wall
. I'm not too concerned with make, ie. GM, Ford or Mopar, all though I do own a stock 1968 440 GTX auto, don't want to chop it up...strictly a stock muscle car. I ran it at my local strip and loved running it all out! From what I'm seeing 10,000 should get me a decent starter car. Any help/advice you pro's can give me would be greatly appreciated. I'm open to trading my GTX for a bracket car if anyone is interested.

11-19-2008, 12:01 PM
Senior Member
SENIOR BUILDER
Join Date: Feb 2008
Location: Nineveh, Indiana
Posts: 108
1st drag car
---
Just a couple randome thoughts here.

First question I'd ask. What are your basic mechanical abilities?

That goes a long ways in determining what kind of car to look at. If you have never been into this sport at this level. You buy yourself a car that is above your ability to maintain it. Well, you'll have a headache somewhere down the road. Even the most reliable of these cars are going to break or develope a bug sooner or later. Here again, I'm not insinuating anything about your abilities, lord knows, I'm one of the least mechanical persons out here, LOL! Just giving you some food for thought.

Second question, following Tod74's line of thinking. As a starter car, do you envision improving this vehicle? Or is this a step, use it to learn and perhaps sell or trade it in the future? If you intend to use it as a base to build on, you want a GOOD base.

Just trying to give you some avenues. Especially if you have "hard cash" just laying around for this purchase. Do some solid reseach on what YOU want to do with the car.

Nothing worse than buying something, getting it home and it not be what you wanted or expected. Better yet, WHEN you find that car that you can't live without, take a few of your buddies along that have no vested interest in this venture. They'll find the flaws and problems that your eyes either don't or refuse to see.

Good luck in your search.

11-20-2008, 06:18 AM
Senior Member
RACING JUNKIE
Join Date: Mar 2003
Location: Fountain,MICHIGAN
Posts: 856
CAR
---
Go to your Local Track and FIND a Car that Interests you???Then go from there...........
If its a Car that you Like,and its F/Sale?I'm sure that some type of Passes could be Arrainged with the Proper (BANK STATEMENT)?
Later
G 8)
Although-10 GRAND?
That Might be a Strech............Cause you could'nt get My Vega for that,its a Mid 9 second 1/4 mile car.The $$ you want to spend show get you into the 11's.......................?

11-20-2008, 06:44 AM
Senior Member
RACING JUNKIE
Join Date: Sep 2007
Posts: 4,140
---
10-12 grand can get him a pretty good start and get him in the 10's
IF he shops carefully
I bought my car in 1996. It had no wiring,no fuel cell or fuel line..no fuel pump or battery..no motor or trans.
It
DID
have; 12 pt cage,fiberglass hood,bumpers and deck lid.Lexan Windows,
12 bolt with strange axles with 5/8 wheel studs,Strange spool with a new 5.14 Richmond Pro gear, ladder bars/coil overs, adjustable shocks on front (brand unknown). It also had new Moroso front runners and a set of 32 x 14 goodyears with 6 passes on them. The wheels were ugly and the paint was near new but nothing to brag about.
I paid $3200 for it. I have never touched the suspension it goes straight and would probably hook in a snow storm...You need to find a car like this one. meaning,get one that some OLD Fart that knows what he is doing has set up and has it working well..that way it will at least be close when you get your motor and tranny in it...So $3200 - $4000 spent..you would still have $6000 left to build a motor and trans. You can build a decent base level BBC and a glide with that if you shop wisely for a few used parts.I was in the same boat as you..I had raced trophy with a street car but knew nothing about building a drag car from scratch...so I found one already halfway there.
JMO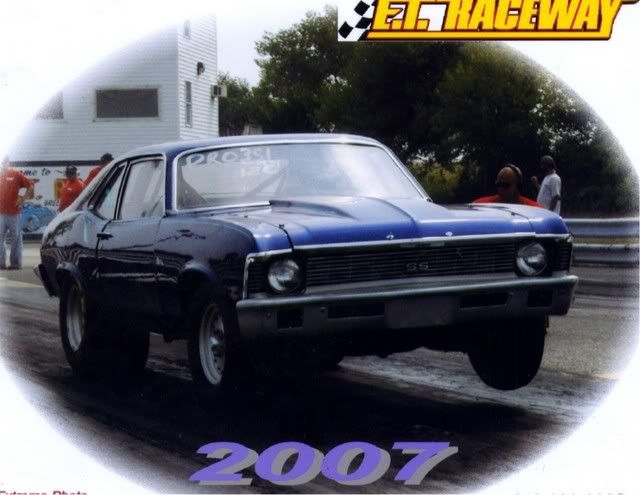 11-20-2008, 11:25 AM
Senior Member
RACING JUNKIE
Join Date: Mar 2003
Location: Fountain,MICHIGAN
Posts: 856
Car
---
10 Grand could get you in the 10's?the Economy is a S#!T Situation,the Deals are out there?Digging them out is TUFFFF Part.........?
Tod,
Your Yard looks like Mine!
In Othere Words,it LOOKS like it SNOWED C H E V I E S !
Later
G 8)
ThaT Duece is LOOKING SWEET!

11-20-2008, 08:34 PM
Junior Member
SHOW GUEST
Join Date: Oct 2008
Location: Toronto Ontario
Posts: 5
1st drag car.
---
Tod.......Very nice Nova 8) . Just wanted to Thank all of you for your advice. Maybe buying a roller and getting a good deal on the drive train is my best way to go :? . I've noticed quite a few motors, in the classifieds, for real cheap prices. One started out, in July, for 12,000 and is now down to 6,000 obo.....so there are some great deals out there.

11-20-2008, 08:55 PM
Senior Member
RACING JUNKIE
Join Date: Jan 2006
Location: La.
Posts: 2,890
---
I personally am a little predjidce toward Chevy, but that's not to mean that Mopar and Ford does not figure into the picture. It just cost less to make a Chevy run the same #'s. I'm with Todd find a decent Roller car/chassis that will certify and buy a basic motor and trans, something close to stock/mild, big block for sure has more power for the money. Get acquainted with the car and how it drives and handles. It doesn't have to be fast in the beginning just consistent. Once you get there then move up a little at a time as you can afford it or as long as Canada lets you run fast, i think they are cutting out importing Racing gas and Alcohol in 2009 :?: , i certainly hope not :?

JMO

Zip.