Shifting Sucks

10-04-2008, 03:16 PM
Senior Member
RACING JUNKIE
Join Date: Sep 2007
Posts: 4,140
Shifting Sucks
---
Finally went to the track today...got there late so only ran "TEST" and only got two passes....didn't know til I got there the flood in June ruined my msd switch that controls my electric shifter. :? Ok so I guess I will just have to shift by hand.
Well......the car launched good 1st pass 60 ft was a 1.33 but I forgot to shift
ops: when it hit the chip I remembered... :? so I let off and rolled to a 7.48 at 58 mph.
Second pass 60 ft was 1.31, 330 ft was 3.892 and I shifted but I don't know where..lol some rpm between 5000 and 7000 :lol:
This was the first full pass and I have not messed with anything just put it together and went....that run went a 6.10 but mph was only 109.9 . I think(hope) that once I get my shifter working so I aint got to shift and work on the tune up this turd should go some 5.90's......If not oh well ...I'm just glad nothing is broken!! My father was with me today and after he watched me get out of it the first pass, first thing he said when I got back was "What did ya tear up this time?" I told him nothin' just forgot to shift
ops:

10-04-2008, 05:23 PM
---
Tod i shift my 67 camaro manually..don't ask me why i just like it.. i am sort of twisted i guess....in a 4 speed mind kind of way LOL
i know you said you was wanting to run some 5.90 range..so i got to comparing your numbers with my 67 camaro when i had my 511 ci..it ran 5.98/5.99 on motor here is the run down so you can compare your set-up..maybe you and i both can pick up something off this.
my car was 3004 lbs with the 511ci with me in it race ready
33 inch tall tire with 500 gear
left at 4,000rpm
i shift by the feeling in my a$$ but i would assume 7200 rpm on the recall
as you can see from my slip below
1.32 60 ft
3.86 330 ft
5.994 et
114.14 mph
you will notice our 60 fts are real close ( yours a tad better)..my 330 ft is a tad better....but my mph is 5 mph better with a 1/10th quicker :idea: :roll: ...i find this very interesting
tell me about you car weight,gear ,leaving rpm etc.....
i am also posting a Video of my 5.99 pass . also a Time slip
http://s210.photobucket.com/albums/b...t=100_0263.flv
[img]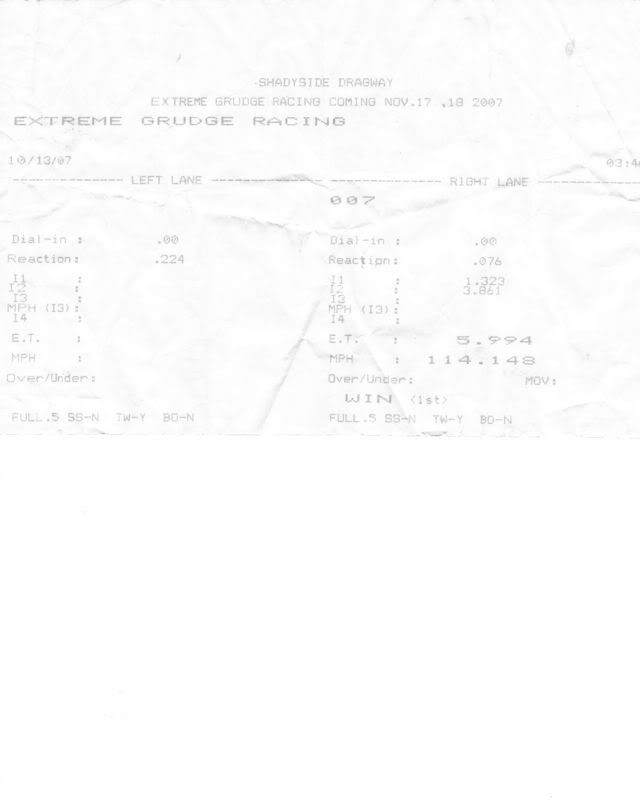 [/img]
__________________
Bjuice..

"I'M YOUR HUCKLEBERRY ! "

10-04-2008, 05:40 PM
Senior Member
RACING JUNKIE
Join Date: Jan 2006
Location: La.
Posts: 2,890
---
Todd, you funny umbra, i also run and electic shift, but an electric shift valve body, i had a 2 step go bad and i was so confused that i shut it down, i thought i broke something and put it in the trailer. Even went so far as to drop the pan
ops: I love the electric shift valve body, just slide off the trans brake and 2 hands on the steering wheel for the rest of the run. BJ i can remember shifting back in the day, i felt like Willy Borsh with his blown altered, one hand driving and not know where it was going next.
Zip.

10-04-2008, 06:03 PM
Senior Member
RACING JUNKIE
Join Date: Sep 2007
Posts: 4,140
---
I don't know how much difference it makes but I may have gotten out of it a bit too soon...they have two cones at the finish line I assume is the mph lights(?) well this my first time out all year still pretty nervous and I got out of it at the first cone rather than run it out the back..I just swapped over to wilwood disc brakes from stock drums and wasn't sure about how well it would stop and what not..the MPH seemed low to me cause last year running 6.20's and 6.30's I was around 108 mph

.....I've had this car for 10 + years and it has always just barely lifted the tires maybe a ft or so..I could never feel it much just see it in pictures but today it was coming up 3 -4 feet according to my dad and it got my attention..wasn't expecting that at all and sorta rattled me a bit the first pass ....probably why I didn't shift it the first pass.....I have always had old stock BB Heads and I put some -2X's on it plus took a good bit of weight off the front with the wilwood stuff and new wheels.

Was a short day but I don't get to do stuff with my dad too much (he is in his 70's) anymore so I enjoyed it. Next time I'll be better prepared.


BJ

I weighed the car a few years ago with a factory block 454, manual drum brakes.. and it weighed 2820 (no driver 4 gallons of fuel)...Now it has a Merlin Block 540 and wilwood med duty brakes( .380 thick rotors) I weigh 220 lbs.
32 X 14 tire 5.14 gear powerglide trans

Not sure about the launch rpm today...I used to ALWAYS go dead against the converter until today...no 2 step in it yet so I just sorta brought it up on the converter an instant before flooring it and releasing the button kinda all at once...but I did flash the converter rather than dead head it like I used to.( maybe why it left harder???) Will have a 2 step next time.I only run a few times a year just for the fun of running the crap out of it I aint really a bracket racer as you can tell. :P

10-04-2008, 06:29 PM
---
oh yeah you will go in the 90's No sweat..i will say somewhere in the 80's before its said and done..
dang if we about tit for tat on what we are running.car,motor ,tranny and gear..i also weight 220 lbs... :shock: ..wow !

i got to thinking after i logged off if you were pulling the front tires 3 ft and carrying them thru the the 60 ft..then you were clocking your 60 on the back tires..if this is so then that 1.31 60 ft could have been a 1.27/1.28 ..60 ft

foot braking to..yeah Tod i think ya got a 5.80 car on your hands no problem.
__________________
Bjuice..

"I'M YOUR HUCKLEBERRY ! "

10-05-2008, 09:47 PM
Senior Member
RACING JUNKIE
Join Date: Jan 2006
Location: La.
Posts: 2,890
---
[quote="dparker"]Hey bjuice whats with the .07 light is it time to hire a driver. Haha[/quote

Hey Parker, don't you realize when you get old, you're afraid to go fast :lol: Hell i'm oilder that both of you guys and i'm always afried to go go fast, maybe i need to hire a driver, just kiddin i'm willing to die in my race car if i screw up.

Zip

10-06-2008, 03:48 AM
Senior Member
RACING JUNKIE
Join Date: Sep 2007
Posts: 4,140
---
[quote="zipper06"]
Originally Posted by dparker
Hey bjuice whats with the .07 light is it time to hire a driver. Haha[/quote

i'm willing to die in my race car if i screw up.

Zip
LOL
That's commitment. :lol: