Timing belt

09-12-2008, 07:07 PM
Timing belt
---
Is it worth the cost to run a jesel or comp timing belt vs a chain?? Have heard horror stories of belts breaking. i imagine those guys tried to run the belts to long or didn't freshen the motors as often as I do.????
Would do you run,
Comp
or Jesel??
Almost forgot to say what i was running. bbc, 7,800 rpms.
Thanks

09-12-2008, 09:55 PM
Senior Member
RACING JUNKIE
Join Date: Jan 2006
Location: La.
Posts: 2,890

09-13-2008, 06:15 AM
---
100 passes for you is more than 700 passes for me!!! I freshen my motors every other year so I shouldn't have any problems!!!! Jesel is on the way!
I'm also looking for a good playback tach. Too many to choose from. I'd like to be able to download to my computer, but not sure which one to buy.
Thanks zip!!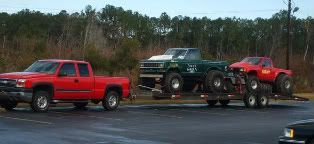 09-13-2008, 11:06 AM
Member
JUNIOR BUILDER
Join Date: Jun 2004
Location: lake luzerne n.y.
Posts: 87
---
Hey Scott,
Just food for thought. I tossed up the idea of a jesel system for my motor and what changed my mind about it was seeing what happens to the belt on my fuel pump for my injection system. At some tracks I Have had mud come up and get in between the belt and pulley making the belt either jump off or break all together. On a fuel pump thats one thing but if it ever happened on a valve train, well, you know the outcome. I don't think that a external belt drive is good for what we do. I run a top quality cloyes timing chain and after 5 years in the motor and spinning it to 7800 rpm's evertime out, it still is nice and tight.

09-14-2008, 08:41 AM
---
This is from the Comp Cams belt drive instruction sheet.
5. The unit is designed for use in a paved, on-road environment. Make sure that
rocks and debris are prevented from getting into the assembly. Keep clean of dirt
and oil. It is possible to use this drive in a dirt track application, provided that a
cover is fabricated to isolate the drive from contamination by dirt and debris.
The jesel kit says is comes with a cover. Maybe thats why it cost $220 more??????
http://www.jeselonline.com/v2/index.php?categoryid=22
http://www.jegs.com/i/Jesel/549/KBD-32000/10002/-1
I hope I didn't buy more parts I have to send back!?????

09-14-2008, 02:22 PM
Senior Member
RACING JUNKIE
Join Date: Jan 2006
Location: La.
Posts: 2,890
---
It doesn't come with a dirt cover, i've seen some on dirt track cars, but i think they were fabercated by the owners. i've seen them made with lexan, and others made with alum. I don't know of anyone who makes them but i know that jessel does not. What you see in the pics. is what you get. I also have a Jessel drive that i bought off ebay shortly after i bought the comp unit.
The dirt is something to be concerned about i'm sure.

JMO

Zip.

09-14-2008, 03:47 PM
---
It looks like I could just make a simple cover to bolt over it, but do I have enough room between it and my CSR electric water pump??
I'd hate to buy it, have my engine built, bring it home to find out I can't put a cover on it!!
Thanks!!

09-14-2008, 04:18 PM
Member
JUNIOR BUILDER
Join Date: Jun 2004
Location: lake luzerne n.y.
Posts: 87
---
There are a handful of guys running a jesel setup in mud racing, I have never seen any of them have a cover over the drive, but I have noticed that they are picky about what tracks they run. I don't know if the belt drive has anything to do with it but I do know they won't run sloppy tracks. I don't think that in our sport of mud racing that their is any advantage to running a belt drive. JMO. Timing chain uses the same amount of power to turn.

09-14-2008, 04:56 PM
Member
MASTER JOURNEYMAN
Join Date: Apr 2005
Posts: 41
---
if your running a jesel belt drive and an eletric water pump im pretty sure you are going to have to make or buy water pump spacers the adjustable cam gear on the belt drive would not clear my meziere water pump i had to make spacers for clearance. if your worried about clearance then the belt drive is porbably going to be a hassel for you, especially if you want to make a cover for the belt drive.

09-14-2008, 05:59 PM
---
I have a BBC in toyota and I'm not kidding I don't have 1/4 and inch between the water pump and the radiator. I can't move the radiator any more forward and rules will not allow me to move to the bed.
I want to run a belt drive bad and it's not looking good right now!
I'm gonna keep researching and make sure one way or another.

Thanks guys and anybody else that has info please keep posting.
THANKS everybody!!!