suspension help with springs

09-03-2008, 04:04 AM
Junior Member
SHOW GUEST
Join Date: Aug 2008
Posts: 4
suspension help with springs
---
We have a vega wagon it weights about 2300lbs. It has coil overs on the back. What rate of a spring do we need? I have been looking around and from what i can find if the rear end weight is less than 1050lbs we need to use 85lbs springs. but i see some springs that range from 4 inches to 14 inches. I dont no what kind of coil overs they r but will get more info as soon as i can. the motor is a 355 sbc roller can 650 lift
[email protected]
gears...stall is 5000...rear tire 32.14.15 .desk top dyno was about 515hp.Dont no if that helps.

09-05-2008, 03:56 AM
Senior Member
EXPERT BUILDER
Join Date: Aug 2005
Location: Tell City, IN
Posts: 356
---
The length of the spring I believe depends on your ride height and where your they are mounted. mine are 14" If I remember right. You want a spring that will put the shock at the center of it's travel with the car sitting there race ready. I only have 1060 or so on the rear of my S10 and I run #130 springs. They seem to work the best for me.

09-05-2008, 03:49 PM
Member
JUNIOR BUILDER
Join Date: Mar 2006
Location: Illinois
Posts: 96
---
If you really want 85 lb spring they should be long enough fully extended to alow for a little over 5 inches of settling to be at ride hight. If you split your 1050 lbs in two that is 530 lbs per spring. If they was 100lb springs, that would mean they would compress 5.30 inches when weight is applied, if coil is close to axle center line. Your 85 lb spring will compress about 1 inch for every 85 lbs you put on it.

85 is a little lighter than I would like, just for the reason of an unstable feel at speed. This will also limit your lower IC settings to be real effective if you wished to go that way.

Softer springs are made for rougher ground, to maintain tire compliance. you won't hardly ever see under a 90 even on a dirt track car, and that would be on the left rear that carries very little weight on a whole.

With your short wheel base you could fall int a group that gives up traction to control wheelies, using lower ICs. I don't like this kind of solution and would rather move weight but some do it. When or if you did, you wouldn't have enough spring rate to off set compression in the rear. Sure you can stiffen shock up but that just slows the compression. It don't shorten it. Then you have traction after the shift when you don't have so much weight transfer. US7race has a spring more to what I would pick.

With center of gravity right and IC right, a spring does little more than hold car up and keep it from shifting weight left to right.

09-05-2008, 04:34 PM
Senior Member
MASTER BUILDER
Join Date: Dec 2003
Posts: 185
Re: suspension help with springs
---
Originally Posted by TYSON3660
We have a vega wagon it weights about 2300lbs. It has coil overs on the back. What rate of a spring do we need? I have been looking around and from what i can find if the rear end weight is less than 1050lbs we need to use 85lbs springs. but i see some springs that range from 4 inches to 14 inches. I dont no what kind of coil overs they r but will get more info as soon as i can. the motor is a 355 sbc roller can 650 lift
[email protected]
gears...stall is 5000...rear tire 32.14.15 .desk top dyno was about 515hp.Dont no if that helps.
Funny but I had 85lb springs in the back of my vega with a BB :shock: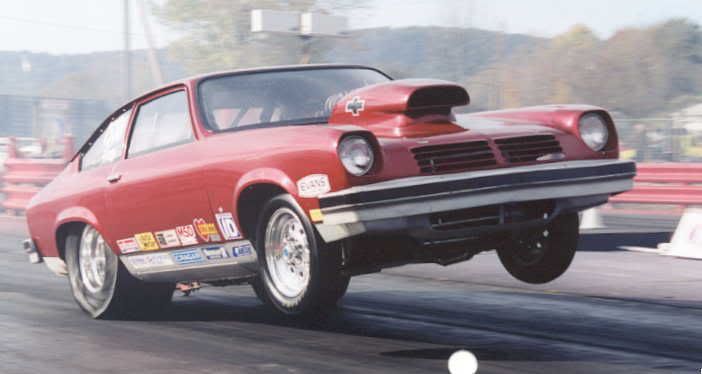 09-05-2008, 11:29 PM
Senior Member
RACING JUNKIE
Join Date: Jan 2006
Location: La.
Posts: 2,890
---
In the early 1980's i built a Vega wagon, streched the WB 2" and i put 110's on it, it was a steel headed 482" rat with a dominator on gas, it was a ladder bar car. They worked well in that time period, but things have changed in today times. It went 9.82 the first full pass(today i'd be embarassed to run that with that much car). It also weighed 2450lbs. Today i would probably be thinking differently, because in those days we didn't scale a car nor did we have the scientific data that we do today. I'd pick what you think is right and try it, springs are cheap, i run 130's on a 3250lb Malibu and it will plant the bumper.

JMO

Zip.

09-05-2008, 11:55 PM
Member
JUNIOR BUILDER
Join Date: Mar 2006
Location: Illinois
Posts: 96
---
I wasn't saying you can't make 85 lb springs work. They just have certain disadvantages like helping to control body roll, weight transfer to the front when stopping and positively transmitting IC settings to tire contact patch at times. Heavier rates in the front or an anti roll bar can help these things. But I like to think that having all the parts of a combination doing a little to get end result is better than taxing one part.

09-19-2008, 12:41 PM
Junior Member
JOURNEYMAN
Join Date: Feb 2008
Posts: 29
---
ok well the length of the spring should be correct for the shock you are running. Take a shock off and remove the spring and measure the extended length and the compressed length, center to center mounting point to mounting point (rod end, clevis, what have you) this should give you enough info to go to the shock maker and find out what the correct length of spring is, also make sure you check the dia. not all coil overs use the same dia. spring. Then select the spring rate based on the weight on the springs and how much shock compression you want at ride heigh keep in mind how much spring pre-load adjustment the shocks have.
If this is a ladder bar car with adjustable upper links of the ladder or a four link car I would not recomend trying to control "body roll" with the rear springs, there are better ways.
A word of caution ....if you install a spring that is not compressed or worse has space between the adjuster and the spring when the shock is fully extended you could have a problem if the suspension goes to full extension when the car is moving.