Cam and Heads suggestions

06-20-2008, 01:00 PM
Junior Member
APPRENTICE
Join Date: Nov 2006
Posts: 16
Cam and Heads suggestions
---
So far I am very happy with the 406 in my S-10, but this winter I am thinking of adding a set of alumiunm heads and a bigger cam to my truck. Right now I have a TON of low end, but it seems to run out of pull around 4800-5000 RPM's. I think a different cam and a set of heads would really wake this thing up. I can get some decent deals on AFR heads, so I am leaning toward a set of those (part number: 1036 to be exact), but I am open to suggestions. I dont think angle plug heads would work with the 1 3/4" sanderson headers, so I need to stick with straight plug heads. Im still unsure of what Cam would be a good choice though. Here is a quick run down on the engine.
30 over 400 4 bolt main block
Eagle Crank
Eagle 5.7 Rods
TRW flat top pistons
Edelbrok performer EPS intake
Holley 750 Double pumper
Current heads are GM 882 heads with 1.6 roller rockers on the intake and 1.5's on the exhaust. Pushrods are +.100
Here is the current camshaft: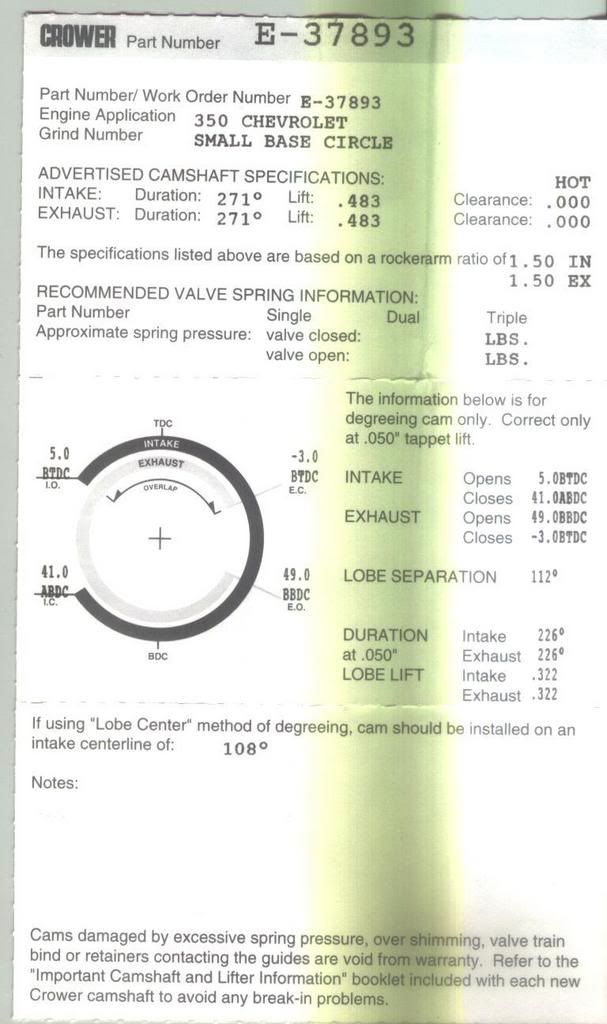 The trans is a 350 turbo with a 10 inch 2600 Stall converter
The rear gears are 3:89's with a 25" tall tire.
This truck is a weekend toy that may see the track every once in awhile. It is not a daily driver.
Any other information you guys want just let me know! Any advice is appreciated! Thanks!
Alan