Our season starts this week end (UPDATE)

03-27-2008, 04:45 PM
Senior Member
DYNO OPERATOR
Join Date: May 2003
Location: Moscow Mills, Mo.
Posts: 533
Our season starts this week end (UPDATE)
---
Leaving tomorrow and headed for Gateway to run the NHRA open event.
I'll be running S/ST. Can't wait to dump the clutch :wink:
I thought it would never get here.

Just wanted to let you know how I did this week end at the track. I put a set of wheelie bars on for this year. What happen was I couldn't raise them up high enough. If I raised them up higher they would of bent the lower valance panel. I'm going to notch the lower valance panel for the bars to clear. What happen was the bars come down and lift the rear tires off the surface and spin the tires.
It's hard to dial the car in when it's spinning. I went out first round. I cut a
.050 light and ran a 11.00. The other guy cut a .034 and ran a 10.91. The car spun real hard and slowed down. No excuses though. I'll have it fixed next time out :wink:
[/img]

04-01-2008, 02:58 AM
Senior Member
RACING JUNKIE
Join Date: Nov 2005
Location: Staunton, IL
Posts: 943
---
Here's a pic of a stocker that Bret Kepner posted on
www.stlsr.com
from this weekend.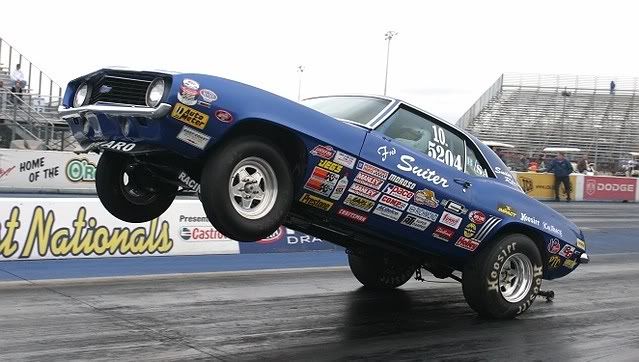 04-01-2008, 02:38 PM
Senior Member
DYNO OPERATOR
Join Date: May 2003
Location: Moscow Mills, Mo.
Posts: 533
---
Originally Posted by Tod74
I thought they had wheelie bars that actually pushed down on the rearend to plant the tires harder as they hit....
I know him that's Fred. Super nice guy. Him and his son were there running B/SA. I was there when he did that. His bars bend alot when the front end went up. They also have springs that make the bars more forgiving and bend like you see here.
My bars don't have springs and are very stiff but adjustable. I couldn't raise them high enough so the tires unloaded and started to spin on the lauch. On that pass Fred lifted and tore alot of stuff up. Like I always say don't lift in first gear. Funny thing is hours befroe that pass we talked about not lifting. It's a whole lot different when your in the car.