Ok ole clause had a beer or two

12-24-2007, 05:19 PM
Administrator
RACING JUNKIE
Join Date: Apr 2003
Location: Greenville s.c.
Posts: 3,239
Ok ole clause had a beer or two
---
well my 2 1/2 yr old wanted a pink race car for Christmas...all i could find was a electric barbie Mustang..YUUUUCCCCKKKKKKKKK..i got half way thru putting this thing together and i had to make a trip to the local grocery store and grab a six pack of Bud Light before they closed...keep in mind i have not touched a drop all year.. i am really a non-drinker...But this freakin PINK MUSTANG..DROVE ME OVER THE EDGE...i can't take it anymore..lol. :? ..

anyhow..i finshed putting the thing together and took it out to the shop until she goes to sleep......

AFTER BEER #3..I started peeling off the Barbie stickers and replacing them with the following

12 inch Moroso sricker cadi corner across the hood...Vp racing and VP racing fuel stickers on the sides along With autometer and Enderle injection...and of course a Pair Of Moon Eyes on the winshield...

the car now looks like a 2006 Pink Mustang running for 100% Contingency Money...wife hasn't Saw it Yet.... :shock:

ok i am on beer #6 and and its 8:15 pm 12/24/07 (Christmas Eve)..i swore i saw Santa in a chopped 50 Mercury running lakeside pipes Buzzing my Roof at 315 mph..


Merry Christmas.

Bjuice.
__________________
Bjuice..

"I'M YOUR HUCKLEBERRY ! "

12-24-2007, 06:04 PM
Senior Member
DYNO OPERATOR
Join Date: Apr 2006
Location: North Georgia "GODS COUNTRY"
Posts: 538
---
Oh man a custom Barbie Pink Car...forget that original sticker stuff...and I do not drink either but will take a shot tonight and chill til time for Santa's ole a$$ to show...The girl will be doing wheelies tomorrow and turning great times...YA'LL have a good evening and remember the real reason for tonight..

12-26-2007, 05:24 AM
Senior Member
RACING JUNKIE
Join Date: Feb 2004
Location: san antonio, texas
Posts: 1,233
---
and this is coming from a guy that can fit braided steel hoses with
out a problem but barbie drove him to drink, hee heee heee, and
pink at that, may the christmas spirit fill the whole new year
ernest :P

12-27-2007, 05:26 PM
Administrator
RACING JUNKIE
Join Date: Apr 2003
Location: Greenville s.c.
Posts: 3,239
---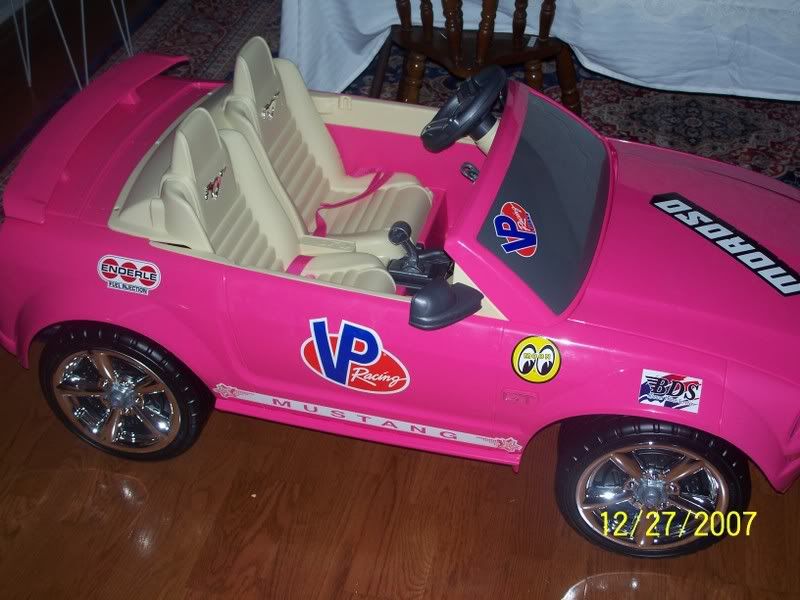 Here is my Daughters 1st Race Car ( so she calls it)..i put togther Christmas Eve...
Hey Jlp..i hope you wasn't gonna see this..i will never hear the end of it..LOL...
How is the blown truck coming along?..
__________________
Bjuice..

"I'M YOUR HUCKLEBERRY ! "