565 bbc

12-04-2007, 07:18 PM
Junior Member
SHOW GUEST
Join Date: Feb 2004
Posts: 8
565 bbc
---
:?: To all the professionals on here and the ones that know.What should it run?And what would you change and why?
565 bbc
13.5 to 1
345 afr heads no porting
744 704 lift
282 284 dur @ 050
110
1050 dom.
victor R cnc'ed by reher morrison
1.76 glide
4800 converter 10"
514 gear
33 tall tire
3000 lbs

12-05-2007, 12:06 PM
---
it Will run what Todd said if you can lay a 60ft down in between 1.26 and 1.30 range.....

thats the answer yet to be seen in everyones final ET until they get to the track and see if that can lay it down off the line....( particulary in the 1/8)

you got to have your chassis working to 60 ft these times i listed above in a heavy door car ..its doesn't come automatic..too many people make it sound too routine to run this 60ft..and it may be a little more common in 2500lbs tube cars..i can assure you that you get around that 3,000 lb mark..the 1.26 60 ft becomes a little more challanging for a motor pass..cause you got to consider that some things are out of your control such as track conditions etc...

but you 60ft those times and you will run mid 5.70 range for sure..if your motor will pull thru the 330ft mark at around a 3.78- 3.80 et..you will be there.

Mph should be in the 117 to 120 mph range for this et range

Brian
__________________
Bjuice..

"I'M YOUR HUCKLEBERRY ! "

12-05-2007, 05:28 PM
Senior Member
RACING JUNKIE
Join Date: Mar 2003
Location: Ohio
Posts: 937
Re: 565 bbc
---
Originally Posted by badluv
:?: To all the professionals on here and the ones that know.What should it run?And what would you change and why?
565 bbc
13.5 to 1
345 afr heads no porting
744 704 lift
282 284 dur @ 050
110
1050 dom.
victor R cnc'ed by reher morrison
1.76 glide
4800 converter 10"
514 gear
33 tall tire
3000 lbs
The compression is a little low. The cam... I just pulled a 761 744 that was 283-289 out of my 548. The carb will work. The heads unported are on the edge. I do hope that is a good gear set in that glide. Why such a small stall? You are looing at 6.20's. You are going to be 114-117 mph.

12-06-2007, 01:16 PM
---
i know alot of this is opinion ..but here is some fact (VIDEO) of me running a 5.99 et at almost 114 mph 1.32 60 ft.. 3.86 (330 ft)........this was in a 3004lb street trim camaro...7.22/7.22 cam.. and a 1050 dominater...heads are the standard brodix heads their lowest level.....also the motor i have is a 511...(small big block)
500 gear with 33 inch tall tires and a 5,000 converter..
54ci inches smaller than your 565ci..
http://s210.photobucket.com/albums/b...t=100_0263.flv
below is my time slip from that day..it ws on Gas that day...i switch back and forth to alcohol and the car and its much stronger on Alcohol.....haven't got a full pass on alcohol yet
.."no wheelie bars
"..but still ran a 1.32 60 ft on back tires lifting x2 and still ran 116 mph and a 5.98 ET...its got 5.70's in it all day long ( on alochol) and keeping it off the back bumper.with this little 511 ci motor....so in my opinion along with my experience.. if your 565ci is a good motor and your chassis and driving is up to par...your 565ci should run 2/10ths quicker than my 511ci
[/img]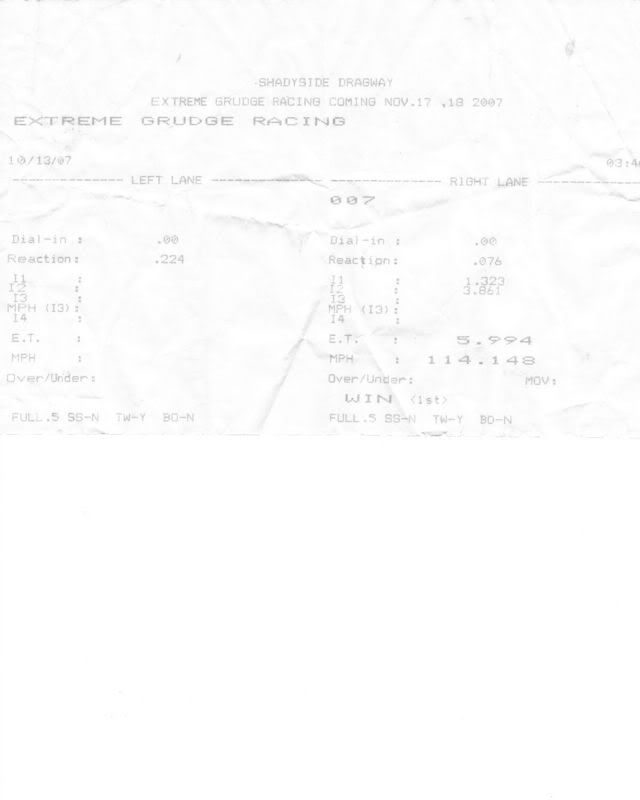 [img]
Brian[/img]

12-06-2007, 06:52 PM
Junior Member
SHOW GUEST
Join Date: Feb 2004
Posts: 8
565
---
I'm thinking my tight converter will not be as bad with the small cam i have (050 dur.)I think the motor will make enough torque to support the converter.
Bjuice i had a 511 in my truck prior to this motor and it ran 6.15 in the 1/8 with 1.33 sixty.I have a 4-link so i don't think traction is a problem.I update as soon as i can make some passes.Thanks for the replies.