Alky Inj Help

11-28-2007, 06:29 AM
Senior Member
SENIOR BUILDER
Join Date: Sep 2003
Posts: 105
Alky Inj Help
---
I went to fire the car up and the injuction block on the side of the hat is leaking from tha side near the motor. It has like a spring loaded valve or something with a snap ring holing it in it looks like.
Can anyone tell me why it would leak and why would there be a sping loaded valve were fuel could leak out there seams like a bad Idea. I dont know anything about these things and just trying to fix it so I can run the car this weekend to get some times on it but I dont want to take ANY chance on burning it up.. pick below shows the black(barral valve I believe its called) on the side. It is seaping from the side closest to the motor.
Thanks Guy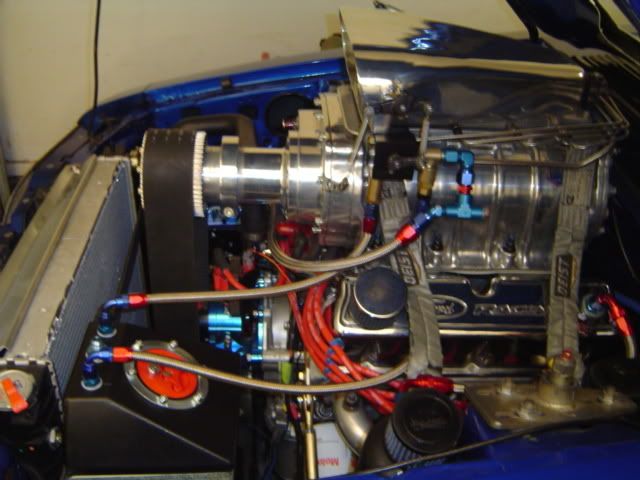 11-28-2007, 08:27 AM
Junior Member
APPRENTICE
Join Date: Nov 2007
Posts: 17
---
No biggie. The o-rings are just dried out from sitting. Sometimes they seal back up after running a little fuel through them. Time to change them out. Got em if you need em.
Dave Koehler
www.koehlerinjection.com

11-30-2007, 04:54 AM
---
i would personally do away with the high speed by-pass due to the set up and nature of your car...the spring you are speaking of is adjusted by tension applied thru the use of the number of shims..its a check valve used at high speeds to run off the extra alcohol...

if i were you i would plug it....

also what you using as a fuel pump ?..also what is your barrell valve leadown set on ,also main jet and nozzels...

thanks brian
__________________
Bjuice..

"I'M YOUR HUCKLEBERRY ! "

11-30-2007, 05:38 AM
Senior Member
SENIOR BUILDER
Join Date: Sep 2003
Posts: 105
---
??? I dont know most of what you asked because this is ALL new to me with the alky inj. That is why I was going to go to carbs. The fuel pump is a belt driven aeromotive pump driven of the crank. The valve stopped leaking after I ran some fuel threw it but I dont want to be unsafe with it. I may just go with the carbs or have someone that really know how to fix or better it show me.

I can get you the info if you tell me what to take a pick of or were to look.

Thanks Guy

11-30-2007, 08:13 AM
---
guy..hold up before you change anything..the injection can be a great thing.....

Please call Enderle injection and ask to speak to JIM..he is a very nice confrontable guy..he knows his stuff on these injections...tell him what engine your running,heads etc...type of blower.injection and fuel pump and he will tell you exactly what main jet,nozzles to run....

YOU ARE ON ALCOHOL...RIGHT ?

this man can get you real,real close over the phone in about a 2 minute phone call..trust me i have owned 3 alcohol injetced motors and all of them went thru Jim....

you will be fine..i can also e-mail you the injection schematic if you want..i will scan and e-mail over or post up...don't let this freak you out...once you get it close ( and jim will get you there)...its nothing more than changing one jet to lean or fatten her up...its really simple but you need a little help getting there...

the carbs WILL NEVER give the performance the injector will...also alochol carbs on a blower like that will most likley strave for alcohol..can't get enough (alcohol) thru them to support blower..( this is my opinion)...

only other things i can share with you right now is run a much cooler plug,,close your gap up to .016 to .018 no more than .020 thousandths.


PM me and i can speak with you on this ( by phone if we need to..i will call you)...i got my lashes and learning curve on the dyno when i built my alaochol injected small block..took 2 weekends ( 2 sessions) to get her dialed in...but it was worth it..

thanks brian

11-30-2007, 09:11 AM
Senior Member
SENIOR BUILDER
Join Date: Sep 2003
Posts: 105
---
Cool and thanks for the help. The hat has been flowed and the tune should be on its the peice that was leaking that is the problem. It stopped leaking but I just did not really know what to call it or should I upgrade it(black box on the side of the hat. I beleive it is a barool valve). The cars runs great and makes a ton of power just dont want it to start leaking again and burn it up

11-30-2007, 11:18 AM
---
thats cool...the black box is the Barrell valve..and is properly set with a leakdown tester..( cost 25.00)


those check valves have rubber o-rings on the end of them.you can get them from local auto parts store if need be...but looks the problem corrected itself..

good luck...do you have egt sensors installed ?...the clamp on is easy to install..will help you fine tune it a little better after a full passes...

good luck.

Brian
__________________
Bjuice..

"I'M YOUR HUCKLEBERRY ! "