my blown injected 23 T altered

11-27-2007, 04:10 PM
Administrator
RACING JUNKIE
Join Date: Apr 2003
Location: Greenville s.c.
Posts: 3,239
my blown injected 23 T altered
---
while i was digging out pics..i decided to scan these also...this was one HAIRY MACHINE..Let me tell you..i ended up selling this car to a guy from Whicita Kansas..he never had driven a race car...i warned him and gave him parachute lessons in my driveway...he had to have it..i have never heard form him again...hope he is ok...
this was a 572 alcohol blown injected motor..cola crank,grp aluminum rods,je pistons.MSD promag12....1470 mert littlefield blower..enderle birdcatcher...the chassis was chrome moly warren broagie hard tail with 9 inch floater rear end..superglide tranny with air shifter..bead locks 17x34.5..
motor made right at 1800hp at 20lbs of boost..car weighed 1600 lbs...
last pic was my 65 nova..sbc alocohol blown motor..the one that is now for sale i spoke about in general..
there ya go SPIB !
[img]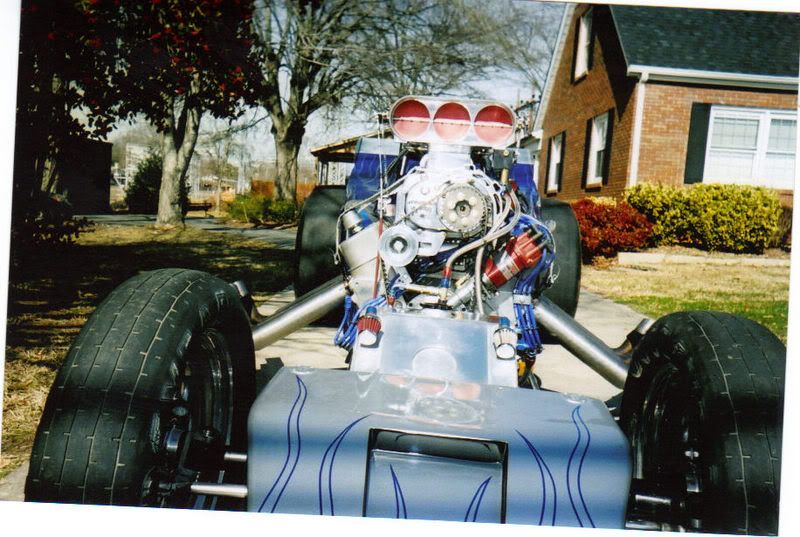 [/img]
[img]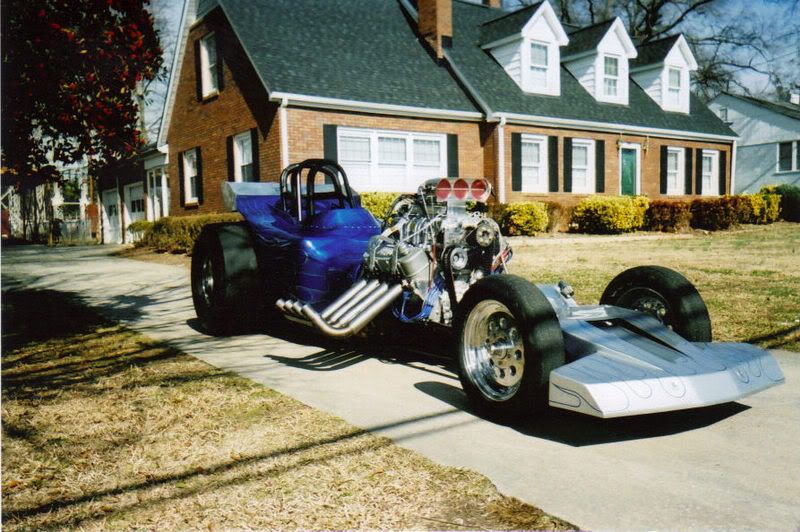 [/img]
[img]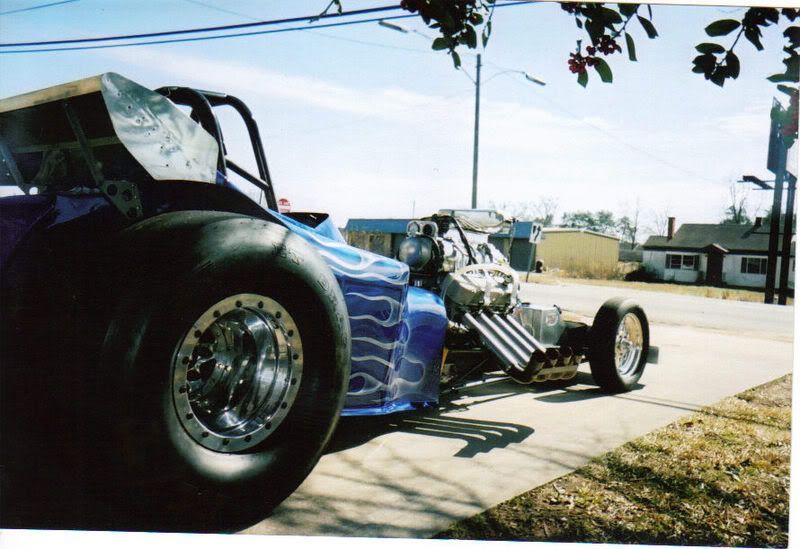 [/img]
[img]
[/img]
__________________
Bjuice..

"I'M YOUR HUCKLEBERRY ! "

11-27-2007, 06:28 PM
Administrator
RACING JUNKIE
Join Date: Apr 2003
Location: Greenville s.c.
Posts: 3,239
---
nooooo,,,,no lottery just yet !..lol..

ahh man..my car addiction started back in the mid 70's...cannot ell you how many i have had..i was trading and buying them at 15 yrs old...

i posted these pics cause a good friend of mine ask me to...i don't won't anyone to get the wrong idea about me..i am just an ole country boy that likes hot rods... 8)


Brian

hows the steering coming along..?
__________________
Bjuice..

"I'M YOUR HUCKLEBERRY ! "

12-19-2007, 11:44 AM
Senior Member
EXPERT BUILDER
Join Date: Jun 2005
Location: potash country
Posts: 262
---
Awesome T Brian! Ya love the way how hard these things leave the line. The 60fts are deadly. I've had mine for a few years now but its just a little guy compared to what you had. But as time goes by I'm getting bored with the speed. I would love to hit the 6.0's some day 8)

12-20-2007, 07:25 AM
Administrator
RACING JUNKIE
Join Date: Apr 2003
Location: Greenville s.c.
Posts: 3,239
---
To be honest it was TOO much motor for the car..the motor was an older Top Alcohol Motor that has been re-freshened...572ci..bbx3 heads, GRP aluminum Rods, 1471 littlefield blower with Enderle injection..pro-mag12 magneto....24lbs of boost was the orginal set up and was ran at this level by Shaun Mcdonald a close firnd of Mine out of Atlanta GA....
He ran 4.30 ish in the 1/8 at mid 160 mph..with a 1.10 60 ft...this pass was hazing the tires and fighting an aweful DRIFT....
the car has 34.5x17 with double beadlocks..but you would think it was 10 inch tires...
it has a superglide tranny with push button shifter..you had to drive the car looking 200 ft ahead,,cause you were there in a blink.

the car was capable of some high 3 second passes..being what the car was it was on ragged edge...

i detuned the blower from 24lbs to 12 pounds and rejetted with smaller mains and nozzles...so i would say i took close to 400/500 hp out of the car and it was still very violent and erractic to drive..it could stumble and run 4.80's/4.90's

the guy who now has the car in Kanasas has it more of an exhibiton car..there is really no place or class to run the thing cause its too inconsistant and radical for the motor that was on it...

it would make a great bracket car if someone took off the blower placed a carb on it and changed the cam profile to match...more than likley would still be a high 4 second car and not have to stretch its legs very much.

My Wife hated this car...she feared for my saftey..she loves Drag racing and she lights up on all my cars etc.... but everytime this car was started or i strapped in she got a very stressed worried look...plus i just had my newborn...so it was not the time for me to hang on to it...

very tough car to drive with that combo...if you could hold it in the 1/4 mile,,it would run all over the mid to lower 6 second et if not a tad quicker.

i wasn't gonna find out...LOL

I know many guys look at the pics and tell themselves they would strp in and go..but this thing had a way of changing peoples minds when it fired up and sucked the air out of your lungs...LOL...Major attitude adjusment... :shock: :shock: :shock:


Thats my story on the altered
__________________
Bjuice..

"I'M YOUR HUCKLEBERRY ! "