Steering help needed

11-26-2007, 03:21 PM
Member
CRAFTSMAN
Join Date: Jan 2004
Location: Georgia
Posts: 51
Steering help needed
---
I have installed a BBC615 in an S10 and with the #1 header tube running down by the side of the block I have to figure something out for the steering and any help will be appreciated.
Thanks

11-26-2007, 05:38 PM
---
travis
what cha got there now ?.....ran into a simliar problem with a 63 nova..
we had to place a knuckle mid shaft to get around exhaust..i have seen 2 custom knuckles before on a steering shaft to get a around some stuff..if done right its all safe.....post a pic if you can..we got some professional fab guys on here. Ed with mcrace cars is one of them.

Brian
__________________
Bjuice..

"I'M YOUR HUCKLEBERRY ! "

11-26-2007, 06:38 PM
Member
CRAFTSMAN
Join Date: Jan 2004
Location: Georgia
Posts: 51
---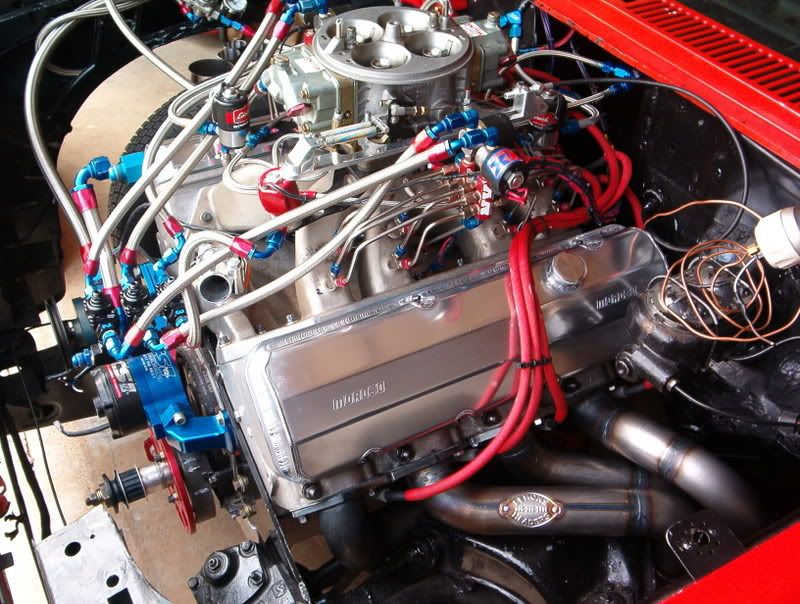 As you can see in the the #1 tube is right in front of my manual steering and goes beside the block. I have seen many setups on cars for sale on here that the steering comes out of the firewall and above all tubes and then drops down in front of the engine like this photo
http://www.racingjunk.com/post/10337...SuperSize=true
The problem I am having is what do I need to buy including the rack and really need some close up photos of the connection at the rack and also the firewall.

11-27-2007, 04:39 AM
---
Travis i think you will find all your to do parts at this site..i buy from them often..
they will carry the rack,u-joints,couplers and complete steering columns. for your kind of job.
you can call them and explain your situation,,,but i can tell you on the connection at the rack..you will have a splined knuckle swivel coupler that will slide over the rack spline shaft and a set screw will lock it down..
the couplers are very mobile and will give you much leeway in routing your steering column...it will just take a little measuring..but a job you can do no problem right at home...you shpould be able to do it with 2 couplers no more than three.....depending if the geometery is too radical..
once you get the steering column laid out how you want it with couplers in place ( mock it up and feel it from cockpit),,you will need a Tig WELD to hold them..cause the material i beleive is chrome moly..
i do not know how long the steering column will be....its always a goo idea to have a stabilizing joint atatched to the colum and a fixed spot on the chassis..it will look a lot like a heim joint that the steering shaft will run thru....you may not even need this if the shaft is short and sturdy .
i had a 65 nova with a rack..that had a long column and i stabilized it this way...
i have seen 3 couplers used..and it works great.
good luck......Brian
http://chassisengineering.com/shop.a...10&subcatid=58
__________________
Bjuice..

"I'M YOUR HUCKLEBERRY ! "

11-27-2007, 05:13 AM
---
wht part of Georgia you from..i am 1.30 min North of Atlanta. i hve ruin several NMCA racing at Commerce in the past

also when you pull up the site..click on the "detail"..it will explain the part in detail with good close up pics.

Brian
__________________
Bjuice..

"I'M YOUR HUCKLEBERRY ! "

11-27-2007, 05:47 AM
---
yes it does have some mobility...they can tell you how much when you call them up..i do not think you have any worries here..when you speak with them ..let us know what is said..i think you will be surprised how easy this fix will be..

did you click on those knuckles (details) and read up on them ?..cool huh ?
__________________
Bjuice..

"I'M YOUR HUCKLEBERRY ! "