last try

09-28-2007, 07:50 AM
Senior Member
RACING JUNKIE
Join Date: Jan 2006
Location: EastWenatchee,WA
Posts: 887
last try
---
last race of the yr, tomorrow sat day race. I hope for the first time to see what this thing is going to run, if it runs right!!!!! this will be the 4th try, first it was the carb, then it seemed like an ign problem, new dist is in place , will hope for best, would be nice to end on a good note. weather is going to be in the low 60's, I better bring sun lotion :lol: I hope 4th time is a charm, my old dist shaft was wore out, had up and down movement, and side to side, with lots of oil also comming up and soaking pick up coil, so it was wrong, hopefully it is the problem

09-30-2007, 01:47 PM
Senior Member
RACING JUNKIE
Join Date: Jan 2006
Location: EastWenatchee,WA
Posts: 887
---
[img]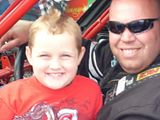 [/img] it ran better the more I messed with it, found out need lowwer gears, went through the traps at 5400 rpms went 13.76 took out timming, went 13.46, rejetted smaller and bumbed up fuel pressure, then went 13.34 this winter 4:88 gears, new cam and springs , lighten up with lexan, msd dist and box and get her painted white and back at it. Out of the 4 times it has run, it ran better then it has yet, so I quess progress was made!!!!

09-30-2007, 02:02 PM
Senior Member
DYNO OPERATOR
Join Date: May 2003
Location: Moscow Mills, Mo.
Posts: 533
---
Hey Mark
Happy to hear your going in the right direction. I think you ended the year at the track on a good note. Look out 12's when you get it dialed in.
One day when your running 10's you'll look back on this and say I remember when I started running low 13's.
Congrats Mark :wink:

09-30-2007, 02:54 PM
Senior Member
DYNO OPERATOR
Join Date: Mar 2007
Location: Texas
Posts: 525
---
spib sure sounds good glad you did not hurt anything and made some progress. Well you know whats next for next year so like the brother said look out 12's and with the new combo maybe low 12's at that.