Help with BBC set up

08-20-2007, 06:56 PM
Junior Member
APPRENTICE
Join Date: Jan 2004
Location: South Dakota
Posts: 18
Help with BBC set up
---
I'm looking for suggestions on compression ratio and cam selection. Ok, my goal for this project is to 11.40's-50's as cheap as possible with the parts I have laying aroud while I try to save money for a roadster. Would like to do this on pump gas if possible but it will be a strip only car so not needed. The car with driver should weigh about 3150 lbs give or take so I beileve I should need approx 360 rwhp or 450 flywheel. What I have availible 454 +0.030 stock rods, crank, stock 781 oval port heads. I also have kmotion k1000h valve springs and crane solid roller lifters and roller rockers, hooker super comp coversion headers, Holley 800dp the only intake for oval port heads that I have is an alluminum dual plane and may be willing to hunt another down but I do have a team g and strip dominator for rectagular ports. The car is an 85 camaro, caged and 2x3 subframe connectors, 9" ford and ladder bars, th350 with t-break, if that helps.

Thanks in advance Ryan

08-20-2007, 08:15 PM
Senior Member
RACING JUNKIE
Join Date: Jan 2006
Location: La.
Posts: 2,890
---
You have enough with what you got, all you need is a cam not over .600 lift, some where along the same grind as an L88 and trw or KB hyper utechtic pistons, put good rod bolts in the rods and you're good to go, run the ovel port manifold.
I ran 11.50's all day long with a bone stock 454, with TRW 12 to 1 pistons,and L88 cam, torker manifold, 750 DP, in a 65 Malibu @ 3500lbs., No roller stuff, and that was over 20yrs. ago.

Zip.

08-20-2007, 08:49 PM
Junior Member
APPRENTICE
Join Date: Jan 2004
Location: South Dakota
Posts: 18
---
any suggestions on doing it with less compression right now it has .100 dome pistons that should yeild around 9:1 I was considering going to a 10:1 slug but would like to still run on 92 octane if possible.
Thanks again

08-21-2007, 07:38 AM
---
if its going to be nothing but a strip car,,why not put it on a diet ( a poor mans H.P.)

with those 85 camaro's you can lose 300 lbs pretty easy..this will be good for 3/10th's or more
1- get ride of glass. go plexi glass
2- get ride of door regulators/crash bars and any other inner door parts not needed
3- take off crash bar on the front end,this is 50 to 70 lbs.
4- winshield wiper motor
5- seats
6- the sound protector beind carpet


and if you do not mind spending any extra $300/$400...go ahead and buy you a TUBLAR K-MEMBER and bolt that in...close to 100lbs savings here alone..

you could not possibly spend $300 on your motor and make up the ET the k-member alone will save you....


you get one light enough a Bone stock motor will get the job done....if i were in your shoes and had a stock motor..this is the route i would take,,you can really go extreme and start replacing steel bolts with aluminum bolts etc.....doesn't sound like a lot but you do this over the entire car you could shed off much weight with bolts ( in none critical areas of course)..

just my cents
__________________
Bjuice..

"I'M YOUR HUCKLEBERRY ! "

08-21-2007, 08:12 AM
Junior Member
APPRENTICE
Join Date: Jan 2004
Location: South Dakota
Posts: 18
---
The car is completly gutted exept the factory glass, so it may very easily be under 3150lbs, but the 87 firebird with a sbc and stock rear (did still have bumpers in it though) that I had weighed 2850 with me in it. so I guessed this one may be about 300 lbs more with the iron bbc and the 9" ford (driver may have added 30lbs too).

Thanks for the input keep it coming.

08-21-2007, 08:32 AM
Senior Member
DYNO OPERATOR
Join Date: Feb 2006
Location: VA Hospital, Dallas, Tx (214 302 1924) cell-972-464-7400
Posts: 540
---
Sir;
To me your post with the added response makes no sense to me at all.
You mention is of strip only but the questions you ask sure do look like you are talking about a street car.
Ditch the Dual Plane Intake. Don't use a Rectangular port on oval heads, no matter how many people tell you it works. You can buy good Team G and Victor Jr. on ebay for very little money.
Why do you want low compression?
How do you figure a piston with a .100 tall dome (small) will be 9.1 - 1 compression with those heads?
You have the potential of a 10 second street car at your weight level with the parts you have if you put it all together right and give it some compression and lose your ideas of racing with 92 octane gas. You could put it together right with what you have with 10.60 - 10-90 -1 compression and run 92 octane and run 11's all day though.
Example;
In 1978;
Car with driver 4,200 lbs 11.50 -1 compression ratio (modified 13.50 - 1 pistons) compression = best of 11.48 ET
Daily street transportation altough a little ragged.
781 oval heads mild port work, bowl work, 2.19 intake valves 1.88 exhaust valves. Flat tappet cam with .640 in and .620 ex duration at .050 was 264 and 268 stick 4 speed car. mildly modified vacuum 780 Holley on a Edlebrock Tarantula Single Plane . 4.56 gears using 10" x 30 inch slicks. MSD 7 & Pro Coil.
Weight was;
LS-6 frame (beefier)
Cowl Induction Steel Hood (Heavier)
Steel Blow Proof Lakewood Scattershield (heavy)
40 lb flywheel (heavy
225 lb driver (heavy)
Long case Cast Iron Chrysler Hemi 4 Speed Tranny. (heavy)
Thick tube 2 inch Headers
Plastic inner fenders (light weight)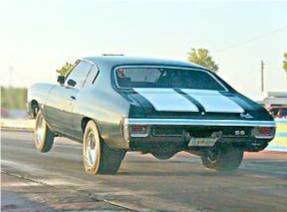 08-21-2007, 12:23 PM
Junior Member
APPRENTICE
Join Date: Jan 2004
Location: South Dakota
Posts: 18
---
Thanks for the reply, I have read many of your posts and really appriciate the info on this subject as well as others.
This car will be dedicated to the strip only because it has been completly gutted,no bumers just the plastic facias, no dash, no heater, no factory seats or mounts, doors have been gutted (looking for aluminum door panels) and factory glass fixed in the full up position, factory wirng etc is all long gone.

I know a 11.50 strip only car sounds funny to most but in my 1st post I should have explained the reason for the 11.50's is that it is the et cut off for the class I want to run next year and looking around the garage I saw just about all the parts to run that class very cheap and get aclimated to racing. I'm thinking I can put this thing together for next year under $3,000 including body and paint work while trying to save money for the car I really want (27 roadster and enclosed trailer).
Now to answer the compression question I didn't think I'd need to squeeze it to make the power that I was looking to make and its a money thing, $3.05/gal for 92 octane vs $7/gal for race gas at the track, cheap gear reduction starter (that I have laying around) vs a $300 name brand to turn a higher compression bbc over and the more power the engine makes the more upgrades I need through the rest of the car.

The 9:1 number came from a local machine shop that is NOT a performance shop, but did tell me that the engine should be about 9:1 with the .100 dome so if this is incorrect feel free to correct me.

My idea at this time is to build a cheap car that will get me into some level of competitve racing (11.50 and slower class) and some seat time without jumping right into against all the guys that have been spent 25-50k on there cars.
Just my opinion at this time.
Thanks Ryan

08-21-2007, 01:05 PM
Senior Member
DYNO OPERATOR
Join Date: Feb 2006
Location: VA Hospital, Dallas, Tx (214 302 1924) cell-972-464-7400
Posts: 540
---
Ok,
Makes more sense.

If you already own the pistons use them. If you are buying pistons buy anything. The Hypereutetics are not a bad way to go with this.

You could buy an alcohol carburetor and run alcohol or E85. Both sell for much less than race gas and will produce power.

I have guys daily driving with BB Chevys using 92 octane and 10.60 -1 compression and we do get on them and run them through the gears. Those are all burning the 92 octane.

What you are wanting to achieve should be easy on the pocket and loads of fun. No high dollar starter necessary. Years ago I ran a 16.85 -1 compressin engine with a beefed factory Chevy 454 Starter with the cast iron nose on it. Now you can buy a late model gear reduction starter from Ac Delco that will spin over a 632.

Ed