Finally got one!

10-15-2013, 02:26 PM
---
Originally Posted by Harbone
pics or it didnt happen! :lol:
The only video from that race was dark and not worth a flip.
This is from last weekend. It was the final race of the year. 4 or us were tied for 1st place. Pretty easy to tell which truck is mine in the video. lol . The motor broke a valve just after the starting line. You can see it loose power and set the front end down. It was acting stupid when I tried to stage it, but I ran it anyway. Haven't pulled it apart yet, but # 8 spark plug was hit by something and bent the ground strap and in #7 a valve came through the keeper and thankfully stuck up.
After this race I was done for the year and planned to freshen the motor anyway so no big deal. I just hope it didn't hurt the block.
http://youtu.be/sgHfd7DZ3k8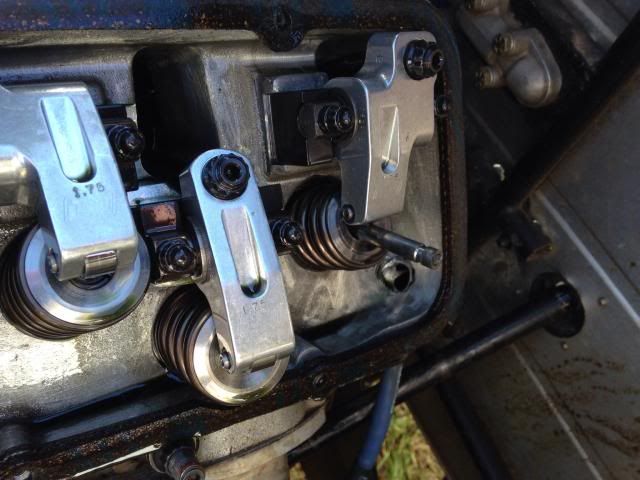 10-15-2013, 05:46 PM
---
Rab, I Got questions and need some education !

Do you guys start on a staggered tree or are those late launches due to mechanical issues,... or is someone taking a loooooong nap !?
What is the measured distance of the timed section ?
What top speeds do you hit ?

Here's to hoping you've not suffered any major damage !

10-15-2013, 06:44 PM
---
Originally Posted by TheYellaBrick
Rab, I Got questions and need some education !

Do you guys start on a staggered tree or are those late launches due to mechanical issues,... or is someone taking a loooooong nap !?

This race is pure fastest ET. Which most of the time means the guy with the most money wins. We get 2 passes per class. 1 pass in each lane.

What is the measured distance of the timed section ?
We race 160' or 200' tracks. This track was 200'. ( All tracks in the south are 200'. The yankees usually don't have enough shutdown) On a serious note you don't want to see a wreck with these trucks running over 250'. It's almost a guaranteed death trap

What top speeds do you hit ? I'm in the 90 to 93MPH on those tires. I can change to paddle tires and pickup 4 to 5 mph.
Not one truck in that video is under 1,500hp. The top 4 or 5 are more like 1,800 to 2,000+ hp.

The Open cars ( blowers which are not in my class or on that video) Run in excess of 120mph

Here's to hoping you've not suffered any major damage !

I'll know by the weekend when I pull it apart. Thanks