Old grey hairs still alive and kickin butt

04-09-2012, 07:32 PM
Senior Member
RACING JUNKIE
Join Date: Jan 2006
Location: La.
Posts: 2,890
Old grey hairs still alive and kickin butt
---
Please all you youngsters don't close the coffin lid yet on us grey hairs :lol:
My friend here in La. runs a derlic by most HOTDOG standerands. It's a 1949 Ford truck weighs over 3,000 lbs and still has the original frame and ladder bars installed in 1969, it does have a strut front end, all steel body with only a fiberglass frontend, roll up original glass, etc with a 572 b/blk on gas no addatives, it normally runs 5.40/5.43. Now Jerral Barnett had a heart attack 2 yrs. ago and open heart surgery, he's now 67 yrs. old. 2 weeks ago at Twin Cities he won the money in SP, ran the number with change every pass and worse light .513 all night.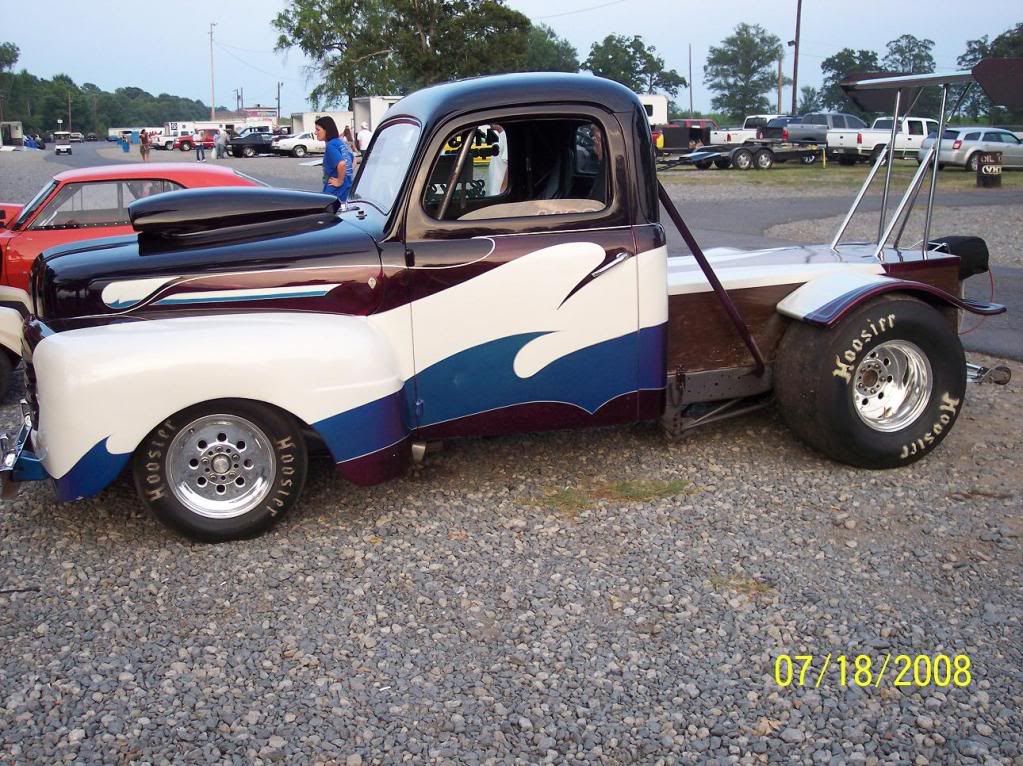 That bring us to Jimmy Smith a fellow member here and my best friend in Batesville Ms, where my other house is. He's soon to be 69 yrs. old, had a heart attack 4 yrs. ago and open heart surgery 4 bypasses.
So last Sat. afternoon he went to Holly Springs and ran the 7.00 class qualfied #2 and won the 7.00 class with a pro tree 4.19 worse light all afternoon. Finished early and decided to go 35 miles up the road to Byhalia race track, decided to run the SP class 5.00 tree. He dials in a few #'s in the delay box and ran the number with change all night, worse light in eliminations 5.08, won the money there also. Double down in the same day at 2 different tracks how awsome is that?
Congrats Jarrel and Jimmy for keeping us old grey hairs on the map

And again youngsters don't close the coffin lid et.
Zip.

04-10-2012, 06:30 AM
---
Originally Posted by harbone66
At least you guys have some hair that can turn grey! By the time I get to that age the old dome is gonna be nothing but chrome! :lol:
Well ya know what they say ! "If it don't GO, CHROME IT !"












Go GET 'Em, ZIP !

04-10-2012, 08:25 AM
---

04-17-2012, 07:25 PM
Senior Member
MASTER BUILDER
Join Date: Jan 2007
Location: Batesville Ms.
Posts: 167
Old Gray Hair
---
Zip you got it real close but fixing to be 70 and went to Memphis SUPER CHEVY past weekend went 8 rds and lost to T J Tracy winner of the first Million $ race in the finals Sat car was DEADLY all weekend and driver did a pretty good job. Lost in 3rd rd Sunday to Buddy Ferrell both these guys in rail cars. We had a blast ,it was a good event. ps all with 780 vac carb and gas . Later J.Smith 4621 racing

PS When I had the track in Greenville Ms in the 1970's "Mr .Ears " was a tough one to beat and this is the same truck, I .ve ONLY had my Camaro since 1979

04-17-2012, 07:50 PM
Senior Member
RACING JUNKIE
Join Date: Jan 2006
Location: La.
Posts: 2,890
---
Congrat's Jimmy, TJ and Buddy are both very tuff racers and rails are hard to beat, we all know that. GEZZ :!: sorry i thought you were 4 yrs. my JR, o'h well i still have a few on you. I'll be seeing you in person in the next week probably or the week after, gotta get after my house up there.

Zip.