everybody post a pic of there ride

03-15-2011, 05:11 AM
Senior Member
EXPERT BUILDER
Join Date: Aug 2007
Location: Orient, OH
Posts: 384
---
Thanks guys!! I dont have any other pics just yet. Been tinkering on it trying to get ready to race. Its a round tube chassis with an alky breathing small block in it. Hopefully I will know what it runs this weekend

I did make a video of it running in the garage...
http://www.youtube.com/watch?v=UjARhW8mzVM

03-22-2011, 05:13 PM
Senior Member
RACING JUNKIE
Join Date: Mar 2003
Location: Ohio
Posts: 937
---
This will be the newest addition to the camp for us. It will be a 355 roller motor, 750 APD alky carb getting fuel from Magnafuel 275, 1.76 glide from Vickers Transmission and has a 9 inch rear with 4.10 gear. Converter will be 5800 8 inch from Abruzzi. Tires are Hoosier 30x9. Truck will keep the leaf spring to start. If it wheel hops or is too much for the leaf, the provisions to go coil over and ladder bar are there. Would like to upgrade to a full spool and axles from Moser but I will see if these hold up, too.
Hoping to run some box and no box stuff with it. Not sure of the weight of the truck. Bed has had weight removed, interior has had weight removed and the inner fenders are gone. Thinking this should be a 11.40-11.50 player.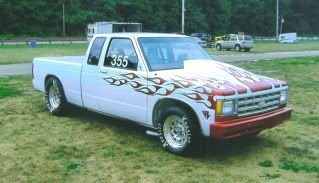 04-05-2011, 02:15 PM
---
Originally Posted by doorracer
I have a new look this year. First points race.
Old look.
Curtis
NOT TO STEAL ON YOUR ROADSTER which i like alot but what about the chopped top FORD beside you ?any pics or info??

04-05-2011, 05:06 PM
---