What size line do I go to when upgrading to Alky

05-23-2010, 08:28 AM
Member
JOURNEYMAN
Join Date: Dec 2008
Posts: 34
What size line do I go to when upgrading to Alky
---
You guys may be getting tired of my endless questions, if you are I am sorry. I am overseas with a lot of time on my hands. That means I spend a lot of time trying to learn more about engines and off road trucks. My heart is in the engine though I will tell you.
Now to my question, I am currently running 1/2 fuel line on a carbed Blown BBC 427. When I convert to alcohol and EFI, I know that the fuel line size will have to change for both reasons. The EFI side I think I understand, my question is how big will I need to go with the fuel lines. I am sure there are a lot of variables that I may miss. So the stuff I do know
Engine specs of what I have. I don't know what cam is in it right now, my cam card is at home, and the wife ain't gonna look for it either. But here is what I have on the engine. It is a PAW Kit engine.
BLOCK
- 4-bolt main 427 seasoned block bored oversize. Block is hot tanked, custom honed, dry decked, line honed, new cam bearings installed. Engine block is painted inside Rustoleum to aid in a quicker oil return. Brass freeze plugs installed. The Outside of the block is painted with your choice of factory colors.
CYLINDER HEADS
- New RHS™ Pro Action cast iron rectangular port cylinder heads castings feature 320cc intake runners. Stainless 2.250 & 1.88 valves. New perf valve springs which will handle up to a .600 lift cam. (Larger cams or solid lifter cams will require optional valve springs at extra cost.)
PISTONS
- Forged supercharger pistons. 7.3 to 1 (If I remember right)
RINGS
- Premium Speed-Pro moly rings.
RODS
- P.A.W. 6.135" high performance connecting rods which have been shop-peened, checked for straightness. Resized on the big end and fitted with high performance 3/8" chrome moly rod bolts for maximum strength and performance.
CAMSHAFT
- Your choice of a new P.A.W. / SSI hydraulic cam to match application.
LIFTERS
- New P.A.W. hydraulic flat tappet to match your cam.
CRANKSHAFT
- Factory steel crankshaft precision finished at .010 under on both mains & rods journals and machined for dual keyways!
BEARINGS - New Clevite M77 - Top quality rods and mains bearings.
TIMING CHAIN SET
- New P.A.W. double roller timing chain set.
GASKETS
- Fel-Pro engine gaskets set along with a pair of SCE ICS Titan copper head gaskets with stainless O-ring wire.
OIL PUMP - New P.A.W. high-volume oil pump to provide maximum protection.
PUSHRODS
- New P.A.W. 3/8" chrome moly high performance pushrods.
BALANCED
- Electronically balanced rotating assembly, pistons pressed on to rods. Advise salesman if using flex plate or flywheel.
DAMPER
- Special damper for use on supercharged engines with dual keyway.
ROCKER ARMS
- New P.A.W./SSI long slot rocker arms.
SUPERCHARGER
- Complete 6-71 supercharger kit fully polished including blower manifold,
Headers on the engine are 1 7/8 primaries, (I am sure a lot of you are going to say are WAY TOO SMALL, but that was what would fit between the frame rails at the time the engine went in. 2 1/4 Collectors to dual Super 44 mufflers. I have electric cut out installed.
Ignition is MSD 6AL box, Mallory Coil, and MSD Distributor.
Rockers are stud girdled
Blower is 8% overdriven on pump gas right now. At 5500 rpm 13lbs boost
Pistons according to the paper work are 7.3 to 1
Understanding that most of you are drag racers I will say all this is in a 96 Ford F150 4x4.
Trans well built 700R4
Transfer case NP241
Rear end Currie 9"+ w/35spline axles, Detroit Locker, Dana pionion suport, 5.13 gears, and Wilwood disc brakes.
Tires 39.5x18 Super Swamper Boggers, on 15x14 steel wheels
This truck is used as a mud truck and trail truck with some street use.
If you have any advice, or just want to laugh at me I am good with that.
I am looking for knowledge here to help make my engine better, so your advice in any area of my truck is greatly appreciated. I am not proud I just want to learn. Let me know what you think
This picture is before the up and coming mods. It is carbed right now. Again let me know what you think. GOOD OR BAD. Any advice is appreciated. Thanks in advance.

05-27-2010, 03:03 AM
Member
JOURNEYMAN
Join Date: Dec 2008
Posts: 34
---
WOW

This post has been here for almost a week now and no one is willing or wanting to comment. Okay guys I can take a hint....Later

Thanks for all those that did give their advice in earlier posts that I started. It was greatly appreciated.

MUDMUT

05-27-2010, 03:55 AM
Senior Member
RACING JUNKIE
Join Date: Mar 2003
Location: Ohio
Posts: 937
---
The problem is that the EFI stuff is still very new to guys like me that have only played with alky in either carb or injected applications. There is a guy in New Jersey named Greg Kelly. I think he plays around with the EFI stuff. Check out his site at
www.motorsportsinnovations.com

05-27-2010, 08:25 AM
Member
JOURNEYMAN
Join Date: Dec 2008
Posts: 34
---
Thanks guys, I understand that not everyone knows alot about the EFI or the alky stuff, but just sort of figured I would at least get some sort of response, even if it was wow your truck is stupid. But thanks for the link I will be sure to check it out. Didn't intend to sound like a cry baby. Just was wondering what was up. Thanks again.

05-28-2010, 02:13 AM
Member
JOURNEYMAN
Join Date: Dec 2008
Posts: 34
---
Depending on what year your Chevy is, I wouldn't say that. There are not a lot of aftermarket parts for a 96 Ford out there. The Off Road after market really has some very large gaps in it. You are good if you have something really old and popular, or New and popular. But if you are in between, you are pretty much on your own. Hoping that you find someone that has done it before and can steer you in the right direction. But I will say this if you can weld very well, and have some paitience, you can just about turn anything into something pretty cool.
In my area there are alot of trucks that are big, but no one really has big engines. I wanted to do something different. Haven't seen another like mine on the street or at the trails. Only on TV and they are ALOT Bigger than I ever will be. Thanks again.

05-28-2010, 11:59 AM
Senior Member
RACING JUNKIE
Join Date: Jan 2006
Location: La.
Posts: 2,890
---
Originally Posted by Mudmut
WOW

This post has been here for almost a week now and no one is willing or wanting to comment. Okay guys I can take a hint....Later

Thanks for all those that did give their advice in earlier posts that I started. It was greatly appreciated.

MUDMUT
I am an injection and blower person who does/has run both gas blown and alcohol blown, big and small block chevys.
Some of my parts
3" Crower stacks inj. on alcohol, now being sold on Ebay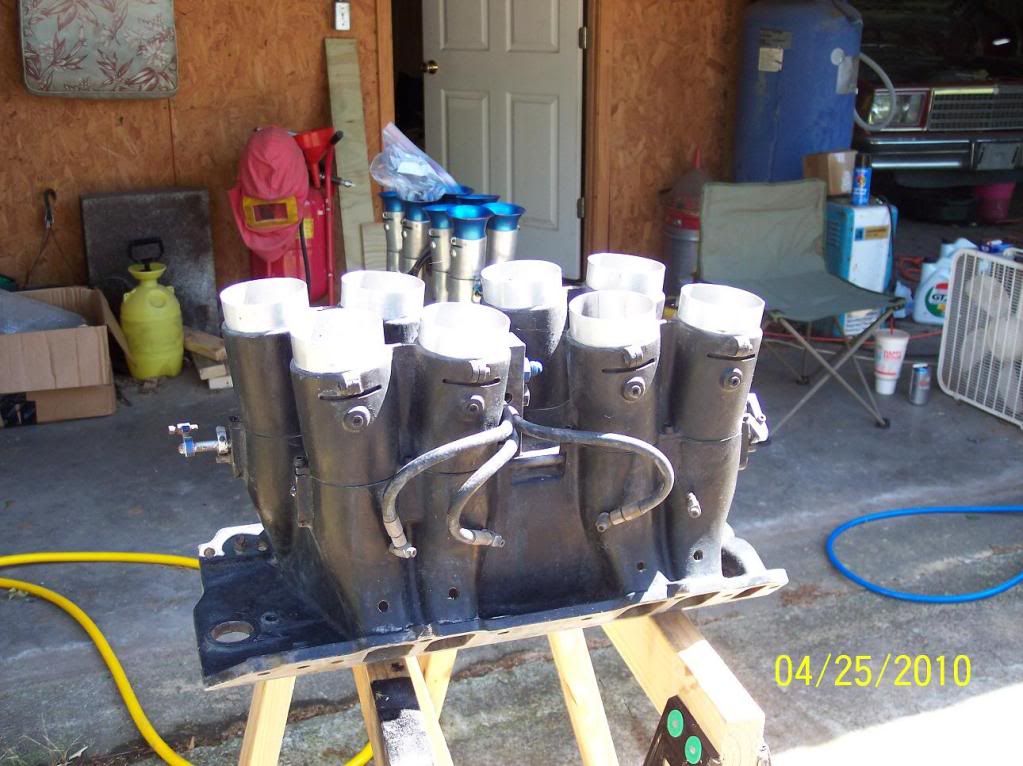 2.900" Kinsler polished b/blk Chevy stacks injection, setup for alcohol,
my next personal b/blk build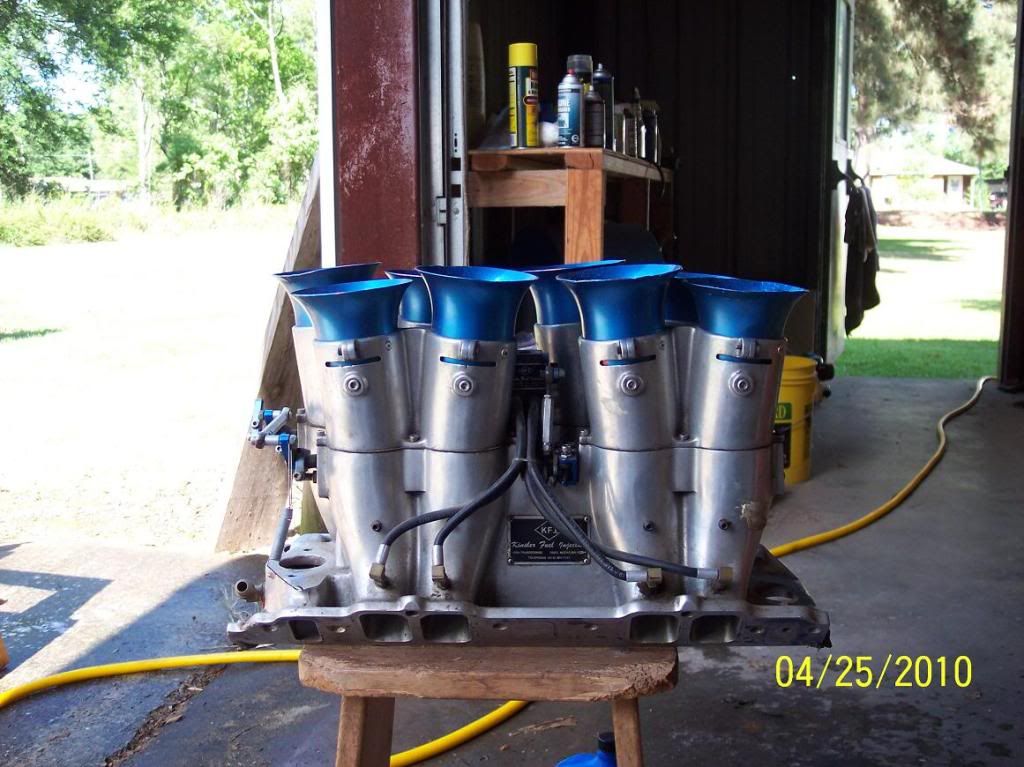 434" going in my Malibu in June, with Hilborn Stacks, on alcohol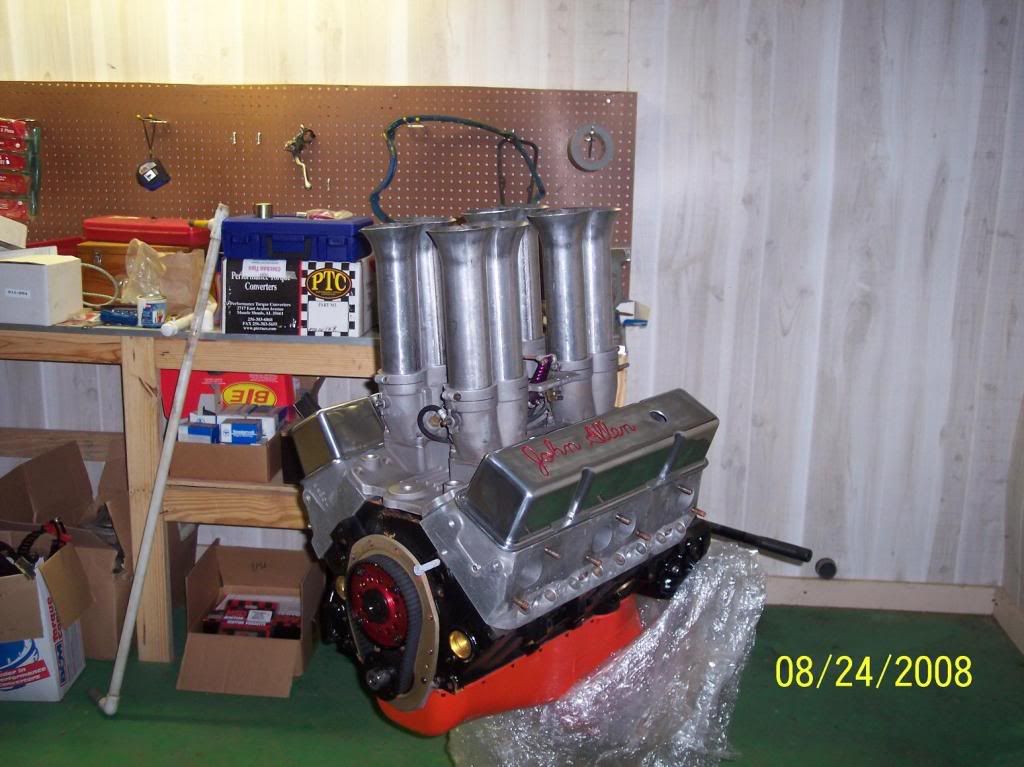 Blown 358" with 1471 and Buzzard catcher sm/blk ran 4.62 in this car over 1100 HP, i'm behind the camera. Turn your sound up.
http://video.google.com/videoplay?do...24568453485455
Now my issues with EFI on top of a blower is that you will have too run an O-2 sensor and the readings will not be accurate after going thru a blower.
The other issue is that most everyone knows that in order for a blown alcohol vehicle to perform best and not burn pistons is too have down nozzle in the intake runners injecting about 70% of the fuel and about 30%running thru the blower to keep it cool.
Which can't be done i don't think with an EFI unit. It may be possible but i don't know how too do that and i've been running blowers since 1964. After the fuel is put thru a blower it does not distribute equally to all cylinders, IE= down nozzles.
If the EFI manufacturer can figure this out then the EFI will work great i'm sure for your appliction.
About the line size, you're going too have too have an in the tank pump and a return line just like any other tuned port application. I doubt that line size would be an issue except it will have too take atleast 40 lbs pressure.
Sorry for being long winded, but i surely would hate too see you spend 7 to $8,000.00 on something that may not be happy with in the end.
JMO
Zip.