trailer black streak remover

03-30-2010, 04:50 PM
Senior Member
MASTER BUILDER
Join Date: Feb 2008
Location: New Jersey
Posts: 133
trailer black streak remover
---
Has anyone used any of the black streak removers??.. My white trailer is in need of a wash. What brand did u use and was there alot of elbow grease needed??

Thanks
Keith

03-30-2010, 06:37 PM
Senior Member
RACING JUNKIE
Join Date: May 2003
Location: Coldwater, MI
Posts: 2,998
---
walmart says black streak remover with the motorhome stuff, it works great.

Also see a lot of people using Awesome from the dollar stores. but for sure if you use it dont let it sit to long it eats the alum.

03-31-2010, 09:29 PM
Senior Member
RACING JUNKIE
Join Date: Jan 2006
Location: La.
Posts: 2,890
---
Here in the south everything mildews or rust. The north side of the house mildew forms on the vynil siding and on the north side of the trailer.
Redneck solution, 1/2 gal bleach, 1 gal. water, a couple onces of dish washing deterget. Put in a pump up garden sprayer, and spay down the trailer, about 6' at a time, tuffer stains use a kitchen spunge mop. Then hose it off. Sometimes requires 2 applications, but removes rust stains and black streaks.
Zip.
15 yr. old Haulmark trailer
before
after, no mop used just spray on and hosed off, would be better if i used a mop.

04-01-2010, 05:48 AM
Senior Member
DYNO OPERATOR
Join Date: May 2003
Location: Moscow Mills, Mo.
Posts: 533
---
This topic comes up alot. I've used alot of so called remedies but what I found that has worked for me the best is some stuff called RV-455 I got it from a fellow racer Dave Ribeiro his e-mail address is
[email protected]
or you can call him at 757/810-1832. Tell him you got his name from me, Vince Tosto.
His stuff works great. I'm sure other guys have some great stuff too but this product worked for me. Beleive me I used alot of different stuff.

04-02-2010, 04:00 PM
Senior Member
RACING JUNKIE
Join Date: Jan 2006
Location: La.
Posts: 2,890
Sorry for repeating myself, but the proof is in the pudding
---
First let me say, that is my fault for the insides getting this way. I didn't use the trailer in all of 2009, i used my open trailer only going 35 miles too the track, plus i knew i had to replace the drop down door wood. With 100 degree temperatures and 70% humidity, it made a builtin fungus bearing hot house. With that said, i was still surprised at how bad it got by leaving it shut up for over a year. So i replaced the door wood and i'm now cleaning the interior. The movie speaks a 1000 words.
Zip.
Now you see it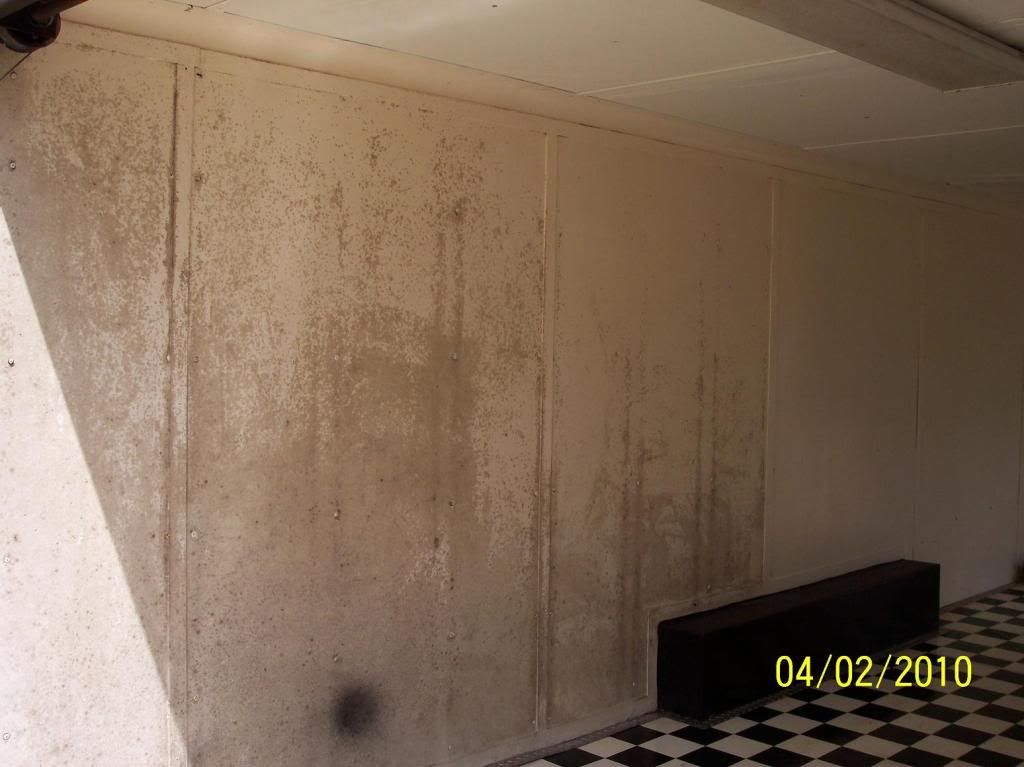 When people are in doubt, nothing proves it like a video, so i made one. The vid says a 1000 words.
Click on img for the video
Now you don't after 10 minutes of cleaning