Mighty Mouse

06-02-2009, 07:15 PM
Senior Member
MASTER BUILDER
Join Date: Apr 2006
Location: Ms.
Posts: 191
---
We traveled to Notheast Indiana this weekend to the 2009 Truck and Tractor Nationals in La Porte In, for a MRA Points Series Race.
We had only been able to get one shakedown pass on the car this season with the dual 1250 dominators. Monte Smith gave me a baseline tune for the 2 foggers and after the shakedown pass it still showed to be a little rich and just a touch low on timing. I upped the NOS jet in the 2nd fogger 2 sizes and left the timing alone.
It has an 8 jet spread in the 1st fogger and 10 jet spread in the 2nd with 5-5.5 psi
When we arrived in Indiana this tune was untested. We made 2 passes on Friday, bringing the 2nd stage in 1sec and .8 tenths into the run, plugs looked like new with timing mark between the bend and end of the strap.
On saturday the only changes I made was to bring in the 2nd stage at 5 tenths. We were the first car on the track, the 1st pass out we ran a time of 2.313 which was good enough to set a MRA National Record. With over 20 more cars to run 2 passes each I was as nervous as a whore in church waiting on one of them to knock me out of 1st place, but it didnt happen. We won the event and now hold the MRA 160ft National Record.
My car is one of only 3 small block cars in this class, the rest are mostly 600+ ci engines, with Ed and Monte's help, this little SBC thought it was the biggest engine there.
The engine was designed by Ed Wilson(Ed Vanced Engines) screwed together by me.
435ci (Iron Eagle block)
Brodix -12 heads ported by RFD
Beck Mechanical Sheetmetal intake
(2) 1250 Dominators
(2) NOS foggers (Monte Smith tune up)
(2) Speedtech Diffuser plates (never used)
Thanks Ed and Monte, I couldnt have done this without you guys!!
Here is a link with some awesome photos from this event.
http://www.mikebartelt.com/gallery/m...2_itemId=65637

06-05-2009, 11:37 AM
Senior Member
MASTER BUILDER
Join Date: Apr 2006
Location: Ms.
Posts: 191
---
Here is a couple of pics, as you can see in the 1st pic my 1st pass on Friday didnt turn out so well (took out the timing lights)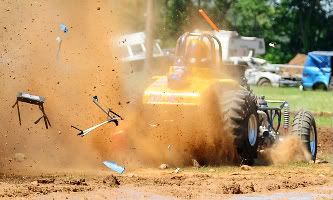 This one is from the winning pass from on Saturday
This one is from the pits on Friday