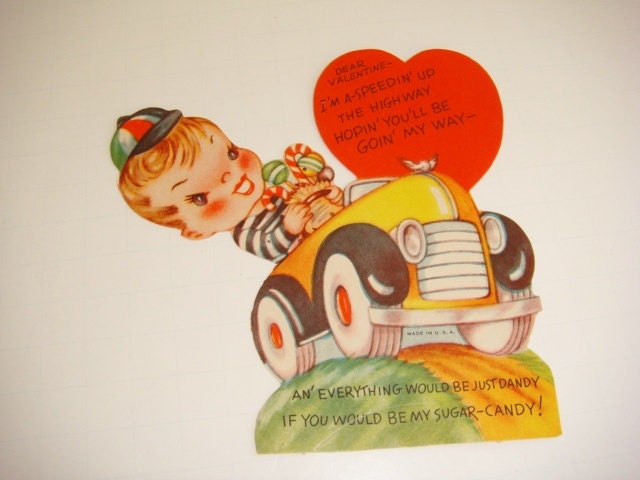 Does your significant other bleed motor oil instead of team colors? Would they be more likely to watch Two-Lane Blacktop for the umpteenth time instead of the latest Katherine Heigl flop? Then your worries are few, dear reader! For the absolute best gift to give them this Valentine's Day is a custom shift knob."Oh great!" you say, " I'm supposed to get a knob for my favorite tool?" Only if that's what you really think of them, smarty. Seriously, a custom shift knob is a relatively inexpensive and extremely thoughtful gift. One they will see, feel and appreciate with every "snick-snick" of the shifter. What's more, you can enjoy it with them! Now, what could be a better car guy gift than that?
If, upon reading this, your first concern is "I don't have the first clue how to order" don't worry. There are two solutions. One is to simply tell them a custom shift knob is what you want to get them, they will be so ecstatic at how cool and thoughtful you are that even if they have to do the legwork to order it, it won't really matter. Plus, it's still a surprise when it comes in the mail. This scenario totally happened to us, and it was a good situation for the giver as well as the receiver, since every car guy loves a project—especially when they don't have to foot the bill.
The other solution is to determine whether they have an automatic or stick, whether their shifter for either is stock or aftermarket and whether their car is European, Japanese, Korean or American (there are products for each). Then the fun part begins! There are almost limitless possibilities, and that is almost as daunting as it sounds. Almost, because we're here to help.
How to Select Your Shift Knob
Beauty, and the acceptable level of customization, are in the eye of the beholder. Most muscle cars have the requisite white ball belonging to a Hurst shifter as the extent of their non-factory components. If that's as far as you think your car guy would want to go, then made-to-fit Hurst and B&M shift knobs can easily be bought via popular performance parts sites such as SummitRacing.com and Jegs.com. Just make sure their shifter is a Hurst or B&M already, otherwise you'll need to buy a universal fit version. While the level of creativity and customization is minimal, so are your efforts in getting a gift for your loved one, and the results will most likely be the same. One of the reasons this article came to be written was because we had a white Hurst shift knob that turned yellow and was crooked when fully tightened. While a replacement knob was less than $30 (and a jam nut is even less), spending that knowing the ball would eventually just yellow again made this idea less than palatable.
Stay Outta the Zone
Another temptation is to stop by your local car parts store, such as AutoZone and buy a shift knob right there. While we can't deny the convenience factor, the biggest pitfall you may run into in purchasing these products is the fact that most of this selection will be universal fit. While that may sound ideal, it really just benefits the manufacturer and retailers, because they can't possibly know what your application will be. So, each of these knobs come with an adapter kit and an allen wrench so you can constantly tighten it as it comes loose. And, it WILL come loose… often and much. Only buy these if you intend to include a gift card or buy them something additionally, as they will likely know where it came from. We'd venture to guess you wouldn't want to give this to your Valentine because they'll definitely be cursing the shift knob, and maybe even you.
Determine the Thread Pattern: No Room for Error
Assuming you want to go for the perfect fit, the first thing you'll want to determine is whether their manual trans is an aftermarket shifter, such as a Hurst, Lokar or B&M, or whether it's factory. This is so you know exactly what thread pattern to order to ensure precise fitment. For your convenience, we've included this link to a thread pattern chart. Fortunately, most aftermarket manufacturers put their logo along the shaft of the shifter, so look there first to determine. If you don't see one, it's probably factory, though popular shifter manufacturer Lokar also makes their shafts too thin for logos. In the case of 60s muscle, there's a chance their Hurst shifter was from the factory, and it therefore has a distinctive thread pattern from modern day Hurst shifters. If you have a factory shifter, then you merely need to specify the manufacturer and year in order to get the proper pattern. For instance, a 2005 Ford Mustang manual thread pattern is 12mm x 1.25, however, if they have a newer Hurst Competition Plus shifter installed, then the thread pattern is ⅜" 16. You only have one chance to get this right, so consult with the customer service representative, and, if necessary your car guy before pulling the trigger.
Perfect Fit, Old School Shift Knobs
For a traditional shift knob that not only looks good, but fits perfectly to your shifter's thread pattern and feels good in your hand, our recommendation is a quality product courtesy of Epco Shift Knobs. Not only can they make a custom order made to fit your application—for either factory manual, factory automatic, aftermarket manual or aftermarket automatic—but their customer service is consequently amazing. The photo below is of a one-off custom shift knob by Epco with a 5-speed shift pattern, white rally stripes and GT logo on the side, done in sparkle black with a wider than stock diameter. We wound up finding Epco when a similar knob we ordered elsewhere would not fit a Hurst shifter, and were delighted to find they could produce the same knob, only bigger and with metallic finishes. We took this photo while our project car was under a foot of snow and put it on Instagram. It got over 100 likes.
In fact, it came out so well, we ordered another, more custom application for the B&M automatic shifter in our dragster. Previously, we had a universal fit, 8-ball shift knob that would often come off in our hand while ratcheting down to first. But, since all B&M models except Quick Click have a 1/2 – 20 thread pattern, we simply told Epco that's what we wanted, they delivered and it fit perfectly. For the custom part of our order, we created our own logo and sent it as a pdf via email to Epco. Then, we ordered a Metallic Red shift knob with black rally stripes, a black custom logo on top, black script on the sides, AND… a button. The only problem we had with our order was we initially ordered sparkle red, and Epco thoughtfully called us and emailed a picture saying it was too dark a red for the black logos to show up. That's when we went with Metallic Red instead. The results were awesome and even Epco was impressed. Now, if you could just help us decide whether to use the button for a line-lock, gear vendors over/underdrive, or an ejector seat!
Additional Recommendations
Our findings led us to many solutions for custom shift knobs, and while perfect fitment was our bellwether, these distributors were also worth a mention.
Some Threaded, Some Not—All Cool
While shopping online, Speed Dawg Gear-Bangin' Shift Knobs was one of only two shift knob sites with readily available thread pattern tables. While they seem to have an awesome array of products, it wasn't readily apparent that all their knobs could have a thread pattern crafted to suit your needs. It was for this reason we went with Epco. However, they do have a large Facebook following even have a toll free number to call and see if the one you like is universal fit.
Radically Diverse Shift Knobs
If you want to give something no one else has, and think your guy would be more concerned with how his shift knob looks as opposed to how it feels in his hand, look no further than American Shifter. While these guys can also give you the traditional, they seem to specialize in the extreme: skulls, skeletons, wolves and even lizards can adorn your shifter. Uniqueness does have its compromises, however. We can't speak from direct experience in dealing with them, but it does look as if all or most of their shift knobs are unfortunately universal fit.
The Mustang Fan with a Stock Shifter
If you've got a Mustang, your shifter is stock, and you are a brand loyalist, then  CJ Pony Parts has a great selection of Ford, Boss, Cobra and GT shift knobs that will fit your shifter without needing any sort of adapter. Though they do carry some Hurst knobs, if you have a Hurst or aftermarket shifter but want Ford licensed shift knobs, you will unfortunately have to look elsewhere, just like we did. They were good sports about it, though, and refunded our money with no problems.
——–
When he's not trying to lower elapsed times, Brenan Sharp is a writer, photographer and artist who has contributed online to Car & Driver, Playboy, Maxim and the ABA Journal.