gearing for the 1/4 mile

06-12-2013, 06:51 AM
---
Well Rabbit as you know from our conversations in the past I run 250 1st hit and 350 on 2nd hit. about 600 total. . The 2nd hit is only good for 2 tenths.

I will say somthing about Nitrous. Just because a certain jetting says it produces 250hp. This is guesstimation. Depending on your set up (engine and Nitrous)
It may produce way more or little less. The Tq curve is so radical with nitrous its hard to say. There have been some radial TQ numbers put up on dyno with nitrous

I am a 100% firm believer if you build the right Nitrous combo not trying to save anything for motor...the nitrous motor will respond aggressive to a small hit of nitrous.

So yes Rabbit if Im gonna run a Nitrous motor is 100%. She will be a slug on motor but when you light the guns she will go crazy.
__________________
Bjuice..

"I'M YOUR HUCKLEBERRY ! "

06-13-2013, 07:02 AM
---
Funny you mention that BJ. A friend and I were just talking about my last motor / set up and you are 100 % correct. Last motor responded almost unreal to a small shot and would fly for what it was, but I wanted to go faster :roll:
I run 1st stage 36/26 (350hp estimated) 2nd stage 32/24 (300hp estimated) and 3rd is a 26/22 (200 hp est.).
I still haven't turned on the 2nd stage (and not even thinking about the 3rd for a while) since I burnt 2 sets of pistons in 2 months lol.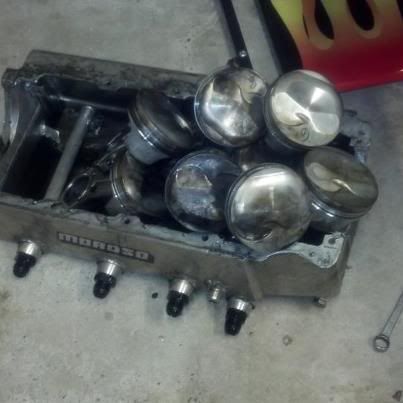 Can you say FAT! lol