Some People are SO STUPID!!

12-08-2009, 09:53 AM
Senior Member
EXPERT BUILDER
Join Date: Nov 2009
Posts: 267
---
Wow Tia, where do you race that lets you cut the body off and run a sheetmetal body on a HOBBY car? Is is aluminum body? We call those Super Stocks or Limited Late Model class down here...
Around here in the southwest, all the tracks quit the Super Stock class and went to either IMCA or UMP rules, where Hobby Stock class MUST remain all Pure Stock... very strict rules.
IMCA has a Limiited Late Model class, but the Brodix spec heads and intake cost over $3500 alone, so everrybody switched to Modifieds or Sport Mods. With so little interest the local IMCA tracks won't even consider it.
UMP/DirtWest series has a Limited Late Model class in western TX, NM and AZ region, but we call it the "Million Dollar Club" because very few people can afford to build or run that class...
I have a NICE camaro stub/tubular car (Limited or Super) that I can't even hardly give away, just sitting here rotting away. I have offered to set this car up any way needed, and even deliver it nearly anywhere for just the price of my gas, but no takers. I have it listed here in RJ. I need to get this car back up to the midwest where they still race this class... if you know anyone wanting a nice car for 'dirt' cheap (pun intended) I've got one looking for a good home...
Ive considered turning it into some kind of drag car because it is so light and has a really nice chassis...

12-08-2009, 10:53 AM
Member
JUNIOR BUILDER
Join Date: Nov 2009
Location: Fountain Inn, Sc
Posts: 72
---
well when we first started running that car it was considered a limited sportsman..but they changed the rules and took away that clas at the track so it became hobby..we ran the stock body for awhile but it was too heavy..dont get me wrong we got our share of races won but not without tearin something up..so this year we put the sheet metal body on like everyone else and HAULED ASS!! if we would have kept it stock we could have ran renegade! im about to find pics of it so you guys can see...i was BEAUTIFUL!!!

12-08-2009, 11:37 AM
Member
JUNIOR BUILDER
Join Date: Nov 2009
Location: Fountain Inn, Sc
Posts: 72
---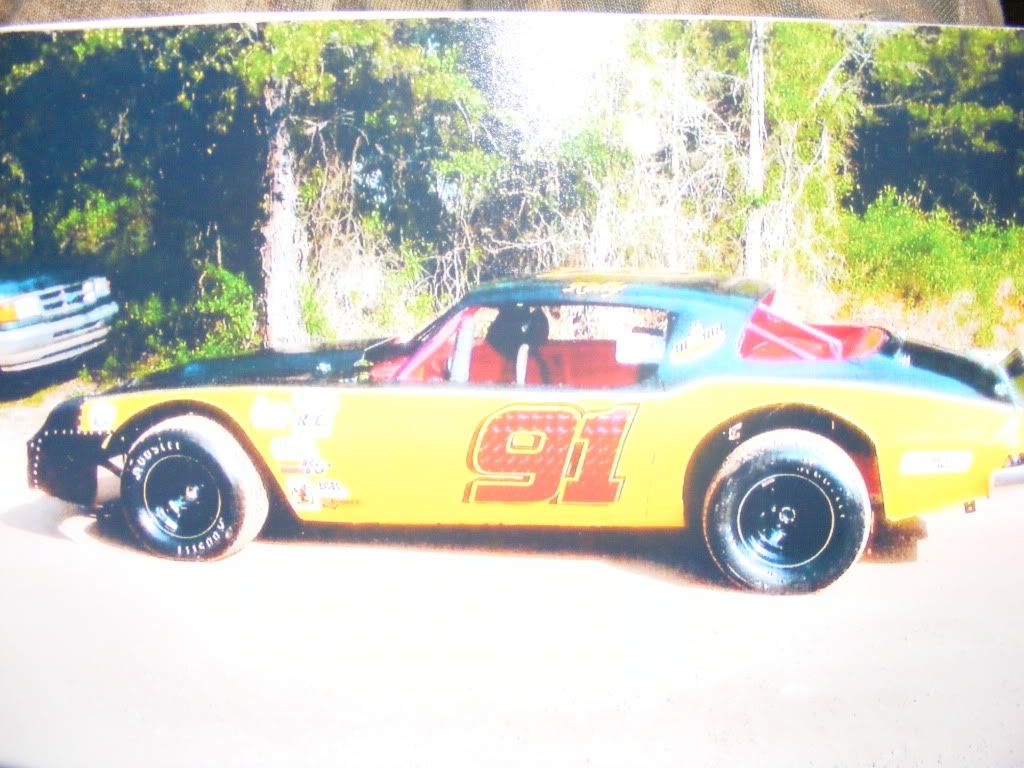 sorry about the glare..i had to take a picture of a picture!! but i love that car!!! still have the body hangin in the shop so im sure we could weld that suker back on haha!!!

12-08-2009, 01:22 PM
---
yeah thats what racing is all about. Yeah the car will look good before the race but if you drive it like it is supposed to it might look bad but it is fixable and will look good again.

12-08-2009, 01:52 PM
---
Yeah I may doing Dragracing once I get my car built but I still like the roundy round racing too. I actually wanted to do the roundy round racing at first but I thought that it would be best if I just go in a straight line.