OMG I cant believe this head failure????what kind is this???

09-10-2009, 07:45 PM
Senior Member
MASTER BUILDER
Join Date: Jul 2004
Location: Elm Mott, Texas
Posts: 197
---
Hey gungho, the post I posted the other day was meant as a friendly post. If you had been close to Texas and where going to be at a track close to me I would have wanted to meet up and bullshit and do some racing. As far as mine being a 79 and trying to compare to your 70 Z-28, look again, mine is a 72 not a 79. Sorry you took the post as an insult or however you took it. As far as me thinking my car is the fastest in Texas, not even close but I have alot of fun with it. As far as me needing to move on, nah, I think I will stay right where I am. I doubt with you being in MA. and me in TX. we will ever meet up but never the less, have fun and be safe doing it. OH, and to put my opinion in on the Pro-Comp heads, I have not ran them so I have no personal experience but I do have a buddy who bought the bare casting and said with good components in them they are OK.

09-10-2009, 10:26 PM
Senior Member
RACING JUNKIE
Join Date: May 2006
Posts: 2,044
---
Originally Posted by DirkaDirka
Originally Posted by gungho
Dirka, dont be so sensitive, we are one big happy family :lol:
Well I am usually laid back but when someone insults myself or my intelligence I stand up for myself. I dont back down when someone does that either.
I think someone lost a nut?

09-11-2009, 04:26 AM
---
Originally Posted by cepx111
Dam Brian, that car is wicked.

I just made it my desktop back ground on the computer here at work.
thanks a Bunch !!!...heres another Picture of the car in my shop with the hood on it....i took it with a cell phone its a little grainy but you can still make it out.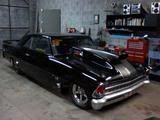 __________________
Bjuice..

"I'M YOUR HUCKLEBERRY ! "

09-11-2009, 02:16 PM
Senior Member
RACING JUNKIE
Join Date: Jan 2006
Location: La.
Posts: 2,890
---
There are really a lot more Chinese casting out there than people are willing to admit. I don't know who made the casting that started this thread, but not many of the head maufacturers have stepped up to the plate on improving their castings. I mean look at it this way, some people are running well over 300lbs spring pressure and .900 lift, this was unheard of a few yrs. ago, that head looks like it could have been cast with the same cores that a steel head would have been cast with, with steel being 200% or more stonger than alum. Plus alum mat'l cost 3 times more than steel, so they are trying to save money on the casting. Even the Chinese castings would be good if they would simply reduce the core size and build the deck and top side thicker. It's the almighty dollar savings, and hoping that no one will run the high spring pressures and the tall lift cams. If i had my way all the alum heads i run would be solid, but i run alcohol and don't have a cooling problem.

JMO

Zip.