1.428 60' time with 9.65 et is my 60' time slow?

06-07-2010, 12:02 PM
Senior Member
SENIOR BUILDER
Join Date: Apr 2006
Posts: 103
new 434"
---

06-07-2010, 03:31 PM
---
Doug, I don't think you are super far off. I now know that my car is 2050lbs with me in it, I have 4.88 gears. So you have 350lbs more and less gear than I have. Here are 3 runs from last weekend in less than great air.

1.377 1.367 1.403 1.381

3.974 3.952 3.981 3.966

6.215 6.188 6.201 6.200

108.52 107.62 109.44 107.95


Curtis

06-07-2010, 06:21 PM
Senior Member
RACING JUNKIE
Join Date: Jan 2006
Location: La.
Posts: 2,890
---
Doug, we've been friends for 3 or 4 yrs, and i'll be the first one too tell you i don't know what's wrong with your car, but there's definately more on the table on the 60' times. Below i've posted a couple runs with a car that i built the motor in and the other car is a friend. It's a Luv truck with a 434" on 200 shot of nitrous the Biscyne has a 468" pump gas street motor and if you look at the right hand count down the Biscyne is the #3 car it has less than 1.39 60' times it weighs 3700lbs without the 200lb driver,the Luv truck has has 1.27 60' times it weighs 2550lbs.It's a true 10.5 tire truck.
My thinking is that your car is not hitting the tires hard enough, but i don't know if that converter or launch RPM I'm not smart enough too make that call, but i'm sure some of the chassis experts have the answer
The left ticket is motor only on the Biscayne
Zip.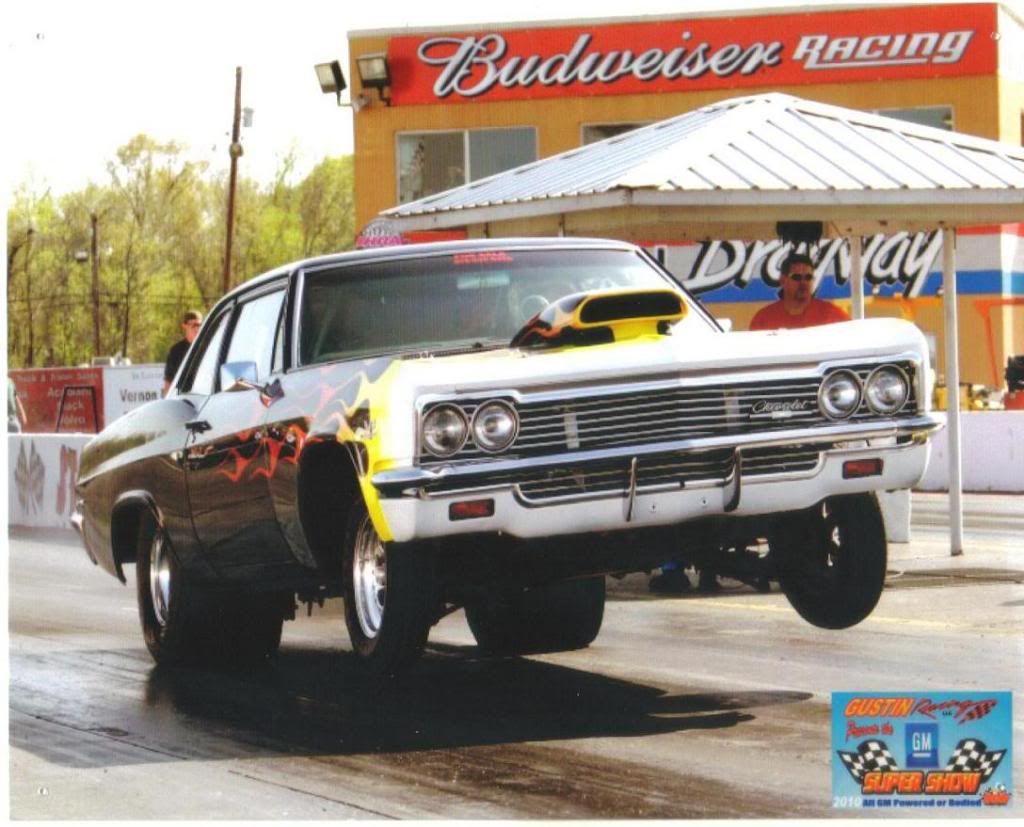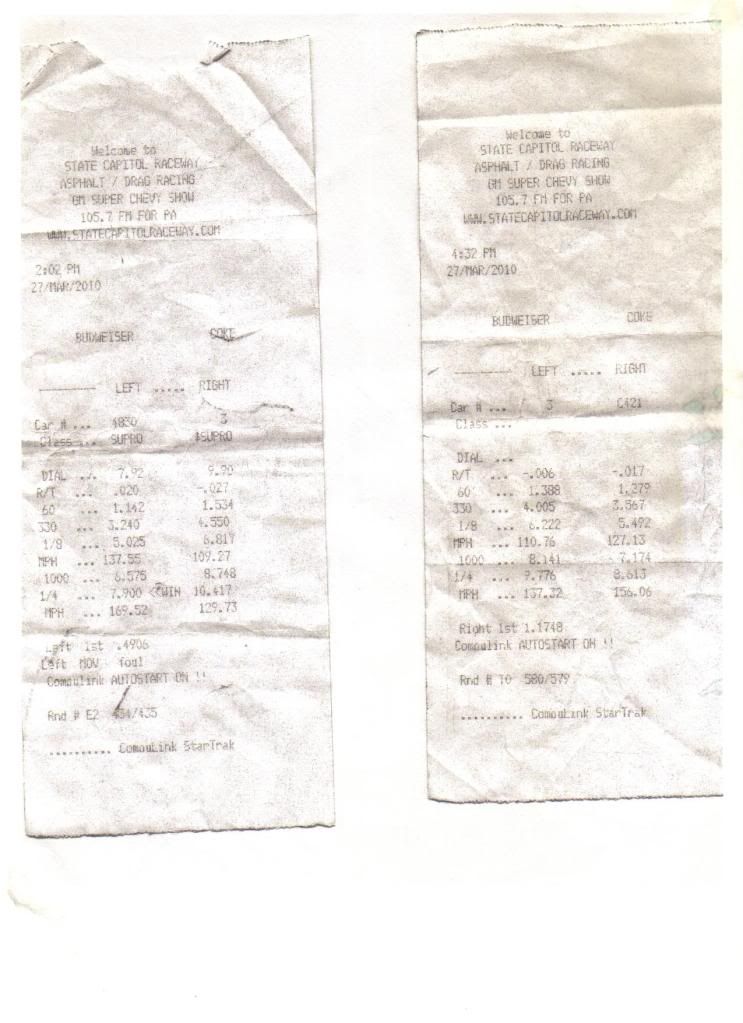 06-07-2010, 09:22 PM
Senior Member
SENIOR BUILDER
Join Date: Apr 2006
Posts: 103
60'
---
could the rear tires be to big? hoosier 32.5x16.5x15 c5 they are almost 17 1/2" thred at 6 1/2#, i will run at Madras drag strip this weekend 1/8 mile and will try different shock settings & air pressure thanks Doug

06-08-2010, 03:52 AM
---
I'm running 16.5-33 Hoosiers w/6 3/4lbs of air. The reason I'm running that big of a tire is the dragster friends of mine put about 100 runs on them and then I get them free

I have been thinking about buying a set of the 14.5-33 lightweight Hoosiers though.
Curtis

06-08-2010, 05:25 AM
Senior Member
DYNO OPERATOR
Join Date: Aug 2005
Location: Rifle Colorado
Posts: 585
---
Hey Doug, good to see that you are running again! I agree w/Curtis. With that big tire and 4.56 gear, you're probably pretty close. Personnally, I'd go with a 4.88 with that tire and weight and a small block. I figure you're probably turning 7000-7100rpm at that speed and a 4.88 should push that up to 7400 or so and knock about .03-.04 off the 60'....what is your stall speed with the 434? Cam specs and heads?
You could go with a lower 1st gear in your glide if you don't want to wind it that high. I had a 2.03 in mine with the small block and a 1.98 in it now with the 522......
Johnny

06-08-2010, 10:28 AM
Senior Member
SENIOR BUILDER
Join Date: Apr 2006
Posts: 103
60'
---
Johnny the stall is 5000, cam is a bullet roller 660/647, 278/286 @ .050. seperation at 108, heads were ported by darly white and are afr 227, brodix dominator intake with 1050, my wheels are alumastars 15x 16" wide looks like i might have to try to sell or trade for 15x15 or 15x14 to be able to run a 15" wide tire?. Doug

06-08-2010, 10:42 AM
Senior Member
DYNO OPERATOR
Join Date: Aug 2005
Location: Rifle Colorado
Posts: 585
---
With that long duration @ .050, I'd bet your torque peak is well above that 5000 stall, even with 434 cubes. I'd think 5500-5800 stall would make a huge improvement. I'd go with a shorter tire rather than narrower to give you more effective gear at launch if you decide to change tires.....jmo

Where did you end up with your 4-link?

Johnny