Few pics of 10.5 Nova

05-27-2009, 01:05 PM
Administrator
RACING JUNKIE
Join Date: Apr 2003
Location: Greenville s.c.
Posts: 3,239
---
Hi Dave.
Hughes tranny with 1.80 straight cut and a custom hughes Converter ( extra tight).
Yes Commerce is in the picture in the very near future. i have two other people that plan on coming with me.. one is my cousin.Hei s about done with a 10.5 69 camaro with 665ci..he's looking for some 4.40's on 3 guns.
My other Friend has a Jay Haas Beretta with a Sonny's 632ci with 2 guns, he is a little light but will blister a low 4.40Et like its no tommorrow.
I luv running at commerce , ran a few NMCA races there in the past..track was working Good..
here is one Pic of me running a NMCA race at commerce back in 2003. A street legal 63 VW bug with a 406ci aluminum rod Motor..
this is also where i got my Nick name Beetlejuice or "BJUICE" for short.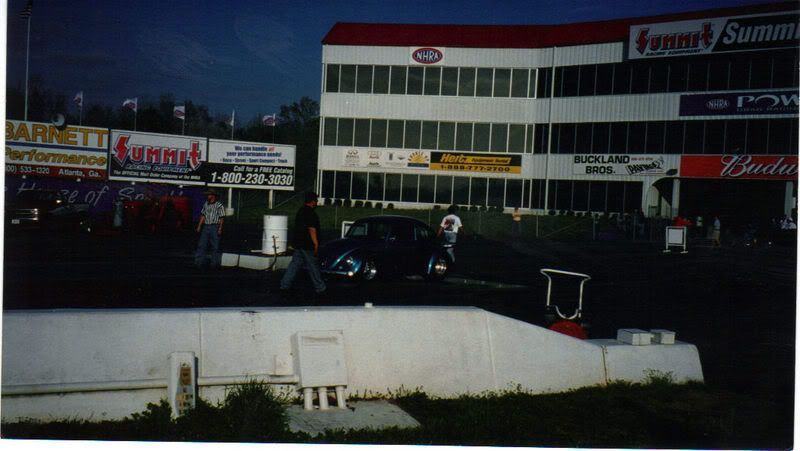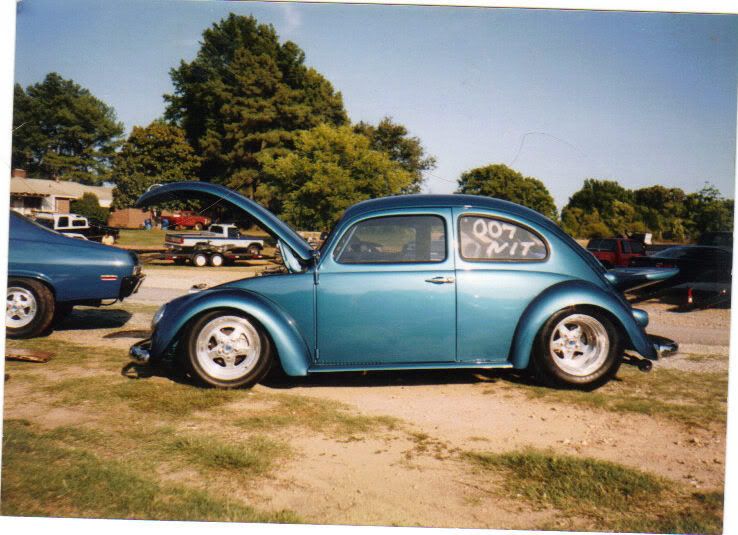 05-31-2009, 02:52 AM
Senior Member
MASTER BUILDER
Join Date: Dec 2005
Location: Napier, New Zealand
Posts: 230
---
Check out pics and vid of my 67 Chevy 11 right here at racing junk.
It runs 6.84 secs @ 198.09mph in the quarter.
http://www.racingjunk.com/profile/104786
Burnout on New Tires.....Yikes!!!

05-31-2009, 08:29 AM
Administrator
RACING JUNKIE
Join Date: Apr 2003
Location: Greenville s.c.
Posts: 3,239
---
Awesome Ride there Firball. i checked out your profile with Vids.

Please tell me your Journey in getting the chevyII from TM.
I would love to hear about It. TM shop is less then 45 minutes from my House.

That thing is Flying !
__________________
Bjuice..

"I'M YOUR HUCKLEBERRY ! "

06-01-2009, 11:07 PM
Senior Member
RACING JUNKIE
Join Date: May 2006
Posts: 2,044
---
That was some stout runs there firball, nice and straight.
Love that hugger orange paint.

Hey dumb question here.

Do ya'll run the 1/4 MILE or is it the metric equivalinet> Just curious.

Keep representing them old Chevys for us over there.

Cp

06-03-2009, 06:17 AM
Senior Member
MASTER BUILDER
Join Date: Dec 2005
Location: Napier, New Zealand
Posts: 230
---
We are a metric country but the V8 drags are still using the old quarter mile and mph data. Pro Import jappa meetings use the quarter mile too but speeds are in kms/hr.

Tommy Mauney built this car in 1999 for Glen Maine in New York and it campaigned all over the states and Canada. The chassis was upgraded in 2007 and a new engine and nitrous systems fitted about 6 months before I bought it in Alabama. I was racing Super Stock in a 572ci 69 Camaro but the division was canned so I sold the Camaro and found the Nova on Racing Junk. I flew a total of 33 hours in each direction, including waits, to Alabama and stayed 11 days in Arab, AL. Test drove the car at Montgomery Motorsports track and loved it. Exotic car transporters out of Florida delivered the car to LA for me and Kiwi Shipping got it to New Zealand. It was a lot of traveling and a total 10 flights there and back to check out this car but it was well worth it. I met some fine people in AL including Jeff Wilkerson of Wilkerson Race Engines and the guys at Speedtech. Greg Hinds who I bought the car from, and his family in Arab were great.

I have put in a 9.5 inch MW diff after destroying the 9 inch. I've also replaced the TCI convertor with a Neal Chance aluminum one. Its about 16 lbs lighter than the old one and has made a big difference bringing my 60' down from 1.15- 1.2 to consistent 1.06
I have since upgraded the nitrous with bigger delivery lines and two bottles to keep the pressure up. I spent most of the race season struggling with a fault. I found an intermittent fault in the nitrous relay/timer circuit board. It was switching on and off during runs. I replaced the circuit board and finally got the car into the 6's. Our season has ended so it'll be November before I can finally start honing the tune up to get better ET's. I think the car should be good for 6.6 secs. One day I'll have the $$ to get a bigger engine, around 768ci. Really need that and a third stage to compete well with the blown cars.