Is this a Good reaction time????Finally did it!!!!!!

09-17-2008, 11:56 AM
Senior Member
EXPERT BUILDER
Join Date: May 2004
Posts: 299
---
Yes I drive it everywhere,its about 20 miles to the track and I drive it there too.I built the car here with that axle setup,it drives good on the street,until you have to turn at high speed :shock:

09-18-2008, 01:47 PM
---
Originally Posted by gungho
Hey bjuice lets see your reactin times. :lol: :lol: :lol: :lol: :shock:
ok not a perfect light :roll: ...but it was in my 3100 lb street car..footbraking ?
[img]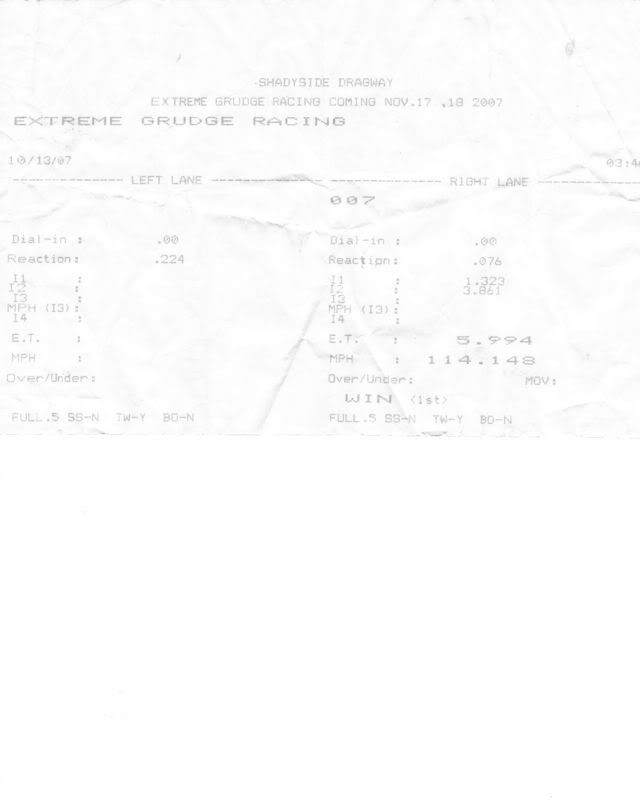 [/img]
__________________
Bjuice..

"I'M YOUR HUCKLEBERRY ! "

09-24-2008, 10:40 AM
Member
JUNIOR BUILDER
Join Date: Jan 2005
Location: Roanoke, Virginia
Posts: 70
---
Gungho
Good job on the perfect light man! That is something to be proud of for sure! I am all the time red lighting trying to get that perfect reaction time, but it is all in good fun!!! Keep up the good work and go win some M O N E Y!!!!!!!!!!!!!!!!!!!
Mike