Then and Now

06-13-2007, 01:02 PM
Member
MASTER JOURNEYMAN
Join Date: Jan 2007
Location: Lakeland Florida
Posts: 37
---
Originally Posted by alscoupe
Hey CobraJet428;
I've had my 1950 Dodge Coupe for 28years now.
Originally found in a back yard in Tullahoma TN in 1979. Original owner parked it out back under an oak tree in 1953, went inside and had a heart attack. His wife wouldn't touch it. She died in '79 and the Son and his wife inherited the home place and started remodel, first time it could be seen from road. I gave $50 bucks for it. Friend that helped me haul said there wasn't enough left to put back on road. Weeds growing inside, all rubber gone. Bottom half of rims rotted away, brake drums on the dirt. BUT it had never been touched. No idiot had zip gunned out the rear fender wells, all the original chrome in place. No dents and nothing missing.
I originally put on the road in 1984 as a daily driver. Completely restored stock looking exterior/ interior. But with a 250L6 Chevy w/glide and '67TorinoGT rear w/ 3:55gears (
[email protected]
)
She's got approx. 486,000 road miles on her now. Been totalled twice. Last time in about '98, got hit in front right and lost original grill and trim. I Fabbed headlite shades outta 16ga, shaved the bumper, and made hood one piece. Then had to shave rear, french turn sig's to match.
She's in the garage now, about 1/2 done. New 355 SBC Blower motor. Front end all welded up into one piece to flip forward. All the goodies except A/C. Winding up body prep for new coat of "Sapphire Blue Metallic". Then she'll be ready for street strip again. And, nobody's ever turned a wrench, fabbed or painted anything on her but me.
The wife swears she'll have to hire a backhoe to bury me, 'cause it'll have to include the car!
Great story. Wish I could see some pics to go with it. My wife says the same thing about me and my mustang. :lol:

06-14-2007, 06:05 AM
Senior Member
MASTER BUILDER
Join Date: Mar 2005
Location: Faribault, Mn.
Posts: 227
---
Originally Posted by cobrajet428
How about some pics of what it looked like when you first got it and what it looks like now if you have them? George
Sorry, I cannot post pics of "then", the pics are old polaroids and I don't have a scanner.But now:

06-14-2007, 08:19 AM
Senior Member
RACING JUNKIE
Join Date: Jan 2006
Location: EastWenatchee,WA
Posts: 887
---
heres a pic 2yrs ago, low rider out of seattle, stock 350,turbo 350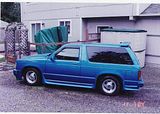 [img][/img] and here is a link to what it is now
http://www.cardomain.com/ride/2393675

06-14-2007, 08:31 AM
Member
MASTER JOURNEYMAN
Join Date: Jan 2007
Location: Lakeland Florida
Posts: 37
---
Originally Posted by ash
Originally Posted by cobrajet428
How about some pics of what it looked like when you first got it and what it looks like now if you have them? George
Sorry, I cannot post pics of "then", the pics are old polaroids and I don't have a scanner.But now:
Nice Camaro, 69 is my favorite year body. Have fun with it! 8)

06-14-2007, 08:40 AM
Member
MASTER JOURNEYMAN
Join Date: Jan 2007
Location: Lakeland Florida
Posts: 37
---
Originally Posted by spib
heres a pic 2yrs ago, low rider out of seattle, stock 350,turbo 350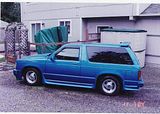 [img][/img] and here is a link to what it is now
http://www.cardomain.com/ride/2393675
Been there, done all of that! Looking Good. When you're done you can start thinking of the next pase. :P A project is never finished, that's why it's called a project. :lol: