scaling race car cost

05-11-2007, 04:48 AM
---
Originally Posted by truk
hey maybe ill take a mini vaction to canada!! if i can get thru customs .lol
i just got a good look at your truck picture,,and the way the thruck is laid out with the wheel base and the height of the car along where i think the motor sits..you gonna play a hard tim, getting that front end to stand up..its long,low ( center of gravity is low) built truck..my 67 camaro is the same way my 67 CAMARO is set up and its the devil to pull the front tires. but not as long as wheels base as you have..
if you get those front tires to stand please tell me what adjustment you used..i will be surprised if they do.
this is a good thing also.
thanks- Brian
__________________
Bjuice..

"I'M YOUR HUCKLEBERRY ! "

06-22-2007, 01:25 PM
Senior Member
DYNO OPERATOR
Join Date: Feb 2006
Location: VA Hospital, Dallas, Tx (214 302 1924) cell-972-464-7400
Posts: 540
---
This night of wheelstanding and slam dunking the oil pan is costing appx $4000.00 in engine damage and car damages.
This is not my suspension work.
IT is not my suggestions about suspension adjustng.
This car weighs 3046 lbs and has 52% on front and has 48% on rear. This is so called professional chassis baseline from a big name shop on the second attempt. Their first attempt was the car dead hooked hard. busted two sets of wheelie bars. broke high dollar heim joint, busted anti-roll bar and messed up the front end when it came down.
Thir first atempt was a too short and too high of IC. Their second solution was in thier words. "Maybe that engine is meaner then I thought" " Here that adjustment should keep you out of trouble" Their second solution was to move instant Center far forward and even higher than it was.
My only contribution to this funny froggy night is that I built the engine. It is one of my engines.
Ed
Froggy Vid was with long high IC.
http://s22.photobucket.com/albums/b3...oggyTiger-.flv

06-22-2007, 03:05 PM
Senior Member
DYNO OPERATOR
Join Date: Feb 2006
Location: VA Hospital, Dallas, Tx (214 302 1924) cell-972-464-7400
Posts: 540
---
No. I am appx 300 miles North. In Plano N. of Dallas.
That night a good friend of mine Mr. Billy Stocklin and a friend of his Mr. Kenny Hubbard were helping a little and they took some hit out of it for the next pass attempt. Ended up with another Froggy. Then Billy had Kenny to take a lot of launch timing out and according to him it didn't jump right up but at 150 ft it was 4 feet and climbing headed for the wall, so Driver slam dunked it one more time. That did it in. No oil pressure in the pits, $1000.00 Oil Pan crushed into the pump. Both tie rods bent and front end messed up.; Ooops' . Engines running with no oil don't work very long.
I will likely by about 98% be at Evadale N. of Beaumont on the 21st of July for the big East West True 10.5 and Outlaw 10.5 plus Match Race Madness Shootout though. Possibly that car and another of my customers will be there doing some Match Racing.
It will all depend on if the guys can get the money to finish their stuff up. Both cars will need some T-N-T somewhere else before they run there. I told my customer I don't want that car (Tony's Tiger) at HMP again unless he is ready to run a number and light up the clocks. They have a few scores to settle before they will light up the clocks in Houston or do any full passes in Houston. Now they are listening to me over the phone, so hopefuully we can get some of that frog out of it. I am planning on finishing the engine again this month. Going back with exact same pistons too.
Ed
If you come, ask one of the Promoters on the line where I am. They are both customers of mine.
Here is the flyer for the race. IT should be big. We have commitments from West Coast Record Holders and East Coast Record Holders, in the Drag Radial calsses. They are putting 10.5 's on for the race. Artis Houston and Tim Rigby from Calif are coming and bringing others. David Reese from Florida is coming and helping to organsie this. T-Berry or Todd Berry Motrosports with Eric Dillard are coming. THree of those cars are record holders in their classes. IT should be good.
http://www.boards2go.com/boards/board.cgi?user=PAPS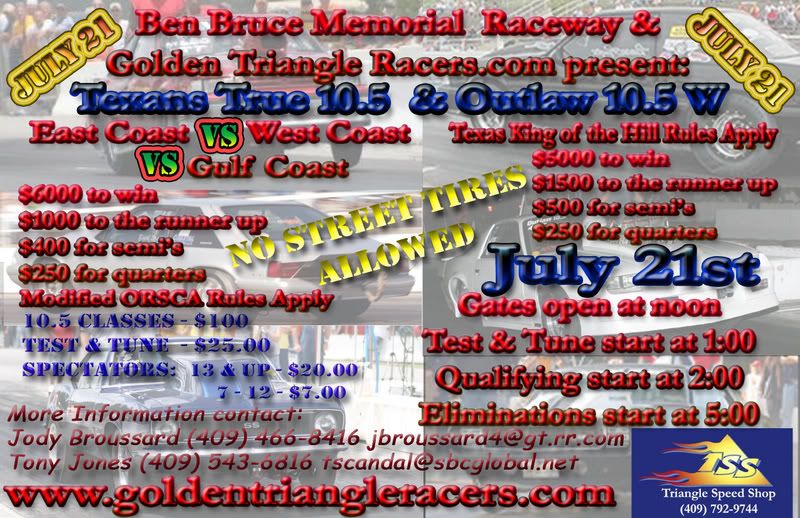 06-22-2007, 03:44 PM
Senior Member
DYNO OPERATOR
Join Date: Mar 2007
Location: Texas
Posts: 525
---
Ed we will be back in the country an mama said that we will go to a car show in Kerrville an then head to Evadale. So will do our dead level best to be there. Because that don't sound like something to miss. Well if God willing and the creek don't rise I will see you at the track. Wesley