Racing Junk sold

04-22-2012, 03:53 AM
Senior Member
RACING JUNKIE
Join Date: Nov 2008
Location: Niagara Falls, NY
Posts: 965
---
Originally Posted by fla1976
Lead on Huck. This is the only worthwhile forum that I have found. It would be sad to have it changed or ended. My two cents. :?
i hear ya

now i havent been here 10 years like brian but i took a liking to this site from the start and all you old geezers in here.... lmao

04-22-2012, 07:20 AM
---
Originally Posted by rlmotorsports
Hey BJ have you seen or talked to Scotty lately i have not heard anything on what he is doing now.
Hey Ron..Yes I ran into Scotty last year at a automatic Pro-Mod Race at Union County Dragway. He was helping Scotty JR with one of their play toy Pro-mods..it was brought out of the shop set up for the 1/4 mile and their 1st pass off the trailer was a 4.11..they ended up getting it down 3.70 range before the weekend was out.
about two weeks ago on Saturday night there was someone banging on the door about 7pm at night with a bunch of whooping and Hollering...it was Scottys crew,Randy J and Phil J ( Scottys life long side kicks) Hawk ( Mark Holcome) and some other guy I knew at the track but not personally...they hung out at the house a few hours ( out at the shop) and just had a good time...it was a Pleasant surprise..Phil J and hawk was twisted tight and insisted I take them for a ride in the 73- Z...So I did..From what I understand they did not make it home sometime early Sunday Morning..A cannon ball run is what they call it..I use to be part of that but do not party any longer or run the guantlet like these guys still do...lol.
Scotty was well off before racing and owns several rental properties including a restuarant and fishing lake...so money is not an issue for him..He also helps out Scotty JR with his pro-mod program and right after the picture you see below they left for Europe to run that circuit for a few months..Ya know Scotty ran over in Austraila most of his ON-SAT promod days in the Willy's..I ask him did he Miss the Big time Funny car NHRA and he said some things he missed and somthings he didn't..Bottom line Scotty was so Radical he never did fit in the BIG CORPORATE world of Racing in that Series .Him and Oakly are still on good terms but he chooses to support Scotty jr Which is also a former pro-mod world champion.
I am also sorry to say Scotty and Amanda are getting a divorce after 20 so years of marriage..I wouldn't mention it but its now common knowledge among the race world and general public..he is still is one of My good friends and always will be..Also Quain Stott called me a few weeks ago and shot the Bull for about 1/2 hour..We are like 3rd Cousins..and his dad and my dad were close as brothers..Quann still races and does serious consultant and
[email protected]
work for Big race teams on their Blower cars..Last Christmas season he spent 2 weeks in Alberta Canada tweaking and testing a blower for a team up there...how aout $50,000 for two weeks of testing..All expenses paid..
Both of these guys Scotty and Quain Stott make numerous trips to the Middle east helping out the ARAB racing teams..from what I understand what they get Paid is astromonical for going over there for a month at a time. Pat Musi has also got into some of the Mid-east royality Money..
me and Scotty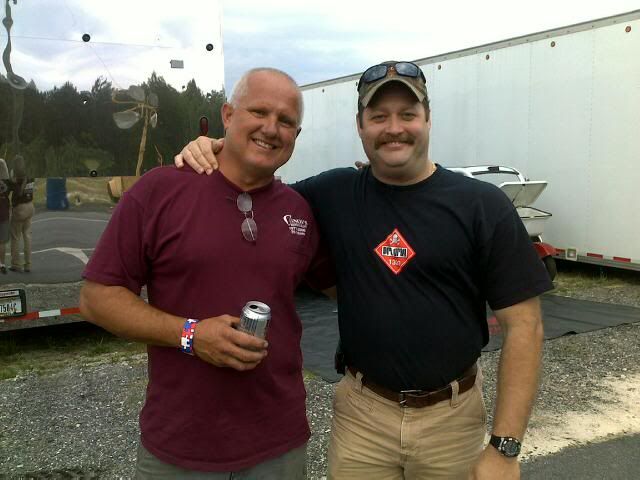 scotty getting Scotty JR reading staging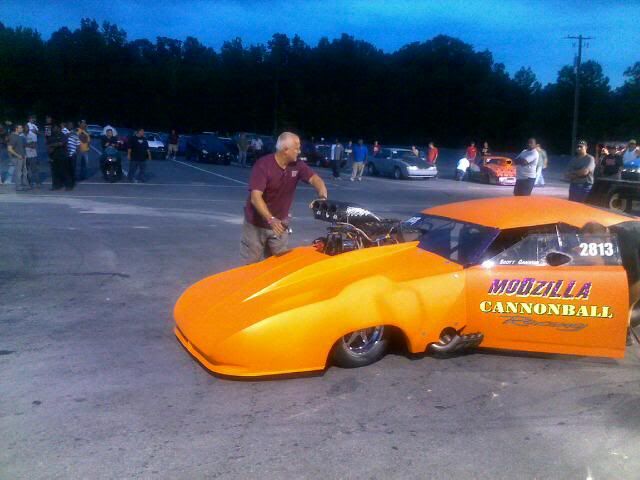 Tommy Mauney was there in his Corvette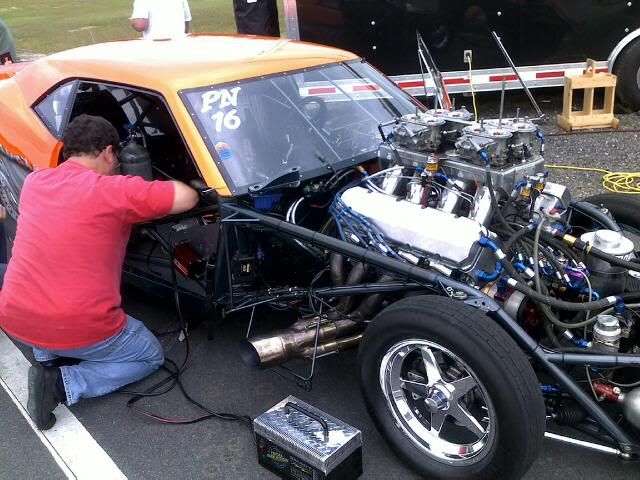 the Legend engine Builder Gene Fulton watching the action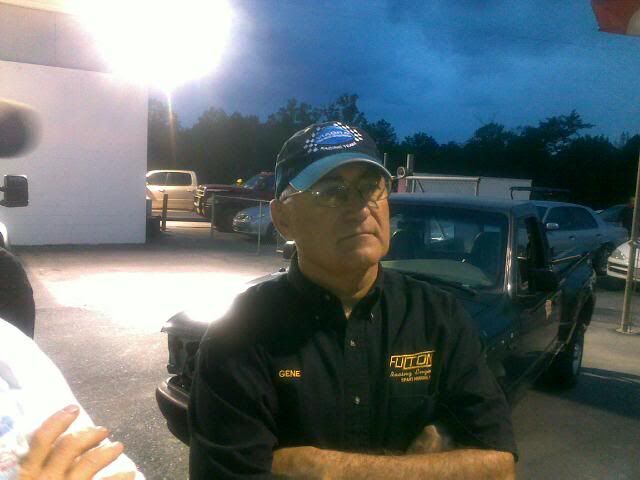 quain before a race
__________________
Bjuice..

"I'M YOUR HUCKLEBERRY ! "

04-22-2012, 08:24 AM
Senior Member
DYNO OPERATOR
Join Date: Oct 2004
Location: florence ky
Posts: 498
---
Man i do miss them day's it was the time of my life back then.
I do see i few of the guy's that we use to race with in the IHRA circuit .
I seen bill khuleman a couple of years ago at one of the super Chevy show's
Almost didn't recognize him.
also went to one of the ADRL shows up in Columbus and ran to a few of the old timers. My old friend and partner Jim Spencer passed away last year .
he had just finished building a new pro mod Vette i was looking forward to going out a few times a year and helping out again .

I don't know if you remember a friend of mine tony bogolo from back in the 90's he ran a alky funny car he still lives here he switched to NHRA and he has rick Hickman as his crew chief on the car for the last few years . You may remember him he was the crew chief for mark Thomas on his funny car back then.

man i could go on forever but we will have to get on the land line and do some catching up .

B shoot me your number on a pm see ya buddy.

04-22-2012, 05:58 PM
---
Count me in Mr B !
Let's not forget all the folks who come on here SPECIFICALLY to mine us for good info to help THEM with car probs. Word is out that we on this forum, GLADLY help fellow car nuts and with ZERO humiliation or degradation. And don't forget how most of us reglars, are constantly learning from each other and visitors as well !








04-23-2012, 02:47 AM
Senior Member
RACING JUNKIE
Join Date: Mar 2008
Location: falkville al
Posts: 1,765
---
story of my life, i find something or someone i really like and it gets taken away from me. well not this time boss, im with you wether you want me or not. lol. ive come to really care about you guys, so anywhere you go ill go also. funny thing, ive never met any of you and yet to think i couldnt talk with yall anymore scares the hell out of me.

04-23-2012, 07:31 AM
---
Originally Posted by bjuice
Guys I hadn't been told anything but I am like all of you I been here on this site for nearly 10 years. I will make a promise to all of you guys if I can get support from each of you.what I mean by support is following my lead. I plan on going nowhere and plan on being a admin on this forum as long as they will let me. I will say after being at this job for nearly a decade I know a little of how you need to run,supervise a forum. So if indeed anything ever happens to this forum I will make a vow to all you regulars that I will design and operate a forum for all you guys to go and hang out like we all been doing for years. All I need is your commitment. For anyone that could be reading this from RJ home office or anyone that could be involved in any acquisitions if ANY..please understand my wishes are for things to remain as they are but as always my loyalty lies with the members of this forum because without the regular core members there is no forum. I am putting this in the open guys what do ya say ? I am a firm believer in getting a plan in place way before you would ever need to use it.In this case I certainly hope no plans will have to be executed.

So you tell me guys you on board if it comes down to the unthinkable ?
I am with you on this too. I couldnt leave this place if I wanted to. All of you guys are my racing family. I couldnt turn my backs on my family here.