FOUR LINK ?

11-07-2008, 04:39 PM
Senior Member
DYNO OPERATOR
Join Date: Aug 2005
Location: Rifle Colorado
Posts: 585
---
Originally Posted by doorracer
Thanks guys. My racing partner is going to start driving a blown alcohol nastalgia F/E dragster and is going to rent the track to practice. I plan on tagging along to get in some testing. You never know he might trip and stub a toe and need a fill in driver.

My old heap only says waa waa when I run it through the 1/4. That's because it is crying the cam I have in it is done by 1000'. :lol: :lol:
Curtis
Lucky dog!! I'd love to get into a fed again, especially blown. I sold mine to buy the Vette. Really miss it. It just had my 408 in it but was a hoot to drive!! The Vette's quicker & faster but not as much fun......not even close.

11-18-2008, 04:40 AM
Member
CRAFTSMAN
Join Date: Jul 2007
Location: Orlando
Posts: 58
---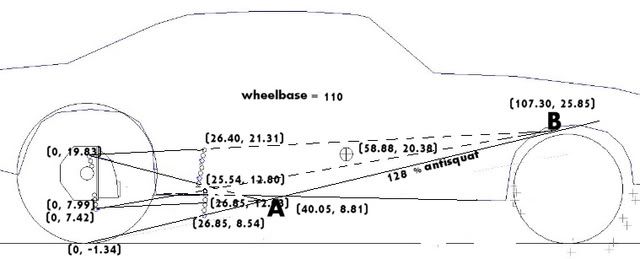 This came up in another forum and I put together a spreadsheet based on the picture above. Using the dimensions indicated with a 3250 pound car (250 pound rear axle assembly), I calculated the moment (torque) about the front tire patch when the car is accelerating at 2 g's. I did this 3 ways: I used the force resultant at IC location A, the force resultant at IC location B, and the upper and lower link forces acting at their location points on the chassis. In all cases, the moment ends up exactly the same.
In other words, so long as the IC falls on the same constant percent antisquat line, the car can't tell the difference.
Since it's a spreadsheet, it's very easy to try other combinations. So, I pushed point A along that same percent antisquat line until it was about a quarter mile ahead of the car. Again, the moment comes out exactly the same!

11-18-2008, 07:43 AM
Senior Member
MASTER BUILDER
Join Date: Jul 2003
Location: Concord, Va
Posts: 206
---
Originally Posted by doorracer
I have a 27 roadster. I can get the IC that I want right now but I might need to go a little higher, not sure without a little more testing. This is just something I have been told and have read in other tech posts but never have seen why.
My car hooks initially but sometimes gets loose about 100-200 feet out. Tough to dial not knowing if it will stay hooked or not. Not a very fast car so it suprised me that I could spin 16.5-33s only running 6.0s with a sbc.

Curtis
I chassed my tail for the better part of a year and a half, spent about $1500 in parts and cost of testing only to find out that the rear springs were too soft allowing the suspension to bottom out about the 330 timers. Put a tie wrap around the shock shaft and check to make sure that you're not hitting bottom down track as that's cheap way to verify this. If I would have done that last year I could have saved myself a bunch of time and money!!