Subtley massaged.....

09-09-2012, 08:05 AM
Subtley massaged.....
---
....1947 Studebaker pickup. A car buddy of mine did all the metal work on this gorgeous Stude. He garnered the 'Builder' award at the 2010 Boise Roadster Show for his efforts.
Stock top, sectioned the cab 5.5 inches, shortened the bed 10", early 50's Chev pickup rear fenders, his 'signature' custom rear pan, and lots of little details you just got to see. A REAL nice piece. The fit and finish is 'Right On'.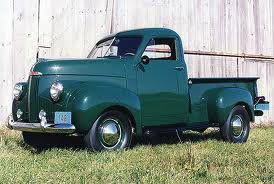 09-10-2012, 02:50 PM
---
Ken, buddy, it's a mild 'custom', brother ! 8) 8) 8) 8) 8) Ya really do have to see it live to appreciate the detailed work. He's been invited to the January Starbird show in Wichita.

09-10-2012, 05:23 PM
---
Beautiful truck! About the only thing I could have helped him with was putting the tires & wheels on and I would probably have scratched them.

It's amazing the talent ans vision some people have.