first serious engine build

09-21-2010, 09:11 AM
Junior Member
SHOW GUEST
Join Date: Jul 2010
Posts: 5
first serious engine build
---
hi every body I'm new here and thought I might get good advice. I've built several mild sbf motors in the past but this is my fist race motor build. tell me what you think of a 408 with afr 225 heads, solid roller with around .650 lift, 12.5 compression, super victor intake, 950 Holley, stainless steel rockers, and forged rotating kit. this motor will be going in a 64 comet that's mainly a track car but could see some very limited street time.

09-21-2010, 03:12 PM
Senior Member
RACING JUNKIE
Join Date: Feb 2004
Location: san antonio, texas
Posts: 1,233
---
welome,nice combination and in a comet, nice. thats alot of lift for a small
blk, it's going to sound like the motor wants to crawl out of the
car, i guess with that compression you'll be buying plenty of
racing fuel to run the monster, i'll bring the beer and come over
and give you a hand, good luck bud :wink:

09-21-2010, 03:45 PM
Member
JUNIOR BUILDER
Join Date: Jun 2003
Posts: 87
---
I've got a '72 Block 351w thats gonna be a 408 for my coupe.Similar to your combo with exception of a Hydraulic roller for nitrous,about 10.75 to 1 compression and some afr's.My last little 308 with a 150 shot went 10.40 on pump gas through the muffs,so the 408 with a 250 shot should put me in the high 9 range.
Your combo sounds about right for a mostly race motor.Should scream!.Just remember 3 inch mains dont like rpm in the phord motors... :wink:
My old
[email protected]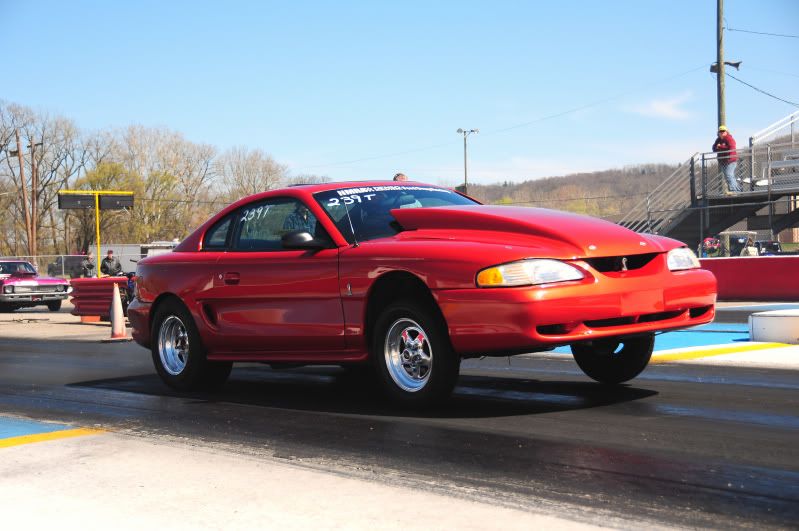 09-22-2010, 05:29 AM
Junior Member
SHOW GUEST
Join Date: Jul 2010
Posts: 5
---
kwkracing I don't know about a small block ch ch ch chev chevy. dang that was hard say. I've got a few more questions though. would it be better to have a single pattern cam, would 1 3/4 headers be the right choice or 1 7/8, would I need a torque converter with a anti ballooning plate to use with a trans brake. also does a main support girdle really help that much. when I can I'll get some pics of the ol merc on here. thanks for the help guys.

09-22-2010, 12:07 PM
Senior Member
RACING JUNKIE
Join Date: Jan 2006
Location: La.
Posts: 2,890
---
Definately the anti ballooning plated converter with a transbrake, i'd go with the larger headers. I don't know anything about the Ford cams, but i do know that Speedway motors sells lot's of the main gurdles for the ford sm/blk.

JMO

Zip.

10-01-2010, 12:02 AM
Senior Member
RACING JUNKIE
Join Date: May 2006
Posts: 2,044
---
Main guidles are a must with any high hp sbf, the 351w blocks are not as bad as it's little brother 302 but anything over the 450 mark is in need of a main girdle, it's definetly worth the added cost, that is unless you like breaking parts. :wink:

Cp

10-01-2010, 11:26 AM
Senior Member
RACING JUNKIE
Join Date: Mar 2006
Location: EUGENE,OR.
Posts: 3,402
---
I like it... but I am no expert on sbf's... I can tell you that it would be even better if it had a straight axle front (64 Comet's make GREAT gassers!!) w/ a 4spd, & a tunnel ram maybe... oh and fender-well headers too. Welcome to forum & good luck on that awesome project!! Scooter

10-01-2010, 05:36 PM
Junior Member
SHOW GUEST
Join Date: Jul 2010
Posts: 5
---
thanks for the advice. I will be putting in the main girdle. I don't know what kind of power it's gonna make but I hope over 550. the cam is gonna make or brake it so I need to choose carefully. I just ordered a rod & custom ifs it will be here friday, anybody got any tips or tricks to help with the install. next thing to buy is wheels but can't decide between torq thrust d or custom steel wheels. right now I'm leaning towards the steelies. anybody got any more suggestions I'll always appreciate it.