Getting Closer

12-09-2007, 10:58 AM
Administrator
RACING JUNKIE
Join Date: Apr 2003
Location: Greenville s.c.
Posts: 3,239
Getting Closer
---
Between the Move..taking time out to work on the 67 camaro for a final few runs for this year..i can say i am feeling my age...
took this pic today 12/09/07..never mind the date on the pic ( wrong date)..it was 73 degrees..a great day to be in the shop......
i'm back on the Vette full steem.....a BOAT LOAD of small teadious things to do..but i have made a list and trying to knock a few out a day...
ANYBODY GOT SOME MOTIVATION TO SPARE :?: ....I AM TIRED !!!
( i am a one man show like many of you)...lol
[img]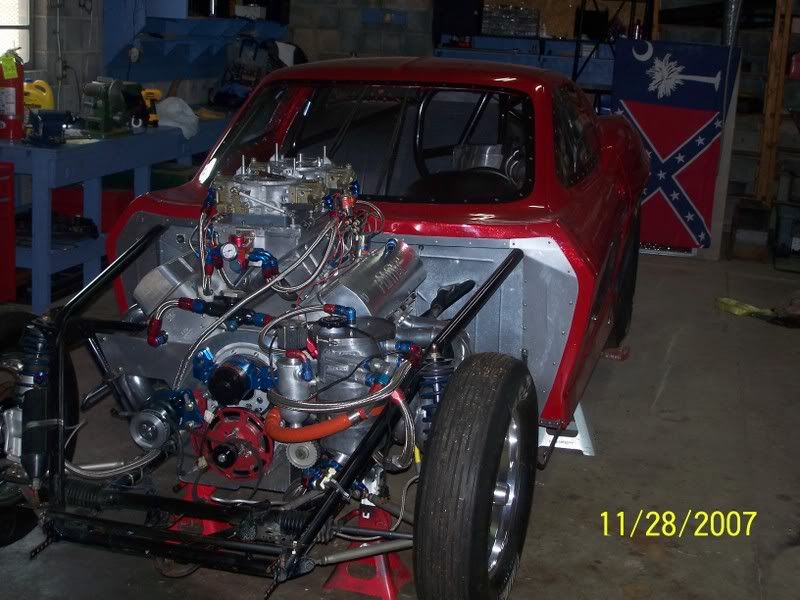 [/img]
__________________
Bjuice..

"I'M YOUR HUCKLEBERRY ! "

12-09-2007, 12:03 PM
---
BRIAN----JUST TO BE A FRIEND --I CAN COME DOWN AND PICK UP THE VETTE,BRING IT BACK TO MY PLACE AND TINKER WITH IT TILL [LET'S SAY JUNE ] AND BRING IT BACK WHEN WE GET IT DONE :lol: :lol: :lol: --DENNIS

12-09-2007, 12:07 PM
Senior Member
RACING JUNKIE
Join Date: Jan 2006
Location: EastWenatchee,WA
Posts: 887
---
some type of music that makes you feel all calm and happy , that will work, a lil metalica, or some kill switch engage or mudvane, something light you know 8) brian that looks damn good!!!

12-09-2007, 12:40 PM
Senior Member
DYNO TECH
Join Date: Feb 2004
Location: Leonard, Texas
Posts: 414
---
I feel your pain brother!
Everyday I think there's no way I can hurt worse than the day before.
Father time is catching us all, and some more than others. I've got a huge thrash session to get my car done by Feb. I just don't think I have it in me!
Your Vette looks great that should be motivation enough.

Bill

12-09-2007, 01:27 PM
Senior Member
DYNO OPERATOR
Join Date: May 2003
Location: Moscow Mills, Mo.
Posts: 533
---
( i am a one man show like many of you)...lol

I know what you mean Brian. Looks like you got a heck of alot done though. It's the little things that are a pain and take the most time.
Cars looking good. Take a break for awhile you'll feel better. :wink:

12-09-2007, 03:33 PM
Senior Member
MASTER BUILDER
Join Date: Oct 2004
Location: Newport News, VA
Posts: 139
---
It gets easier Brian when you get it to the point of being able to crank the motor. Then when you feel tired and have no motivation just crank the thing up. Before you shut it down, get out and take a walk around it and get a few lungfuls of that exhaust. Shut it down and then you're good to go for at least the rest of the day. Works every time. :wink: :wink:

George

12-09-2007, 03:54 PM
Senior Member
EXPERT BUILDER
Join Date: Dec 2002
Location: spring creek nv.
Posts: 329
---
BRAIN;;;;vette is looking awsome..keep up the good work;;details will pay off in the end but ha you know that..this isn't your first horse you've climb on..i've seen pis of your past cars.just take doc georges advice;;

12-09-2007, 08:20 PM
Senior Member
DYNO OPERATOR
Join Date: Jan 2003
Location: Douglasville Ga
Posts: 474
---
Brian,

That Vette is really coming along and LOOKING SWEET. If I ever get a chance to come back to your house, I will give you a hand. i can't wait to see that thing on the track. Good luck and I will talk to you soon.

Chris