Pit Cart

11-04-2013, 07:35 PM
Pit Cart
---
Hey guys y'all look bored so I'll show you one of my winter projects.
I've been needing a good pit cart for years and finally started on one.
I found the ugliest one I could find as a project lol.
I just bought it a few weeks ago and now it's time to get started.
It's a 2001 48 volt Club Car with a high torque motor and a 500 amp speed controller. No kidding on a full charge it pick the front tires up about 6 inches even with the bed off of it and it'll drag my truck almost 15mph without a problem. It'll run 17-19mph on flat ground by my gps. Had it to 22 down a hill and I figured it needed a roll cage and harness before I did that again!!
My plans are;
* Paint it the same color as my race truck (red of course)
* Recover the seat and backs
* Have bed powder coated black
* Have front grill guard powder coated black
* Chrome wheels. (use same tires 22x11x8's)
* Put a rack for a small 10qt cooler in the front. (Between the windshield and steering wheel)
*Set the bed and back up with the following;
1,000 watt generator, 20' retractable extension cord,(those both go under the bed) tool box on far right side, Nitrous bottle rack (in picture)
1,200 watt power inverter. ( I'll mostly use it for back up if generator doesn't work ( to warm nitrous bottles) or for short periods of 110volt power for misc. stuff and mount a fire extinguisher.
* Push / pull bar mounted on the front that attaches to the wheelie bar mount on the truck.
I already have a cool shirt and may put a cooler/ pump in the bed next summer.
* Install some LED work lights on the rear.
* Already have a retractable tow strap on the rear. ( I am going to install a 1 1/4 receiver hitch)
When I finish it of course it'll have Rabbit decals on it, my engine builders decals, Compucar Nitrous decals along with a few of their pamphlets on the side of the box for anybody to grab a card and pamphlet to take with them.
I'm sure I'm forgetting some things and will change or add some things as I work on it.
This isn't going to be a quick project because I have several others going on, but much of this I really need to have done before next year.
I had to shorten the bed 6 inches so it would fit in the trailer in front of my truck. You can see in the picture where it's been cut in half and welded back together and the simple nitrous bottle rack.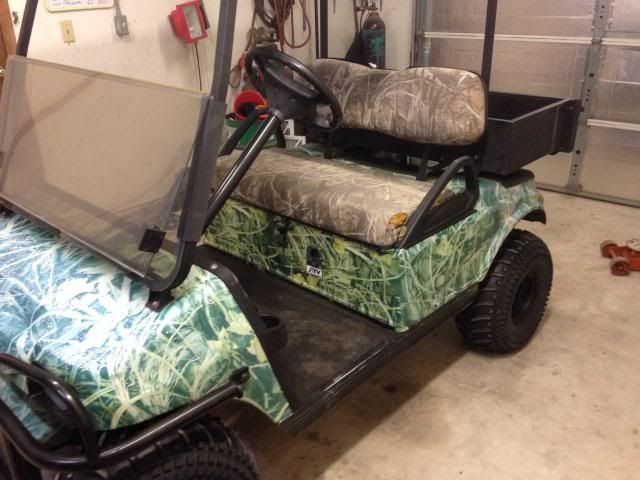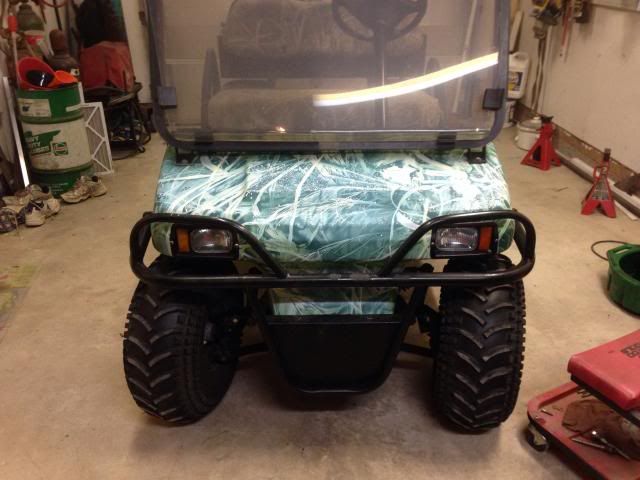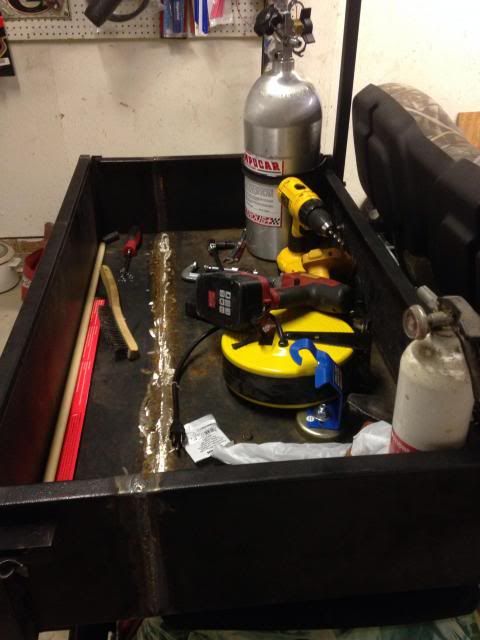 11-05-2013, 07:07 PM
---
Hitch is done.
Extension card mounted and generator is in. This is just fitting everything up. I'll take it all apart to paint it and get the bed powder coated.
I've gotta cut a small door in the bed so I can put gas in the generator. I'm gonna use a fuel door once it gets off backorder.
The good thing about this is nobody can borrow or steal the generator because you have to take the bed off to get it out. lol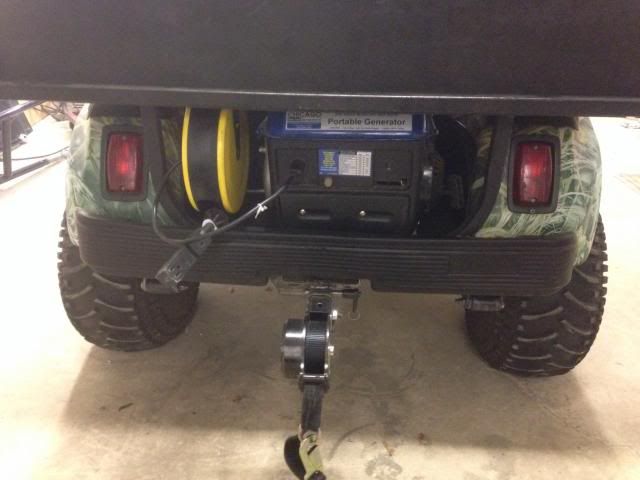 It's gonna be slow going for a while. I have several things going on and a road trip this weekend, but I'll keep posting as I get things done.

12-17-2013, 04:37 PM
---
Obviously the seat has to be recovered. What color do you guys like the most? White, tan or black and white? I like the black and white, but not 100% sure yet. Of course it's gotta get some new shinny wheels too. I'm probably going to get the top dipped with a shinny carbon fiber look.

01-02-2014, 06:34 PM
---
I just couldn't do the black seat. I was afraid it would be to much black with the black box.
I'm lucky that EZ-GO and Club Car are both made here in August so I went to the company that does all of their seats and does custom seats... c
heap. lol
They will do ANYTHING you want and this is what I came up with. I wanted something different. lol
You can't tell in the picture, but it's a nice stitched cover.
Front picture. I painted the brush guard gloss black and I still didn't like it so I had it powder coated in chrome. It looks pretty dang good in person too.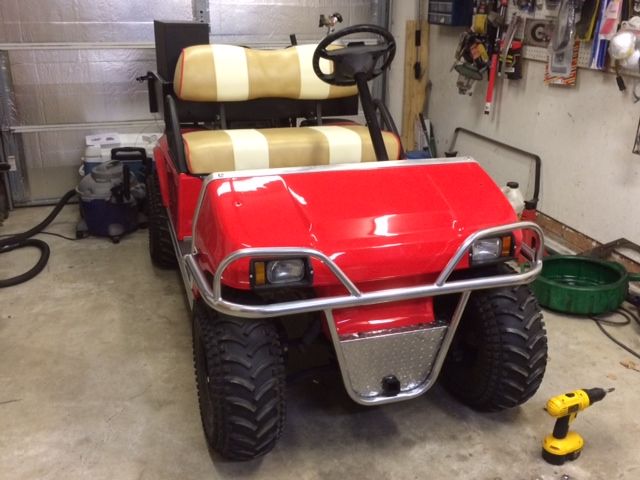 You can also see the new shinny kick plate and (part of) the new dash trim cover. I hated all the flat black and camo stuff.
Front hitch in. I'm gonna make a push bar that uses the reciever so I can take it out when in the trailer.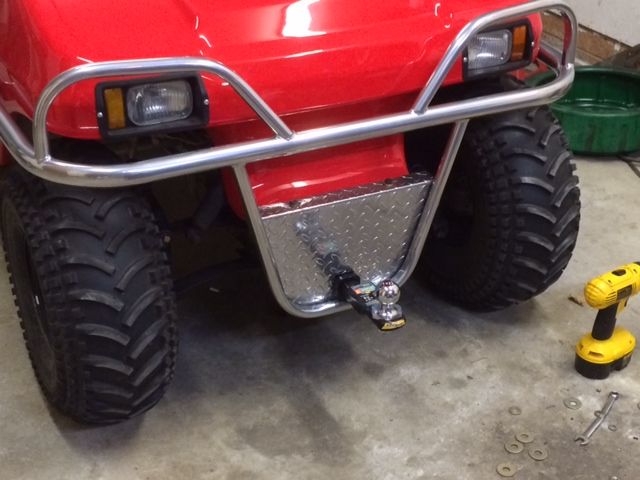 I have to paint the rails for the top and put it back on and add some LED work lights to the back. I'm gonna replace the top one day with a tan top or my do a black carbon fiber looking top.
Next to order will be a set of shinny wheels!! I've just about gotten this thing to nice to work out of! lol
It's been a lot of fun taking it from a ugly, rough, camo, hunting cart to a shinny functional pit cart.