Do you have kids or grandkids involved in your......

01-20-2012, 05:59 PM
Do you have kids or grandkids involved in your......
---
...racing activities ?

Out of 13, Micah & Hayli are the only two who are eager and willing to participate. I make it educational by letting them actually learn 'hands on', and rewarding for them by praising and bragging them up to all, and they DIG IT ! These are the two who went to Mojave with us in 2010.
Car wash stop just before arriving at the track, the Mojave Air and Space Port. _____ Waiting and watching between rounds.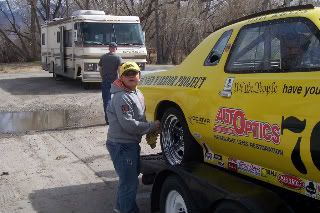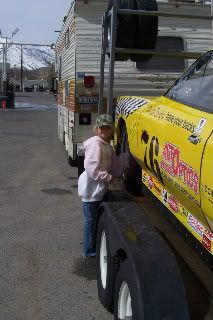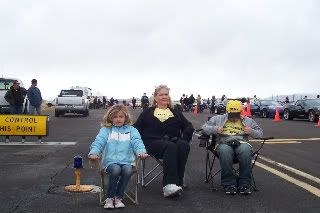 01-20-2012, 06:09 PM
---
No kids here but I have started taking my 8, 10 and 14 year old nephews to the drags. They are hooked and are pushing me hard to get another drag car so they can be my crew.
Keep taking them with you, the pics tell a great story along with the smiles on their faces

__________________
Chris
As close to "Normal" as I can get...

01-21-2012, 12:21 AM
Senior Member
RACING JUNKIE
Join Date: Mar 2009
Location: kingsport tn
Posts: 1,735
---
i got 3 kids and ther are into motor sports and cars in general take them to local circle tracks and up to the strip for the street fights and as many cruise ins and car shows as we can they ar 13,3 and almost 2 and they get ell excited at any older car they think is cool or if dad shows an interest in a car

01-21-2012, 07:41 AM
My pit crew
---
I have two loving and lovely daughters,when we went to pinks all out we printed up the pink colored shirts with our racing logo,they put pink hair spray in.They got interviewed by crew (did not make TV)Absolutely a great time. They are two different kids, one of them helps alot guides me into parking spots with the trailer,assists with tire pressure reading taking pictures, slickering up the car,runs up to line helps line me up when daddy is racing ,the other one helps alot also , but 3 years ago I scattered my motor, it smoked alot at the end of the track,and they announced on the overhead that car # 8 needed assistance at the end of the track, no harm to me but of course the car got hurt. many months later, that winter my older daughter came to me with tears in her eyes (out of the blue)and told me that she was scared for me sometimes when I race. She brought up that event. So we talked I told her there is danger in what I do and I will do all I can to minimize that.I explained to her that when chasing dreams sometimes you need to take risks, but always think about the risk and rewards in our actions . It was a great moment for both of us, she still comes out to the track but not as much, now both of them are growing up and doing things with their buddies, I get their friends together and take them to a test and tune and they love it. I want them not to be intimidated with mechanical and unfamilar things (and other life issues) Work hard, enjoy life, live a full happy life
Believe in God and keep family close, They are two great and wonderful kids and a very important part of my pit crew. My house and pit is full of alot of love,!!!!!!
Jeff M Proud member of Team Magnuson Racing
It could not be better.
Lovin' it
And:
Thank you to all that help me live my Dream

01-22-2012, 03:57 AM
Senior Member
RACING JUNKIE
Join Date: Mar 2008
Location: falkville al
Posts: 1,765
---
my kids are grown. my son is or was into the old hotrod/ street machinces with me but hes losing interest and hes 28 and my girl ,30 just bought herself a 66 rambler american that she drives to the redneck rumble. she lves old cars.her son 5, has a 68 mustang .i gave it to him when he was 3 and he loves it. when we have a crowd at the shop he goes around tellin everyone who will listen, want to see my mustang. its mine. hes been able to pick out old and new mustangs anywhere since he was 3. dont know why but he loves them so i gave him his own.and the damn thing runs good to.i gave him a ride in my 53 ranchwagon with a 383 stroker. got on it hard with him sittin in the front seat. couldnt get the smile off his face for 2 days.granddaughter wants my 62 galaxie but she wants it painted pink. told her ok. but she gonna have to wait till im gone. she says when are you going. cause i want my car pink.