Why did you pick your vehicle choice as a racecar???

11-14-2007, 06:03 PM
Senior Member
SENIOR BUILDER
Join Date: May 2004
Location: Loganton, Pa
Posts: 112
Why did you pick your vehicle choice as a racecar???
---
Just wondering why people picked the type of vehicle they used to race with. For instance a wagon, pickup, dragster etc.. I chose a Buick as I have been into the GS cars for over 25 years. I had my 70 car given to me boned out and added spare parts to make a daily driver out of it. I then removed the 350 and added a built 455 with Stage 1 heads etc and went farther to now adding a roll cage and alot of fiberglass parts to lighten it up.Eventually my 462 will be built back up and installed in it. I ran 11.90's with it in my previous GS 4 speed car and it was a street car. I have owned at least 10 GS cars over the years and thats why I decided to stick it out with a Buick, but I will say its not cheap running a not as popular motor.I currently have a 73 GS 4 speed car as well as a 1986 Century GS and my 70 Skylark car.

11-14-2007, 06:38 PM
Senior Member
MASTER BUILDER
Join Date: Apr 2007
Location: Directly Over the Center of the Earth
Posts: 138
---
I needed a rolling chassis for my small block Ford because we were abandoning our '39 Studebaker Gasser project due to it taking too dam long.

Found our '68 Falcon Futura with no engine / trans on Craigs List for a couple hundred bucks. Solid body, decent floors, good glass.

Made a few mods and was ready to run in under a year.

Of course it's apart now, getting ready for a winter make over. I guess I'm comitted to this Falcon although this particular body doesn't make my heart go pitty-pat. It's all about the running gear to me.

But the Stude' would have been KILLER!

Murff

11-14-2007, 07:48 PM
Senior Member
RACING JUNKIE
Join Date: Jan 2006
Location: EastWenatchee,WA
Posts: 887
---
man murff the stude would have been cool, but your car is cool as hell, looking forward to seeing it, I like trucks, I have raced a 68 chev long bed, then a 76 chev long bed , then I got a former 10 second roller monza, and the longer I had it, lost interest in it, needed very lil to finish, I knew I wanted a s10 extended cab or a s10 blazer, a guy traded me my monza for a cool, s10 blazer lowrider out of seattle, had nice carpet, stereo, seats, ground effects, and a stock 350 v8, it was a lil worn but ran good. The heater core leaked and when I tore that out, I got a s&w racecars cat, and started looking at backhalf kits and 2 yrs later, its all differnt. [img]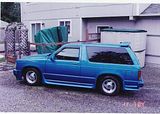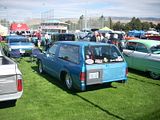 [/img]

11-14-2007, 10:14 PM
Senior Member
RACING JUNKIE
Join Date: May 2006
Posts: 2,044
---

11-15-2007, 05:12 AM
---
I got mine from a guy when the four link brackets bent he almost ran over the tree and he said "I'm just going to sell this SOB". Got it for $3500.00 rolling. After driving it I love having a roadster.
Curtis

11-15-2007, 06:49 AM
Senior Member
DYNO OPERATOR
Join Date: May 2003
Location: Moscow Mills, Mo.
Posts: 533
---
My 67 Camaro I race now is a exact replica of my very first car back in 1970. I bought that car on a used car lot with my Dad for $1600.00. It had 32,000 miles on it. Back then it ran 12.73 best. SBC 4speed. I couldn't find the original one so I built one just like it.

11-15-2007, 08:13 AM
Senior Member
EXPERT BUILDER
Join Date: Jan 2005
Posts: 336
---
67 chevelle is my favorite car-my wife will have to bury me in it in order for me to be happy(NEVER GONNA SELL!!!)572 CU IN 93 OCTANE-hope to get into the 8's this next year-anything is good when it has a bowtie!!!

11-15-2007, 08:22 AM
Junior Member
APPRENTICE
Join Date: May 2003
Location: chicago, il
Posts: 20
---
Sold my stock chassis'd 72 chevelle, with hopes of finding a back-halved chevy of some type. Found my current ride here in early '03 (70 1/2 camaro. This is just to hold me over 'til I can find/afford what I'm really after, which is a '65 chevelle, '69 chevelle, '69 camaro. by the way, how do you attach pics to your posts? [/img][/url]

11-15-2007, 12:50 PM
Senior Member
DYNO OPERATOR
Join Date: Nov 2006
Location: NC
Posts: 557
---
Ive always loved vettes, I had a 57 that was ncrs correct . Everything painted correct, tags on parts,chaulk markings,etc.. sold it yrs ago,and wanted another vette but was into racing so I thought Ill get me a vette to race, and the 63 is my favorite, so .... David.