Pay it forward thread...

05-18-2012, 07:58 AM
---
Scooter kidney stones suck. Ive had them twice. First time i thought i was gonna die.
They say its the closest thing a man can compare to having a child. I say bull s..... If that were so NO WOMEN WOULD EVER HAVE MORE THAN 1CHILD IF IT WERE TRUE.


Hope u pass it soon.

That actually sounded cruel. But you know what i mean.

06-05-2012, 08:01 PM
Senior Member
RACING JUNKIE
Join Date: Mar 2006
Location: EUGENE,OR.
Posts: 3,391
---
DD!!! I sent you a PM about the AN's I went through tonight... some I am not sure what the heck they are... anyways... I wanted to hash it out on the phone & I lost your phone number.

Wabb: LOL. Sumbitches are still in my body... but the pain is over now... just trying to pee them out. I am weening myself off of energy drinks & pop now too. Things are getting better. Okay... enough of that. You get the motor done yet???

06-05-2012, 08:06 PM
---
It's supposed to be done next week.. and that was 2 months ago.

"IT IS supposed to be finished this week" is what I was told last Saturday.

I'm sure hoping it is.

I'm getting extremely ill about it too.

06-08-2012, 06:17 PM
---
Originally Posted by Rigsby
Yeah I bet you are getting antsy. You know the drill well though... you have had many motors over the years. I hope it is a pleasant beast for ya!!

DD: Check you PM I sent ya. Scoot
Whatcha think scooter? It's going n the dyno in a little while.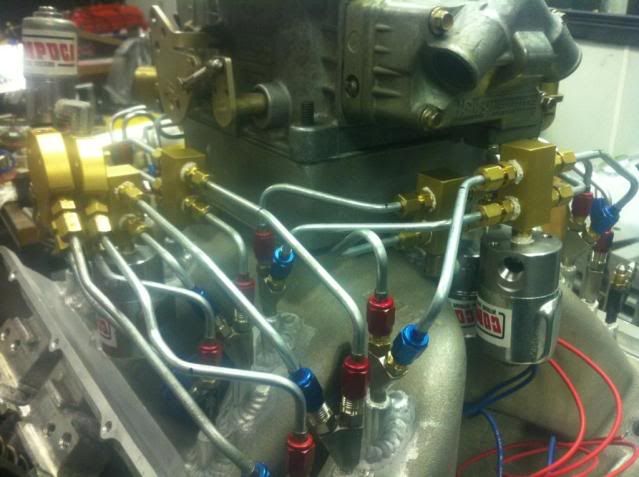 06-09-2012, 11:02 AM
---

Getting sidetracked here boys......

back on course, I've got a pair of BRAND NEW genny Ford Perf cast valve covers for a 460, $125 new - Free to someone that can use 'em, You pay shipping.

06-11-2012, 05:05 PM
Senior Member
RACING JUNKIE
Join Date: Mar 2006
Location: EUGENE,OR.
Posts: 3,391
---
Double "D"/ Dewayne Doba!!! check your PM's... been tryin to get a hold of ya!! Lost your number & was going to hash out all these AN fittings I have on the phone with ya instead... saw some weird ones that i don't know why I bought them... got a few 10's after all.... but not as many as I which I had.... but even if I have only some... it will save you some cash. You know how AN's can nickel/dine the CRAP out of ya.

Wabb- sent PM to ya. Man she is purdy. Seriously- a work of art brutha.

06-13-2012, 07:50 PM
Senior Member
RACING JUNKIE
Join Date: Jan 2006
Location: La.
Posts: 2,890
---
I've got 8 sets of Vandervell 350 mains and rod bearing sets, these i bought from an ARCA racer. They are the lead coated bearings which are outlawed for manufacture in the US. Some of the rod sets are +.001 for extra clarances. I won't break the sets up, will ship mains and rods for the shipping cost (about $10.00) These are not for resale but for some needy person on a budget. I also need some Hilborn 90 degree nozzles for alcohol 20 to 24 AS.
Please no nubies, only those of us who are regulars.

PM me and we can set it up.

Zip.

06-20-2012, 05:47 AM
---
I still have a bunch of custom drilled alcohol jets for a Holley. The guy I bought my old alcohol drag car gave them to me when I bought the car. He drilled them out of regular jets. I will package them individually and mark what they are. These are so small I will give them to whomever needs them and ship them to you for FREE!!
Heres what I have.

qty 2 size .1285
qty 2 size .1299
qty 4 size .136
qty 2 size .1378
qty 2 size .1405
qty 3 size .1417
qty 1 size .144
qty 2 size .159
qty 2 size .156
qty 4 size .161
qty 2 size .166

Send me a PM if interested and I will ship them out!
__________________
Chris
As close to "Normal" as I can get...